15 Years On From His Arrest and Mikhail Khodorkovsky Is Still Fighting for Democracy in Russia
October 25, 2018
25 October 2018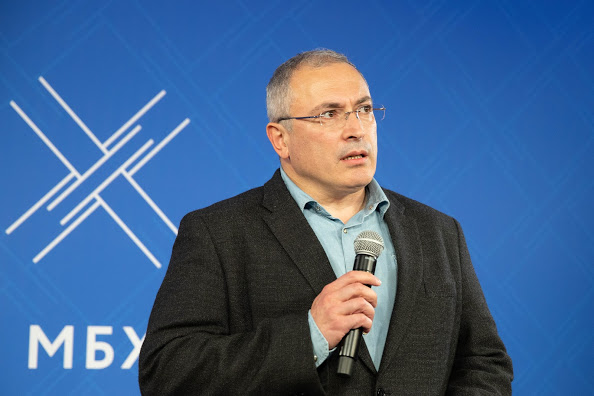 On this day 15 years ago Mikhail Khodorkovsky was arrested by Putin's authorities at gunpoint. Mr Khodorkovsky's firm YUKOS was dismembered, its assets transferred to state oil and gas companies, as well as to Putin's allies.
Democracy and human rights activists have seized this moment to remind us all that Putin still has a monopoly over Russia and its institutions. However, Mr Khodorkovsky speaks more solemnly of the event:
"Thank you to everyone who has remembered that today marks the 15 year anniversary of my arrest: An arrest that marked the beginning of a 10 year prison saga. But, for obvious reasons, I am less keen to remember the brutal actions of the police that day. For that reason I only want to make a single remark on this subject today: my time in prison was awfully long in terms of a human life-span. But for many others involved, the negative consequences of the YUKOS case are still being felt. This is true of [former YUKOS employee] Alexei Pichugin. He was arrested four months before me and is still in prison. This is an absolute travesty."
The YUKOS case was unprecedented both in terms of its scale and its political consequences. Mikhail Khodorkovsky became symbol of genuine democratic opposition in Russia, when he made the decision not to flee the country like many had done before him. As such, Amnesty International deemed him a prisoner of conscience.
President Putin and his allies viewed YUKOS as an existential threat to their growing kleptocracy. Mikhail Khodorkovsky had implemented a business model that reflected western values and made YUKOS Russia's largest taxpayer. Beyond this, Mr Khodorkovsky had been a vocal proponent of holding onto the democratic practices that were still in tact during the early years of Putin's regime. The idea of big business that operated legitimately coupled with genuine democratic practices stood and still do stand in direct opposition to the goals of the Putin regime.
Even before his imprisonment, Mikhail Khodorkovsky was a strong advocate of democracy, civil society and legitimate institutions. Since his release in 2014, Mikhail Khodorkovsky, in founding democracy and civil rights movement Open Russia, has been taking active steps to build parallel civil institutions in Russia, as well as protecting the human rights of Russian citizens.
If you would like to find out more about the YUKOS case and Mikhail Khodorkovsky's role in it there is an excellent summary video here. For a more in-depth report about what happened 15 years ago, there is an more comprehensive BBC radio report here.
Open Russia is a non-for-profit pro-democracy movement that defends human rights activists from illegal practices in the Kremlin's corrupt judicial system. It also funds educational projects and publishes insightful news independent of the Kremlin. But Open Russia is only able to do what it does thanks to our supports' generous contribution. If you'd like to find out more about Open Russia or make a contribution, please click here.