Submit Your Designs for Khodorkovsky's 50th Birthday Card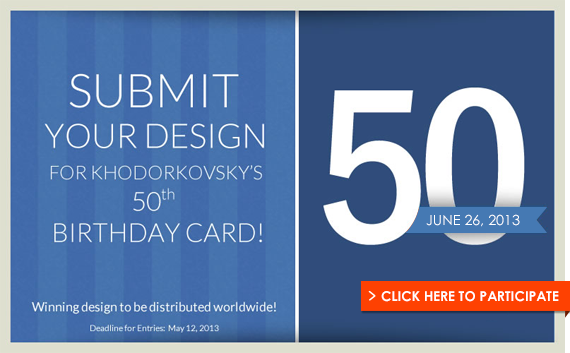 This summer on June 26 family, colleagues, and supporters will be celebrating Mikhail Khodorkovsky's birthday. It's an especially important milestone this year, in that he will be turning 50 while also approaching the 10th anniversary of his controversial arrest in 2003.
To commemorate this important day, thousands of people from around the world will be sending their birthday wishes to Mikhail automatically from our brand new Action Center – hopefully printed on a birthday card designed by you!
(To view the contest info in Russian, please see:Конкурс поздравительных открыток к 50-летию Ходорковского)
We're calling on all graphic designers, artists, and inspired people among our base of supporters to submit their design for the birthday card by clicking the image to the right. The winning designs will be made available for people to download or automatically mail to the prison camp in Karelia through the Action Center.
The winning design will receive an autographed copy of Mikhail Khodorkovsky's memoir "Putin's Prisoner," signed by his son, Pavel Khodorkovsky.
The deadline for submissions is May 12, 2013. There is no limit on the number of entries per participant.  The winning design will be announced on May 15, 2013.
Parameters: The design for the birthday card should be on a standard size postcard of 4 by 6 inches. The format of the file uploaded can be either .jpg or .png, and must not exceed 10MB in size.
Have any questions? Email us at info@khodorkovsky22.com.
By participating in this contest, you agree to our terms and conditions.