#Enough: The Irremovable Regiment
June 9, 2017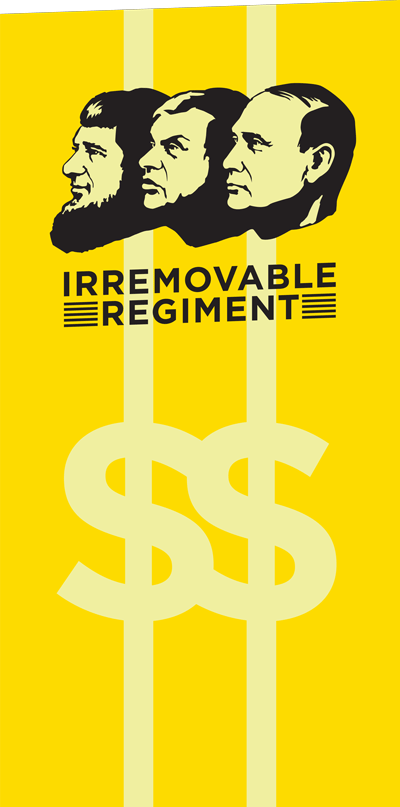 Press Release
09.06.17
On June 12, the national holiday "Russia Day", Open Russia is supporting the nationwide protest movement with its own demonstration "the Irremovable Regiment", which is a part of the larger anti-Putin #Enough campaign.  It will take the form of a march of shame, during which Russian citizens will be able to see a procession of placards with the faces of the all-powerful, irremovable Kremlin elite who have been lying to them and stealing from them for over 15 years.
During the march awards will be presented to those members of "Putin's regiment" who have been most successful in wrecking the country's economy.  In this year running up to the presidential elections in 2018, we plan to conduct the "Irremovable Regiment" in cities right across Russia, allowing everyone to acquaint themselves with the people who are waging war with their fellow countrymen.
On June 9 the website polkputina.ru will be available, where people will be able to follow the campaign's activity, as well as download posters and portraits to use during the June 12 demonstrations.
The march will involve the names and faces of Russia's ruling elite who are, in the current political system, completely irremovable.  The #Enough campaign was originally designed to show public discontent for Putin running for a fourth presidential term in the 2018 elections, and so the Irremovable Regiment will be a chance for citizens to protest against the unprecedented levels of corruption and crushing of civil freedoms that the current Kremlin elite continues to impose upon the country.
Commentary:
Alexander Soloviev
Leader of the Open Russia Movement
Additional information:
Maria Galitskaya
Open Russia Press Office
pr-ov@openrussia.org