Google CEO Grilled By Congress For YouTube Manipulation By Kremlin Bots
December 14, 2018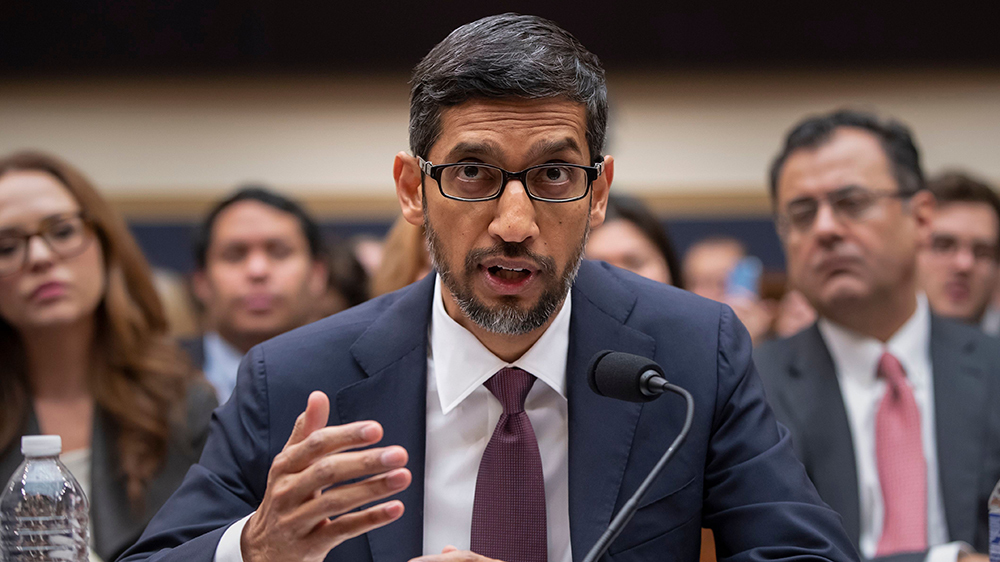 On Tuesday 11th December, the US House Judiciary Committee held a hearing in which Google CEO Sundar Pichai testified for over three hours, addressing issues of security, algorithms, and data policies of the tech giant. The hearing, which looked at the role of tech companies in influencing US politics, took place during heightened concerns about intrusion by foreign powers in domestic politics and elections. In previous hearings with large tech companies such as Facebook and Twitter, members of Congress grilled social media executives to account for the numerous instances of state-sponsored interference on their platforms. Pichai appeared on Capitol Hill for the first time, after notably being absent from an earlier hearing in September. Pichai answered questions about Google's practices relating to issues such as Russian attempts to sway public opinion through its platforms. These concerns were raised in the context of the wider investigations into the interference by Russia in the 2016 US presidential election.
One congressman to address these matters was Tennessee Democratic Representative Steve Cohen. Cohen, who is known for his tough stance on Russia, once proposed launching a cyber attack that "could have crippled Russia" in response to Russian election meddling. In his five minutes to questioning of Pichai, Cohen raised the issue of Kremlin manipulation of YouTube algorithms. This manipulation, Cohen argued, aims to stifle the content produced by democracy and human rights activists, for whom YouTube is a key platform for promotion.
Congresswoman Karen Bass, a Democratic Representative from California, further pressed Pichai on the responsibility of Google to respond to the actions of authoritarian regimes, specifically in their fomenting of racial tensions through Google's services. Bass, who also sits on the House Foreign Affairs Committee, once said that Russian President Vladimir Putin was personally "responsible for attacking our democracy." She is seen as an avid supporter of the Special Counsel investigation into the Russian government's meddling in the 2016 elections. Her concerns were highlighted in recent revelations in court filings that show a record of Donald Trump's associates lying about and maintaining contact with Russian officials well into the 2016 presidential campaign.
The global presence of Big Tech has become an accepted part of life in the 21st century; and the popularity of YouTube has made it particularly attractive to democracy and human rights activists in authoritarian countries, whose opinions are frequently sidelined by state-run media outlets. Simultaneously, authoritarian regimes have been amongst the quickest to maximise the potential of online platforms to manipulate public opinion around certain events. The Kremlin's weaponisation of Twitter trolls, as well as its repression of dissident voices on YouTube, demonstrate how social media and video platforms can serve the interests of the Putin regime.
The hearing at Congress was the first step in pinning the responsibility for this manipulation onto those who run the platforms. Without further investment into anti-bot algorithms, platforms such as YouTube are inevitably leaving themselves exposed to authoritarian regimes that pump vast financial resources into so-called 'troll farms'. The Kremlin has its own 'troll farm' in St. Petersburg, for example.
It is imperative that democratic nations keep up the pressure on tech giants to ensure that those same values that have helped these platforms to grow so successfully – freedom, democracy and protection of human rights – are not undermined by dictators and authoritarians who abuse these platforms for personal gain.