Khodorkovsky Delivers Inaugural Russia Lecture at Chatham House
February 17, 2015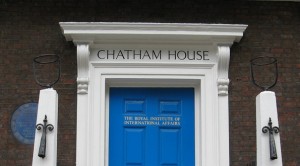 On February 26, Mikhail Khodorkovsky delivered the Annual Russia Lecture at Chatham House in London.
Khodorkovsky's talk, titled "Russia Under Putin and Beyond," featured his perspectives on Russian politics and society, and likely developments in the short to medium term. He discussed the social and economic challenges facing Russia today and possible ways forward.
The event was chaired by Sir Andrew Wood, the former British Ambassador to Russia and an Associate Fellow of the Russia and Eurasia Programme at Chatham House.
A PDF transcript of the Q&A session can be read here, while both the video and audio can be found here.