Khodorkovsky Meets With Dr Andreas Schockenhoff
January 16, 2014
Mikhail Khodorkovsky today met with the Russia Coordinator of the German government and Deputy Head of the Conservative Faction in the Bundestag, Dr Andreas Schockenhoff, in Berlin.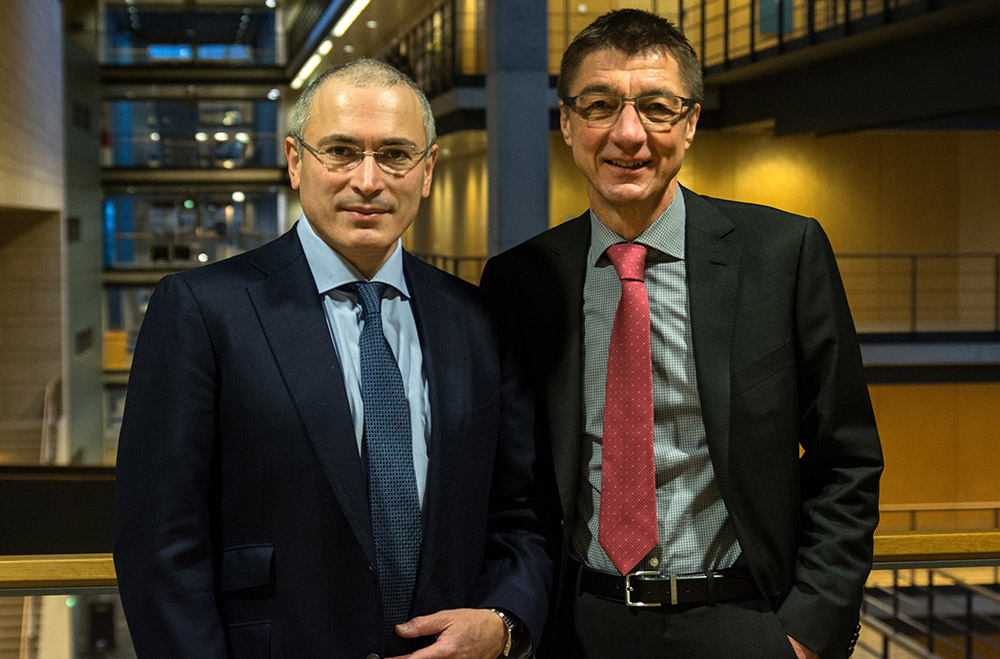 Dr Schockenhoff issued a press release following the meeting, a translation of which can be read below:
Press statement by Dr Andreas Schockenhoff after meeting with Mikhail Khodorkovsky
On Thursday, Dr Andreas Schockenhoff welcomed Mikhail Khodorkovsky who was released after more than ten years in prison on December 20, 2013. As the first representative of the federal government, Dr Schockenhoff spoke to Mikhail Khodorkovsky about his time in detention, the circumstances of his release and his future plans.
After the meeting, Mikhail Khodorkovsky said: "I intend to keep on using all the means at my disposal to help political prisoners and solidify the rule of law in Russia.  For this I am counting on support from civil society, both in Russia and in Germany and other countries.  I would like to thank Andreas Schockenhoff for his support of Russia's civil society and personally for his activity related to my own case."
Dr Schockenhoff said: "The release of Mikhail Khodorkovsky is an important stimulus for Russian civil society. A strong civil society is a prerequisite for the success of the much-needed comprehensive modernization of Russia and for the expansion of the German-Russian relations. Therefore, the advocacy of civil society cooperation with Russia is still an important issue for me, to which I will remain committed. With regard to German-Russian relations, great tasks still lie ahead of us."
For many years, Dr Andreas Schockenhoff has been closely following the Khodorkovsky/Lebedev case. In June 2009, he participated as an observer at the trial. Attempts to visit Mikhail Khodorkovsky in jail were always rejected by the Russian prison administration. Since 2011, he has organised the so-called "Khodorkovsky debates" in Berlin, which provided the German public with the opportunity to discuss political, economic and social developments with experts from Russia.