Khodorkovsky on Russia's Crackdown on Political Freedoms
February 6, 2013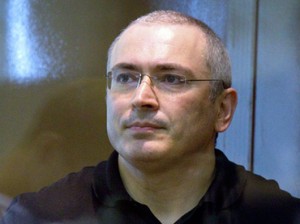 Russian political prisoner Mikhail Khodorkovsky responded to a set of interview questions from Reuters today, commenting on the 'tightening of the screws' that is taking place against numerous opposition figures.
"There is a clear widening of repressions against protesters who are not the most well-known opposition figures. Most likely the authorities want to scare common citizens, deter them from taking part in protests," Khodorkovsky wrote to Reuters.  "Opposition to the current regime is growing and will continue to grow … The risks for the regime are constantly increasing."
Khodorkovsky also commented that the current state of affairs under President Vladimir Putin is beginning to resemble the stagnation era of Leonid Brezhnev.
"In some ways, Russia's current political regime resembles the Brezhnev regime, in terms of pressure on the opposition," he said. "The reasons (for protests) are obvious: the effectiveness of this form of governance is constantly falling, and the costs of it is becoming more and more evident to society."
"Corruption, the slow pace and poor quality of economic growth, the restricted social mobility for young people, simple tiredness with the same old face in charge – all this is causing clear irritation," he said.
In recent months, a number of opposition figures such as Alexey Navalny, Leonid Razvozzhayev, and even the wealthy businessman Alexander Lebedev have faced trumped up charges and trials.  In the Reuters interview, Khodorkovsky advised the victims of political cases to hold firm and fight against the false charges.
He said opposition activists facing charges should choose between admitting guilt, in the hope of more lenient sentencing, and trying to prove their innocence in Russian courts often criticized for political servility.
But fighting one's case was "a natural and inevitable stage of the protest," he said.