Khodorkovsky Publishes Statement on Political Persecution
April 24, 2013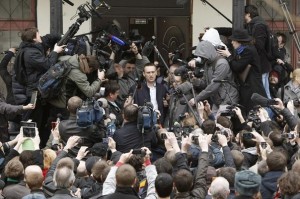 Mikhail Khodorkovsky has published a statement in the Russian newspaper, Vedomosti, regarding politically motivated trials in Russia. The statement was published on the day that the trial of Alexey Navalny resumed in Kirov, and also referenced the forthcoming trials of the May 6 Bolotnaya Square protesters. His statement can be read in Russian, here, or a translated version can be read below:
On Political Persecution in Russia
Russia is about to experience several high-profile criminal cases blatantly driven by political interests.
Uppermost among these are the Alexey Navalny case, being heard in Kirov since April 17, and the impending trial against the "prisoners of Bolotnaya Square" – Russian citizens charged with causing "injuries" to security personnel during in the approved demonstration in Moscow on May 6, 2012. 12 of the Bolotnaya prisoners will be in court soon, followed by another 15. In total, as far as can be judged from media reports, another 86 individuals may face charges for their participation in a lawful, legally permitted rally.
Analysis of the official published materials on the Navalny and Bolotnaya cases leaves no doubt: in an honest and fair trial, such charges would be untenable and their political motivation obvious. The objective is clear – to intimidate and demoralise opponents, and politically active voters, and to present the peaceful civil protest and constitutional fight for power as something marginal and extremist.
By taking such actions I believe that the Kremlin is going to cause itself tangible political damage.
In the event of guilty verdicts in both cases, civil society will become disenchanted once and for all with any declarations by the regime about conducting constructive dialogue with genuine opponents.
Furthermore, we will be able to write off forever the many millions of roubles in budgetary funds allotted for improving Russia's image in the West. That's a shame given that improving the image of our country is a vital step toward hastening our technological modernisation, amongst other things.
There is next to no reason to hope that the powers will suddenly come to their senses and that the more than dubious charges in the Navalny and Bolotnaya cases will be considered impartially. Yet the reaction of politicians and civil society to what is taking place is of critical importance.
I would like to appeal to all those representatives of the regime who do not consider themselves goons: doesn't what is being done to Navalny and the "prisoners of May 6th" strike you as extremely dangerous? Dangerous both for Russia, and for you personally?
I also appeal to my former colleagues from the business community: are you able to calculate in advance the damage that the political trials of 2013 will inflict on you personally?
These politically driven trials are ludicrous in essence but monstrous in their consequences. I am convinced that in order to have any chance of prompting positive change, all decent human beings –including those from the Russian Presidential Council for Human Rights, the relevant parts of the Public Chamber, civic movements, NGOs engaged in human rights and the legal defence of Russian citizens, and the independent legal community – must take a united position.
If we are capable at all of doing something together, we are duty-bound to do it now.
Mikhail Khodorkovsky,
186420, Republic of Karelia,
town of Segezha
ul. Leygubskaya, 1, FBU IK-7