Khodorkovsky Urges Citizens to Attend Navalny Rally
December 30, 2014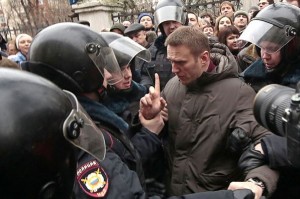 Following today's rush verdict against opposition figure Alexei Navalny and his brother Oleg Navalny, Mikhail Khodorkovsky took to social media to encourage supporters to turn out for the planned protest rally to be held on Manezh Square in Moscow.
"I imagine how badly they need your support now. And how grateful they are for your willingness to risk and go to Manezh Square. But you should go because it's also about our common fate," Khodorkovsky wrote on his Twitter feed. "Today's appearance on Manezh square became even more significant: the name is not important, one cannot coexist with this system!"
The verdict was originally scheduled to be read on January 15, but was abruptly moved forward to today. The court found both brothers guilty, while Alexei was given a suspended sentence and Oleg was ordered to serve three and a half years in jail.
December 30 was coincidentally the same date that the verdict was read in Khodorkovsky's second trial in 2010.
"Putin got scared of 15/01/15 and gave a command about Alexei personally," Khodorkovsky wrote on his Twitter yesterday. "And 'they' will tell us about the law? They have no laws. Forget it."
According media coverage, the early verdict announcement was moved forward with the aim of preventing mass street protests, instead taking place in the middle of Russia's holiday lull.
Khodorkovsky's statement continues:
The system Putin has created is showing itself in all its glory. Blatantly so in the case of Kadyrov, a bit more elaborately when it comes to the Zamoskvoretsky court judges, but either way the essence remains the same: there is no law-based state, there are no rights, there is only "at the authorities' discretion". And the authority — it comes from Putin; Putin is God's Chosen One. Can you live with that? Then go ahead and live. And if you can't live with that, then away with you!
What right do they have to consider our Motherland their own personal fief?
What right do they have to dictate to us how we are supposed to live?
The only honest answer: the right of power, of physical force.
Only now in the 21st century far from all the power is in the hands of the OMON.
The authorities remain in power, only as long as they have the people's consent. It is our choice to deny the authorities this right to be in power if we want. And the time has already come to do this. Time to show how the intellect can strike a blow against brute force.
Let 2015 become the year that the changes begin.