Khodorkovsky warns West of war with China if Russia wins in Ukraine
February 16, 2023
By Catherine Belton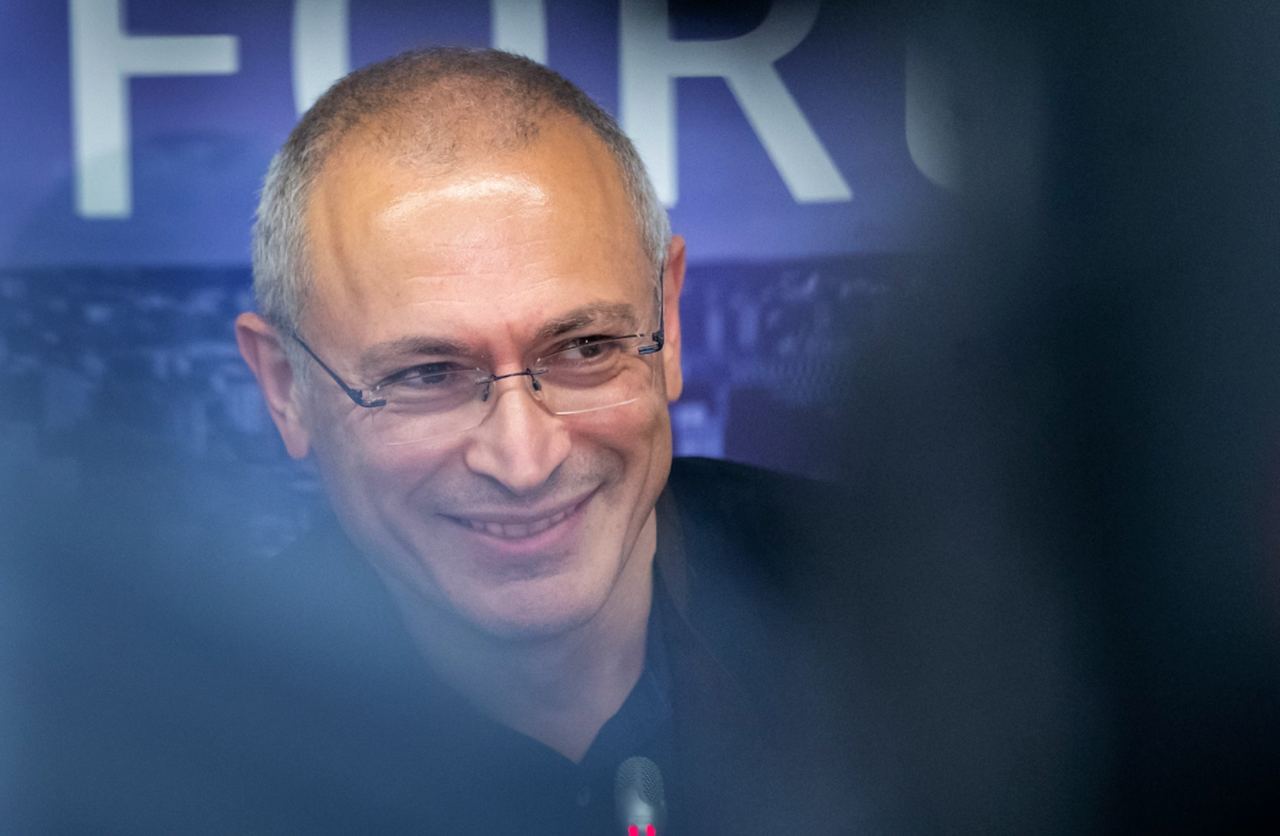 LONDON — A Russian military victory in Ukraine will embolden Beijing and lead to war between the United States and China over Taiwan, Mikhail Khodorkovsky, the exiled Russian tycoon and vocal critic of Vladimir Putin's regime, warned in an interview ahead of remarks that he will deliver to global leaders at a major security and defense conference in Germany this weekend.
"A lost war in Ukraine is a steppingstone to war in the Asia Pacific," Khodorkovsky said in the interview with The Washington Post in London, where he now lives. "You need to understand that when even a big guy is hit in the face, a number of other guys will start to doubt whether that guy is really that strong, and they will want to go for his teeth. … If the U.S. wants to go to war in Asia, then the most correct path to this is to show weakness in Ukraine as well."
Khodorkovsky, who spent a decade in prison in Russia before being pardoned by Putin in 2013, said stepping up Western military aid to Ukraine and securing its victory was the only way for the United States to avoid such a military conflict with China.
Khodorkovsky is due to speak this weekend at the Munich Security Conference, where he and two other opposition figures, the former world chess champion Garry Kasparov, and Yulia Navalnaya, the wife of jailed opposition leader Alexei Navalny, have been invited instead of official representatives of the Russian government.
Their invitations represent a clear rebuke of the Kremlin over Putin's war in Ukraine. It is the first time that members of the opposition have been invited instead of Russian officials to the security conference, a high-profile event where Putin gave a landmark speech rejecting the West in 2007 and where Russian Foreign Minister Sergei Lavrov is normally a familiar face.
Russia declined to participate in last year's conference, which was held just before the start of its invasion, saying the event was "transforming into a transatlantic forum" and "losing its inclusiveness and objectivity."
Christoph Heusgen, the security conference chair, has said official Russian representatives would not be invited as long as Putin "negates Ukraine's right to exist."
In the interview, Khodorkovsky, who was once Russia's richest man as the main owner of the Yukos oil company, said that the West now has a choice among three paths in its strategy of support for Ukraine.
The current trajectory, despite recent agreements to supply advanced battle tanks, represents only incremental military support and is setting a path for a protracted and risk-filled war, Khodorkovsky said. In this situation, there are no guarantees that Ukraine can sustain its current level of casualties, while political disputes in the United States ahead of the 2024 presidential election could prompt lawmakers to cut off weapons supplies and economic aid.
"If the West considers that Ukraine has enough strength to continue to lose 350 to 500 people a day in killed and wounded, and if they can ensure a guaranteed and constant supply of weapons and ammunitions, then fine," he said. "But this is a very big risk." In the meantime, he said, Putin could seek to respond "asymmetrically" by destabilizing governments in Africa, the Balkans and the Middle East, as well as potentially in the West.
A second path would involve the West rapidly and significantly stepping up military assistance to include long-range missiles and fighter jets that would allow Ukraine to destroy Russian supply lines.
"The only thing that can break the situation on the battlefield is aviation," Khodorkovsky said. "Everything else is secondary."
Although Western support for Ukraine has been far greater than many had expected, "it doesn't cancel the fact that the West has to do a lot more," he said. Assistance has often trailed events on the battlefield, and "by the time you begin to give these missiles and tanks, it's already going to be too late. … If in three months, the front moves toward Kyiv, they will give planes, but then it will be too late because there won't be any airfields left," he said.
A third route would see Washington and its allies eventually "turn around and leave as they did in Afghanistan and as they did in Syria and other places," he said.
"Putin is a person who thinks retrospectively and he considers that if something has happened before, it often happens again in the same way in the future," Khodorkovsky said. "And he is not often wrong in this. Thinking retrospectively, he sees that each time he has begun a small, new war he is able to consolidate society around him, and he has seen the Americans walk away time and again. … But if he ends the Ukraine operation successfully for himself, then the national patriots who are now his main source of support won't allow him to stop and the next war will begin."
While Russian aggression would continue beyond Ukraine, Khodorkovsky said, any perceived victory for Putin in Ukraine would also embolden China to move on Taiwan, he said. "When I hear from Americans who say we need to choose between aid to Ukraine and aid to Taiwan because we can't extend to both, it seems so primitive that I have the feeling it must be a trick," he said.
Any negotiated settlement in which Ukraine would be forced to agree to cede territory, such as the Donetsk and Luhansk regions, would harden the position of hawks, whom the Russian president has been forced to rely on to drum up public support for the war. Putin would then be "forced under pressure" to launch further attacks on Ukraine, Khodorkovsky said.
Khodorkovsky has long used his Open Russia Foundation to combat Putin's regime and now sponsors an array of Russian political opposition projects. His most recent book "How to Slay a Dragon" calls on the West to begin preparing for a post-Putin, postwar regime in which Russia's presidential system should be dismantled and replaced with a parliamentary republic.
A rapid escalation in Western support for Ukraine to end the war quickly, defeating Russian troops, would be "best for Russia," Khodorkovsky said. "Fewer people will die and the buildup in strength of the terrible national patriots will be less," he said.
Otherwise, the country faces a far deeper collapse. The longer the war continues, the greater the chance that Russians will stop blaming their government for the deaths of their loved ones and blame Ukraine instead, he said.
According to Khodorkovsky, a protracted conflict is also risky for Putin, who is facing resentment from each side of a deeply divided elite: the hawkish nationalist patriot camp, which believes Putin should act more decisively and radically to conquer Ukraine, and a more liberal-minded camp that considers the war a terrible mistake.
So far, there is no sign anyone will act against the authoritarian president. But if it becomes clear that Putin is losing the war, Khodorkovsky said history could repeat itself with regional governors refusing to take orders from Moscow, as they did in 1999, a situation that ultimately forced the weakened president, Boris Yeltsin, to resign.
Putin, so far, is holding firm. "The propaganda is still able to convince people that they are winning on the front," Khodorkovsky said, adding that even a botched conscription effort had not undermined Putin. "The mobilization went through more easily for him than many expected," he said, adding: "It's a question now of what happens on the battlefield. Everything else has an absolutely marginal meaning."
The article was originally published in The Washington Post