Kremlin Repression Continues as Fourth Open Russia Activist Faces Prison
June 10, 2019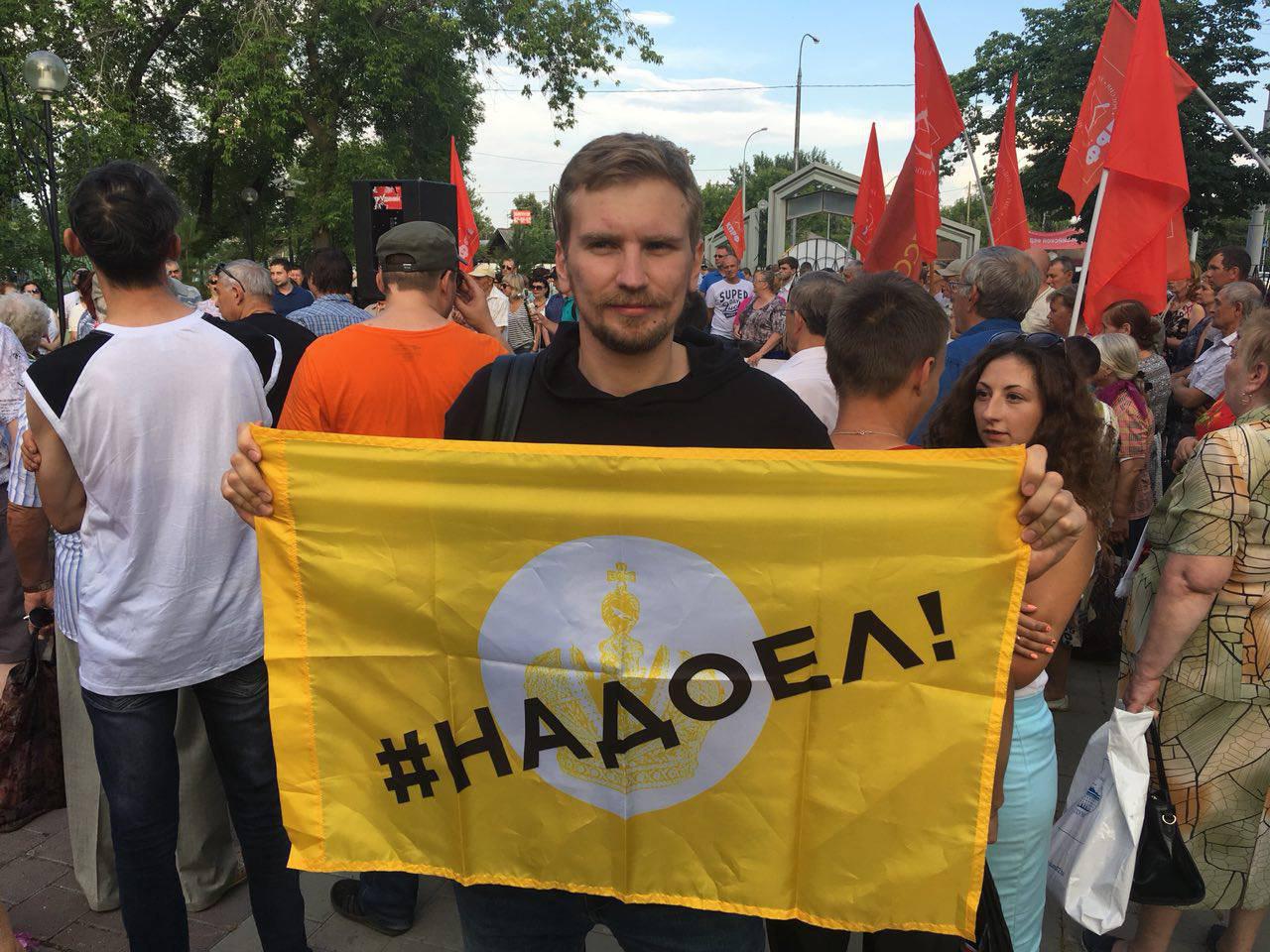 In May, we learned that the Kremlin is still persecuting civil activists in Russia. On 6th March, yet another member of Open Russia – an organisation promoting civil society and the respect of human rights in Russia – faces up to six years in prison for committing the "crime" of peaceful civic activism. This is now the fourth civil activist from the organisation to face charges under Article 284.1 of the Russian Criminal Code, part of the notorious "undesirable organisations" legislation, signed by President Putin in May 2015.
Anton Mikhalchuk, a former Russian history lecturer and Open Russia coordinator in the Siberian city of Tyumen, is the most recent name to be added to a growing list of Open Russia activists who have fallen prey to the legislation. Anton is the suspect in a case carrying up to  six years in prison for organising a seminar and arranging a video call with Open Russia's founder Mikhail Khodorkovsky. Fear of being forced to await trial in one of Russia's notorious pre-trail detention facilities has understandably led Anton to flee Russia.
The guarantee of his safe return home will remain unclear under the Putin regime. The conduct of the Russian government and its disregard for basic human rights have forced another proud and enthusiastic Russian citizen to leave his home country. Putin's regime is subjecting Anton and others involved with Open Russia to political persecution. These men and women are having their rights taken away from them in response to their desire to fight local injustices and engage in civic activism.
The wider implication of the "undesirable organisation" legislation is that it effectively enables the Kremlin to arbitrarily decide which non-Russian NGOs can operate within the Russian Federation and place those it doesn't like on a list. Once deemed "undesirable", organisations face a blanket ban on any civic activity on Russian soil or in the Russian cybersphere. The blacklisted organisations are prohibited from running events, distributing content of any kind and will also have their accounts frozen by Russian banks. If individual citizens are found to be "cooperating" with any listed groups, then they may find themselves facing criminal charges. The law has been criticised by the Council of Europe for being "too vague" in defining its core concepts. This leaves any decision about who exactly is undesirable to the discretion of the Prosecutor General's Office. This means that legislation can be employed in unjust and corrupt ways, as we are seeing with Open Russia..
It is important to stress that Open Russia is an all-Russian organisation founded by Russian citizens. Open Russia is therefore not a foreign organisation and cannot, by definition, be deemed "undesirable". This means that the Kremlin's decision to persecute Open Russia members under Article 284.1 has weak legal grounds and is most likely politically motivated.
The targeted repression of the organisation and its activists started on 21st January, 2019, when the homes of six civil activists in Rostov-on-Don and Kazan were raided and items of their property seized. These raids resulted in the first person ever to face criminal charges under "undesirable organisation" legislation. This is the ongoing case of Anastasia Shevchenko, or Nastya to her friends. Nastya is a single mother of three and Open Russia coordinator in Rostov-on-Don. Two days after the raids, she was charged with "repeated participation in the activities of an undesirable organisation" and placed under house arrest. Just as with Anton's case, Nastya faces up to six years imprisonment for similar acts of civic activism. The official grounds for her charges included organising a public debate and a seminar.
Nastya has been subjected to extremely unjust treatment at the hands of the Kremlin. The severity of her detention alone raises questions of the moral legitimacy of the Kremlin's actions. On the ninth day of her imprisonment, Nastya's eldest daughter tragically passed away. Despite her pleas, the authorities refused to allow her to leave her house to tend to her dying daughter's bedside. Nastya was finally granted access, but only when her daughter had hours left to live. Officials were unmoved by the tragic event, as Nastya was mercilessly forced to return to her detention the following day. Amnesty International recognise Nastya as a prisoner of conscience. Human Rights Watch strongly condemned the Kremlin's treatment of Nastya calling it a "blatant attack on freedom of association".
The Kremlin continued with these repressive measures, undeterred by widespread condemnation. In March, Maksim Vernikov a journalist and civil activist, became the second known to face charges under the law. At 6am on 14th March, police forced entry into Maksim's home in Yekaterinburg, searching his rooms and confiscating all his tech. Maksim's charges were due to an online post that he shared containing content from Open Russia and participating in a conference run by the Ural Open Russia branch.
The third to face charges was Yana Antonova, paediatric surgeon and mother from Krasnodar, the city where she was also an Open Russia coordinator. On the morning of 9th April, men in masks forced their way into her home, as she was getting her eleven-year-old son ready for school. Yana was a civil activist who took a keen interest in the development of her community. Her crimes were posting a video about the lack of schools in Krasnodar. She was also charged for holding a solo picket in an attempt to highlight incompletion of a public swimming pool in her town. For the Kremlin, such actions posed a such sufficient threat that it was willing to hand a single mother a six-year jail term.
When the "undesirable organisation" bill was enacted, the Kremlin gave itself the power to deny its citizens the right to freedom of association. The regime holds the power to arbitrarily decide which groups its citizens may and may not associate with. Whilst governments are within their rights to monitor NGO behaviour in their countries, this specific piece of legislation has been manipulated for repressive uses, as is blatant with the treatment of the four innocent Open Russia activists, where there has been a clear attempt to debilitate opposition groups and NGOs. But through these actions the Kremlin also seeks to cultivate the internalisation of fear in the hopes of discouraging citizens from taking part in collective and civil action. All of this is just a further example of the Kremlin's efforts to strangle and discourage a strong and politically active civil society. It is the action of a government that desires for a continuation of the status quo and fears its citizens, especially those who bravely continue to fight for justice and change.