Member of the Open Russia Movement Accused of ISIS Propaganda for Reposting a Segment of John Oliver's Last Week Tonight Show
May 12, 2017
On May 12, Semyon Kochkin, member of the Cheboksary regional council of the Open Russia movement, was summoned to the local police station. At the station, law enforcement officers drew up a protocol that Kochkin committed an administrative offense–promoted ISIS, an extremist organization banned in Russia. Kochkin reported about it in his twitter.
Ааааа меня обвиняют в пропаганде Даиш за ролик The Daily Show.

Как я орууу, это же какое дно! pic.twitter.com/1JonmOM9PL

— Сёма (@SemyonKochkin) May 12, 2017
According to Dmitry Semyonov, Open Russia Coordinator in Chuvashia, Kochkin was charged with "promoting extremist materials" under Article 20.29 of Russia's Code of Administrative Offences ("Production and Dessimination of the Extremist Materials").
Essentially, what the police qualified as "offense" was Kochkin reposting a segment of John Oliver's Last Week Tonight 2015 episode titled "Chechen Women vs ISIS." Kochkin reposted the dubbed Russian version.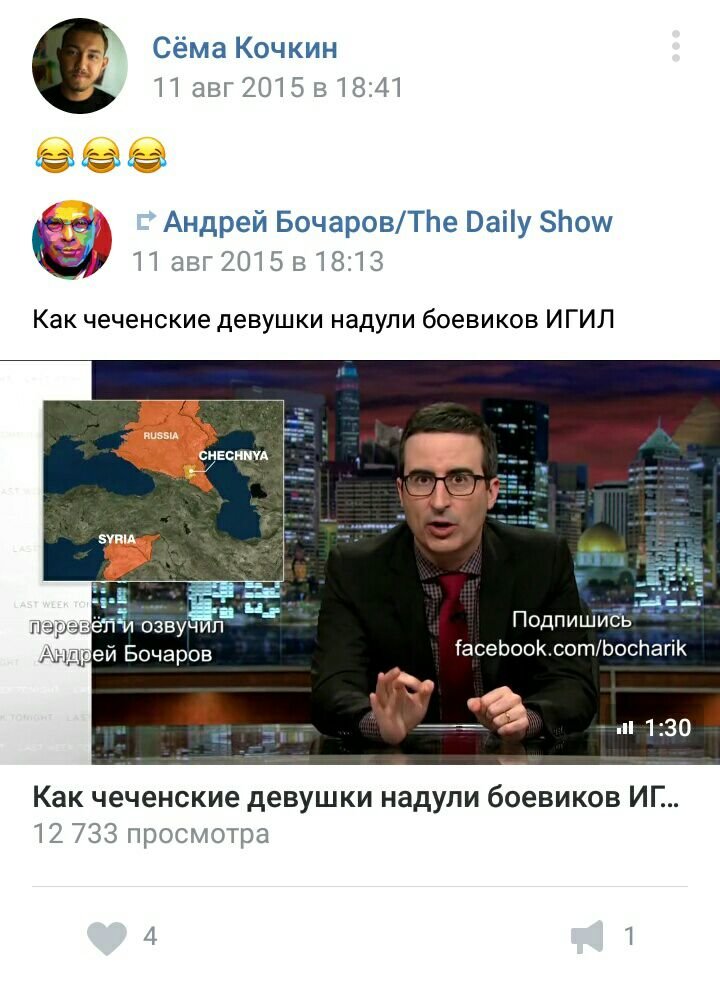 Kochkin was later transferred to Cheboksary's Moscow district court. His lawyer accompanied him.
Едем в Московский районный суд) pic.twitter.com/GTYz0v9K7V

— Сёма (@SemyonKochkin) May 12, 2017
This is just one of the latest harassment that members of the Open Russia movement have encountered over the last few months. It is a clear sign that the Russian authorities are increasing pressure on the opposition, dissidents, and anyone who dares to think independently.
The tools that the authorities are engaging to range from the usual tricks of the Kremlin's playbook to intimidating individuals on pretexts that are borderline absurd, as shown by the recent developments.
On May 11, Russian Youtuber and blogger Ruslan Sokolovsky was given a 3.5 year suspended sentence for a short video he made of himself playing the popular game Pokemon Go inside a church.  Sokolovsky was convicted for "offending the feelings of believers" and "disrespecting society" by a court in Yekaterinburg.
On April 29, during Open Russia's #ENOUGH campaign demonstrations, over 100 people were detained in St. Petersburg, including Open Russia Coordinator Andrey Pivovarov.
On April 27, the Moscow headquarters of Open Russia was raided by the officers of the Russian special police units (OMON).
On April 26, the Russian Prosecutor General declared Open Russia's office in the UK as well as the Institute of Modern Russia (Open Russia's U.S. based organization) "undesirable."
On April 12, a raid was conducted at the home of Olga Zhakova, member of Open Russia's federal council and coordinator of the Irkutsk region.
On February 28, a search was carried out at the apartment of Zoya Svetova, who is a prominent journalist and human right activist currently working at Open Russia.
Open Russia is a movement founded by Mikhail Khodorkovsky. It aims to connect and unite Russian citizens who seek a state governed by the rule of law, with a strong civil society, regular free and fair elections, and the promotion of democratic values.