Mikhail Khodorkovsky: We Need To Create The Human Potential For Change
March 19, 2018
I see how my friends have been worrying all night about the election results.  I don't see the point in this.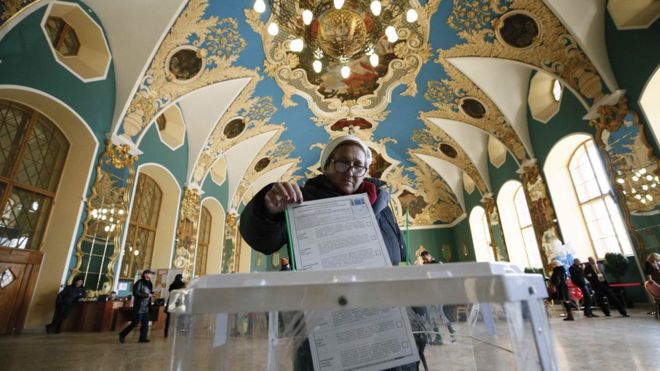 Didn't we know before that they'd manage to drag out 50 million votes? Of course we did.  Didn't we know before that three separate mechanisms of falsification would allow them to do so? Of course we did.  Didn't we know before that calling people to "boycott" the elections would impact at least 0,8-1 million of our supporters and the turnout will remain the same as always? Yes, we did.  Didn't we know that the political veteran Gregory Yavlinsky would fail completely? Of course we did.
We talked and wrote a lot about this.  So why get upset?
On the contrary: the election observers did an excellent job.  A whole mountain of falsifications were documented and recorded.  In fact, in the places where observers were present, the results were often different to places where there were no observers.  There are many who came out and boldly voted "against" this whole circus publicly.  Even Ksenia Sobchak received the support that she deserves; enough to now be considered a federal politician.  We were all involved in helping her get started, and we'll see what comes of her project as time goes on.
Moving forward we can expect to see the continuation of both political and economic stagnation.  This is terrible, but it is not the end of the world.  There will be no mass repressions or a return of the iron curtain.  However further military adventures — the Kremlin's sole mechanism for maintaining unity in society — are inevitable.
This is what we need to think seriously about, as before the last 6-10 years of this regime.  Neither Putin's health nor economic durability will be enough to hold the the country together anymore.  Therefore, we have a mountain of work ahead of us if we don't want to end up with another Putin under a different name and go further into oblivion.
A quarter of a century of stagnation is no joke.  We need to create the human potential for change.  We need to build on the experience political representatives from different sections of Russian society have gained through coalition work.  We must continue to convince society that the future does not lie in a "good King", but rather in real representative democracy.  We must prevent this regime from "accidentally" stumbling into a serious conflict or receding into complete isolation.
In order to ensure that the inevitable collapse of this authoritarian regime does not take the whole country along with it, Open Russia will continue to engage in:
— Participation in municipal elections
— Legal support of civil initiatives
— The political education of society
We will also continue telling the truth.
First and foremost this will require courage.  Therefore I want to thank each and every person who has been by our side, as well as those who will continue to be with us into the future.