Mikhail Khodorkovsky: 'Putin Cannot Stop The War In Ukraine But He Also Cannot Win It'
September 13, 2022
Once Russia's richest man, the businessman is doing his best to undermine the regime that jailed him
By Rob Hastings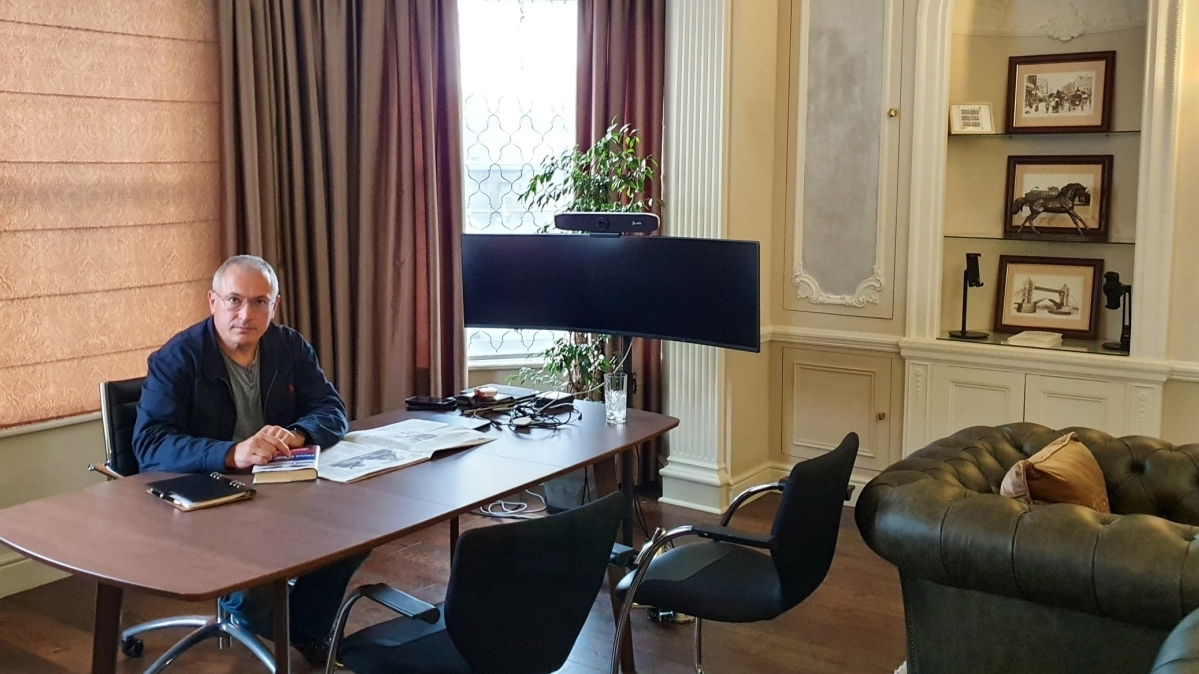 For a man who spent 10 years of his life in Russian jails and gulags, twice went on hunger strike and now has a $500,000 bounty on his head, Mikhail Khodorkovsky looks reassuringly healthy and relaxed these days. He has a light-hearted sense of humour too: opening a copy of it on the desk in his central London office, he begins to chuckle, holding up a photo of Liz Truss dressed in combat gear while riding in a tank.
"O Bozhe!" he remarks. What does that mean? His translator laughs too as she replies: "Oh God!"
This is not a judgement of the new Prime Minister's qualities. It seems the businessman just doesn't think much of military photoshoots. It's the kind of imagery that Vladimir Putin specialisies in (although the Russian dictator normally wears less clothes).
Khodorkovsky was once the wealthiest person in Russia. But daring to stand up to Putin – over the president's alleged corruption rather than his dress sense – led to the oil billionaire being arrested at gunpoint in 2003 and imprisoned on charges of fraud and tax evasion. Widely seen as a warning to the other oligarchs to fall into line, the accusations against him were deemed by experts outside Russia to be wholly fabricated; Amnesty International declared him a "prisoner of conscience".
It is thought that it was only Putin's desire for good publicity ahead of the Sochi Winter Olympics that led to Khodorkovsky's surprising release in 2013. Two years later, he moved to the UK.
"I'm here as a guest," says Khodorkovsky, "so I try to never speak out on British politics." He expects Labour will win the next election, but on what he thinks of Truss, he says: "I've never had any chances to meet her, unlike Boris Johnson. But colleagues and friends tell me that on the UK's Ukraine policy, they are quite inspired by her. She takes a very clear-cut position on what she can and cannot do… I just hope she doesn't have to face the dilemma she was asked about on a talk show recently: whether she would be prepared to push the nuclear button." More darkly this time, he gives another laugh.
Before Putin made him a political prisoner, Khodorkovsky's wealth was calculated by Forbes to be $15bn. These days, it's closer to the $100m that was held in a trust in Ireland while he was jailed.
"I'm still engaged in business, though not as active as in my past life," says Khodorkovsky, dressed in jeans and a Ralph Lauren jacket, wearing a smartwatch. "Historically I've been involved in real estate, although I don't like it very much. I like anything to do with information and technology. My son and a number of my colleagues are involved in bio technologies. A niche, purely because of my interest in it, is independent cinema."
It's an impressive list of pursuits for one person, but he is best known for his political lobbying and activism against the Putin regime. "I continue working with the public opinion in Russia and among Russians living abroad," he says.
His building here in Mayfair – valued online at up to £6m – feels like his own personal embassy for this international role. It has four storeys of elegant offices and reception rooms, many of them lit by chandeliers hanging from high ceilings. Next to his desk, above a packet of cigarettes, is a curved computer screen, presumably for conference calls. "I even have a TV studio here," he says, "and I have hundreds of thousands of followers."
He funds Dossier Center, an investigative unit that "tracks the criminal activity" of Putin associates, hoping to enable future Russian courts "to open criminal cases against corrupt criminals in and associated with the Kremlin". Until last year, he also ran MBK Media which covered "news ignored by Kremlin-controlled media outlets" – until it was forced to close over safety concerns for its journalists.
He also has a new book out, The Russia Conundrum. Written with former BBC Moscow correspondent Martin Sixsmith, it charts his personal experiences with Putin – from a barbecue held by the Russian president in May 2000 to discuss a "non-aggression pact" between government and the oligarchs, to the threats still made at him by Kremlin cronies today. It explains how Putin ruthlessly consolidated power, became a dictator, fooled the West and ended up invading Ukraine. It also considers the ruler's future and argues how a post-Putin Russia could one day become a fair and functioning democracy.
"I think it's fair to compare Putin with Hitler because what he is building now is a fascist regime," says Khodorkovsky. "The level is not as strong as it was in Nazi Germany, but it has already appeared.
"Perhaps the number of casualties [in Ukraine now, compared to the Second World War] is not as high. But tens of thousands in today's world, which is much more humane, looks quite a formidable figure.
"They both use the same 'Weimar syndrome'," he explains. Just as the German far right felt their emasculated country was unfairly exploited after surrendering in the First World War – when the Weimar Republic was forced to give up land, money and military power – so ultra-nationalists in Russia felt their division from countries like Ukraine after the downfall of the Soviet Union deprived their state of its deserved might and influence. Khodorkovsky continues: "They both consider their occupation of other countries' territories as their mission and the legacy they want to leave behind."
Rise and fall
The tale of the original oligarchs is now legendary. There were seven of them, according to the late Boris Berezovsky, and one was Khodorkovsky. Becoming known as the "Semibankirschina", these businessmen leaped on the chance to buy up cheap shares in the huge state-owned monopolies that were privatised after the fall of the Soviet Union and saw their values balloon. In 1995 Khodorkovsky's bank acquired the oil firm Yukos, which had debts of $3.5bn at the time. He turned it around and two years later he was one of the first four Russians to be ranked as dollar billionaires by Forbes.
One noticeable absentee in The Russia Conundrum is another oligarch: Khodorkovsky's former rival in the oil business, Roman Abramovich. The former owner of Chelsea FC was involved in organising unsuccessful peace talks between Russia and Ukraine in the spring, and has been sanctioned by the UK but not by the US.
"I think I know him quite well," says Khodorkovsky. "If he were to face a choice, he would prefer to lose quite a lot rather than quarrel with Putin. When he's involved in negotiations with Ukraine, he is doing that because he doesn't want it to be sanctioned… Putin condoned his talks because he doesn't want Abramovich to be sanctioned, not because he needs Abramovich as a member of the negotiations team."
Some argue it was the vast wealth these seven men accumulated in the 90s – and the political influence that came with it – that made Putin want to restore the state's overarching authority, convincing the former KGB man to claw back power and seducing the jealous leader into wanting a mega fortune of his own. Does he fear, at least to some degree, that he helped create the Putin whose wrath the world is suffering from today?
Khodorkovsky argues he and the other oligarchs accrued their assets fairly, "through the cut-and-thrust of business". He writes: "Many of the firms we bought turned out to be hard to resurrect, several produced no returns and one even went bankrupt; but all enterprise involves an element of risk. When things worked out for us, we were accused of buying businesses on the cheap, but the fact is that we played by the rules that were in force at the time."
Even so, does he regret how he acted on his way to the top? The film director Alex Gibney, who made the 2019 documentary Citizen K with Khodorkovsky about his life, was taken aback by finding "jaw-dropping archival footage" of the businessman speaking in his youth "about how much he enjoys being greedy and how people who are poor clearly just deserve to be poor".
When I quote these words to Khodorkovsky, he pauses, reflecting on this deeply. He does not bristle.
"I started doing business when I was 24. At that time, I thought: why don't others? Anybody can do that. If you don't do business, you either don't want to or you're just a lazy person. It is something you can't quite grasp at 24: that some things are given to some, but not to others. You can do it but others cannot.
"Could I have done some things differently in my life? I could have. Could I have made the choice in my life at the time to do more for promoting democracy than doing business? Perhaps, yes. Would it have had any impact? I'm afraid I don't think so. I'm a talented businessman. I'm a talented manager. I'm not sure of my talents as a politician. So could I have changed some things? I don't think so – but I would have felt better for it."
But did the inequality created by their rapacious attitudes, at a time of financial crisis in Russia, go some way to persuading ordinary Russians that they needed a strongman like Putin to take control?
"I think both yes and no," he says. "Yes, because had we given people the feeling that everything was shared equally or fairly between them, they wouldn't have had this terrible feeling of being left behind, forgotten and being dealt an unfair hand."
On the other hand, he argues, the affluence of the oligarchs in the 1990s was overplayed. Their fortunes were tied up in their companies in a volatile economy, they were not flush with cash. "People think of wealth purely as money, not business. Today's symbol of luxury is yachts – none of the oligarchs of 2003 had a yacht."
It seems hard to believe, but Khodorkovsky claims with a laugh that if we saw where he lived back then – reportedly a three-storey house in an elite gated community on the outskirts of Moscow – we would understand that he was not living an ostentatious lifestyle. "This is why I found it quite easy to be in prison!"
Life in jail
Khodorkovsky believes it was his criticism of corruption by Putin's inner circle in a televised meeting with the President and other leading businessmen in February 2003 that led to him being jailed.
His allegations concerned $400m pocketed through the acquisition of an oil company – though Khodorkovsky claims he did not realise at the time it was probably Putin himself who took the money.
The last time they met was on 26 April 2003, when the President asked Khodorkovsky to not help opposition parties in elections. The businessman refused to commit to this and later heard that Putin "flew into a rage" as a result. A few months later, he was arrested at gunpoint. His conviction came in May 2005.
While The Russia Conundrum is about far more than Khodorkovsky's own tale, his descriptions of life as a political prisoner are particularly compelling.
Of the 766 penal colonies the authorities had to choose from, Khodorkovsky was sent to one in Siberia, 3,000 miles away from Moscow, where the temperatures ranged from 45°C in the summer to -45°C in the winter. Prisoners were exposed to radiation because IK 14/10 was next to a uranium mine.
The word "gulag" evokes the harshest images of inhumanity. The 21st-century versions are different to the infamous Soviet ones, writes Khodorkovsky, but still incredibly cruel places where "beating and killing can and does happen". "Prisoners are not worked to death through slave labour any more. Sometimes there's even the opposite problem of camps with no work at all. In these places, prisoners become stupefied, like animals, and lose all their social skills (if they had them in the first place)."
Despite all this, Khodorkovsky – who was made to be a porter – felt that "life in the camp is better than in prison. In prison, you're locked in a small room with the same people all day; in the camp, you can walk around as much as you want… You can have a family visit four times a year, each time for three days, and you spend it in a room that feels a bit like a provincial hotel. In prison, the only visits are by intercom."
This all ceases to be true when you are placed in a cramped punishment cell, however.
In 2006 another prisoner attempted to stab him in the eye. Told he needed to be put in a "safe place", Khodorkovsky was forced into solitary confinement, which he knew in reality was a "direct road the cemetery". He responded with a dry hunger strike, refusing water as well as food.
"When you go 'dry', your blood thickens and your blood pressure shoots up," he explains in the book. "Mine reached 180 and the doctors said the next thing on the horizon would be blood clots and a stroke. But the advantage is that this forces the authorities to make quick decisions. You're at risk of dying as early as the third day and almost no one survives more than 10, while the usual 'wet' hunger strike gets dangerous only after 30-60 days." By the fourth day, "I couldn't walk and I was fainting" – but he won. His demands were accepted and he was taken to the infirmary to recover.
Around this time, however, he began to fear he would never be free again. "It was in the year three, when they told me that there was going to be another trial, I thought at the time I would never leave prison, which was hard to admit. It wasn't the length of my prison term ahead. It was understanding that there was no limit to it."
He remains eternally grateful to Angela Merkel, who as German Chancellor lobbied for his release in 2013 together with Germany's former foreign minister Hans-Dietrich Genscher.
Had it not been for Putin wanting to look benevolent before the Sochi Olympics, would Khodorkovsky still be in prison? "It's a good question, I often think about that," he says. For a moment it looks as if his mind is drifting back to another time and place. Slowly, gently, he sweeps his hands across his table and his notebook, like he is brushing away invisible dust. "I think so," he confirms. "There was a very short window of opportunity when I could be released – three months."
He cannot take his continued freedom for granted, however. In March 2021, he was listening to the Moscow Echo radio stations when he heard that "a bounty of $500,000 will be paid for the capture of the former head of the Yukos Oil Company, Mikhail Borisovich Khodorkovsky, who is currently hiding in London. The reward will be payable to any Russian citizen who brings the former oligarch back to Moscow."
The man behind the announcement was Yevgeny Prigozhin, a former gangster turned Putin confidante, who is accused of running the infamous Wagner Group of mercenaries to carry out the Russian army's dirty work. One of the projects Khodorkovsky funded was a probe into what these private military contractors were doing in the Central African Republic, but during the investigation three Russian journalists were murdered. The businessman believes it was this exposure of Wagner's activities that led to Prigozhin offering cash for his capture.
Despite this, and the poisonings of other Putin opponents such as politicians Alexei Navalny and Vladimir Kara-Murza, Khodorkovsky tries to stay calm about his own safety. "It's like being a pilot in a fighter plane," he says. "Every day, when they get into a plane, they don't think about crashing. If they were, they would go mad."
Hopes for Russia's future
Despite all that he went through in Russia, Khodorkovsky was still surprised to learn how Russia is often portrayed in the UK. "One programme that caught my attention was the weekly quiz show Have I Got News For You," he writes, explaining how a similar show had been banned in Russia for mocking Putin. He was glad to see how the British version "poked fun at the people in power", but the intro cartoon still shocked him.
"They showed an evil-looking Russian man in a fur hat and military greatcoat grinning wildly as he closed down a pipeline carrying gas and oil to the West, followed by a sequence in which Wetsern Europe is plunged into darkness. It was so far removed from the self-image that Russians have of themselves that I jumped out of my chair."
It is an image that feels more relevant than ever right now given the energy crisis. "I'm not a huge fan of, say, blocking oil supplies – not because I think that Putin should be given the opportunity to fund this war using energy, but I do know very well how energy markets work," says Khodorkovky. "It's like shutting your mouth and saying I refuse to breathe not to use the air in this room. You either die or you will keep breathing. The only alternative is to go outside and take a breath of fresh air."
Europe's energy security can only be resolved "by building or extending the life of nuclear power plants – and in the UK, the mass introduction of heat pumps and quickly creating storage capacities for green energy. Not only do I think the UK can do that, but it's actually going to be advantageous."
He is certainly not advocating the West should go easy on Putin – in other ways, he believes, it should be much harder on him. He wants to more supplies and training offered to Ukraine's military, and calls for stricter industrial sanctions. "Putin is still manufacturing weapons using Western technologies. It's harder for him to do but still he continues, so there should be much more serious work on the implementation of sanctions."
Asked to mark the West's responses to the invasion of Ukraine out of 10, he says the US and UK deserve eight or nine out in the circumstances, while Europe gets a six or seven.
As for the outcome of the invasion, he says: "Putin cannot stop the war, but also he cannot win it. He can pause it, there might even be peace talks… But ultimately he's going to lose it." This is because it would be impossible to suppress armed resistance and rule Ukraine effectively, he explains.
"Perhaps there will be a point when peace talks will be necessary. But Putin is the kind of person you cannot talk to when he considers himself to be in a stronger position. No long-term agreement with Putin is possible because he just deceives people. Three months before the Crimean campaign, he said he had no ambitions to go there. The same happened months before the war in Ukraine. What you could say to Putin is: 'I don't want to shoot at you once again, but I could do that – so let's just agree that we are keeping each other in our own sights.'"
Khodorkovsky dreams of a free Russia, and brushes aside suggestions that it would be impossible for the country to be a functioning democracy – this, he says, is based on enduring Western misunderstandings of his country and his people.
He predicts: "After Putin leaves, there is likely to be a brief period of rule by his appointed 'heir', followed by an inevitable political crisis and a relaunch of how the country is run."
But who could lead such a country? He rules himself out in his book. He also tells me: "Undoubtedly, Navalny sees himself as such a leader… But it's not really a problem of who comes next, whether it's Navalny or myself or anybody else." The President's power would need to be reduced through a "deep federalisation" he explains, to spread power across the country.
As for the country's ruler for the last 22 years, he says: "I really do think that Putin will stay in power until he dies. The question is whether this is going to be a natural death. That depends on his luck. Having started the war in Ukraine, he has really reduced the period of his political life."
The Russia Conundrum: How the West Fell for Putin's Power Gambit – and How to Fix It by Mikhail Khodorkovsky with Martin Sixsmith, is out now (£20, WH Allen)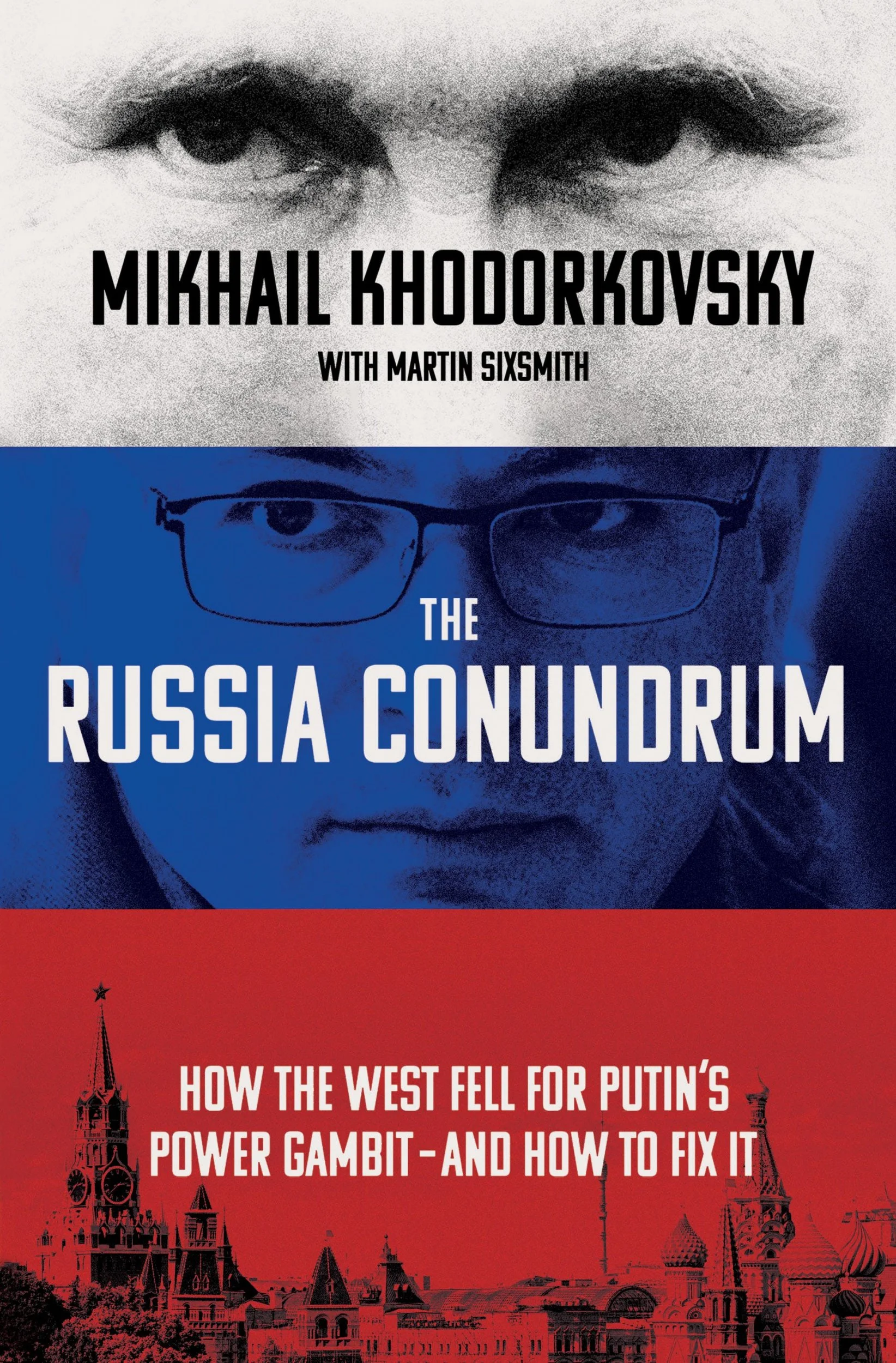 The interview was first published at INEWS.co.uk