Mikhail Khodorkovsky: The Putin Vote is Driven by Hopelessness
June 20, 2017
Speaking at the Global Media Forum in Bonn, Open Russia founder Mikhail Khodorkovsky explained why Vladimir Putin's government may soon start to crumble, and why street protests are important in Russia.  Article translated from Deutshe Welle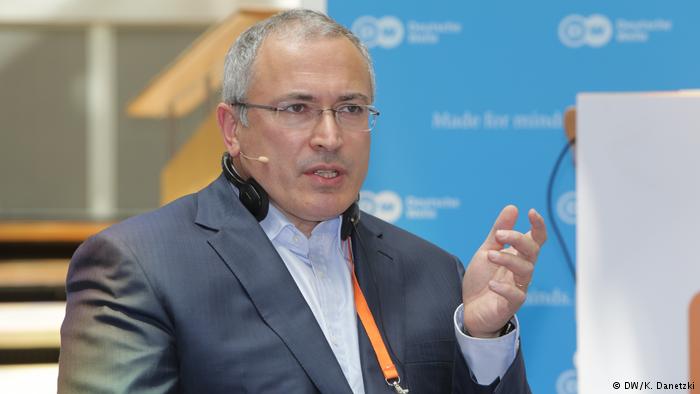 Vladimir Putin will not run for president in 2018.  Instead, he will appoint an heir that will be forced to undertake necessary political reforms.  This is how Open Russia founder Mikhail Khodorkovsky described the ideal path for Russia to take in the next year.  "For me it's a fantasy", he added during his speech at the Global Media Forum which opened on June 19.  The former head of the oil company YUKOS discussed fantasies, dreams and realistic perspectives at the annual forum which is organised by Deutsche Welle.
Hope for a soft transition of power
In the course of the 30-minute question and answer discussion, which was moderated by the editor-in-chief of Deutsche Welle's Russian publication Ingo Mannteufel, Khodorkovsky repeatedly stressed that he is hoping for a soft transition of power in Russia.  However, he added, if Putin does not agree to step down, the government apparatus will begin looking for an alternative within the next year: "and that means that the countdown has already begun until the moment when change comes in a much more radical form."
After being released from prison in 2013, Mikhail Khodorkovsky now lives abroad and is unable to return to his home country.  The most famous Russian prisoner and one of Russia's richest men spent ten years behind bars on charges of tax evasion.  Khodorkovsky's arrest followed soon after his open dispute with Vladimir Putin during a meeting with Russian oligarchs in 2003, during which the former head of YUKOS pointed out to the president the endemic scale of corruption in the country.
The case against the Kremlin critic was deemed politically motivated.  In 2011 the international human rights organisation Amnesty International recognised Khodorkovsky as a prisoner of conscience.  He was subsequently released after appealing for a pardon which was signed by Putin himself.
According to Khodorkovsky, today's support for the Russian president is based on the fact that people do not see an alternative.  Judging by the recent survey conducted by the Levada Centre, at the end of May Vladimir Putin's rating was nearing 82%.  Khodorkovsky believes that no more than 30-40% of this figure belong to Putin's hardline support base: "the rest of the people, if they vote for him, will do so purely out of hopelessness.  This means that society is seeking an alternative."
"The people must know that there is an alternative."
Khodorkovsky stressed that Open Russia's main goal is to explain to people that an alternative exists.  "The country is being run ineffectively, and if they really want it to happen, then this situation can change."  The Open Russia founder is sure that street protests are very important in this process: protests can help people to see plainly that an alternative exists, and that those who are unhappy with the country today are not alone.
He did not specify who exactly could become such an alternative, but made it very clear that he himself has no desire to run for president.
"I am not presenting myself as a presidential candidate.  I believe that it's not too important who will occupy that post.  The most important thing for Russia is that the system should change."
During last year's state Duma elections Open Russia supported a range of candidates.  In September the same year Mikhail Khodorkovsky launched the "After Putin" initiative, whose goal is to select an alternative candidate who could run for president in 2018.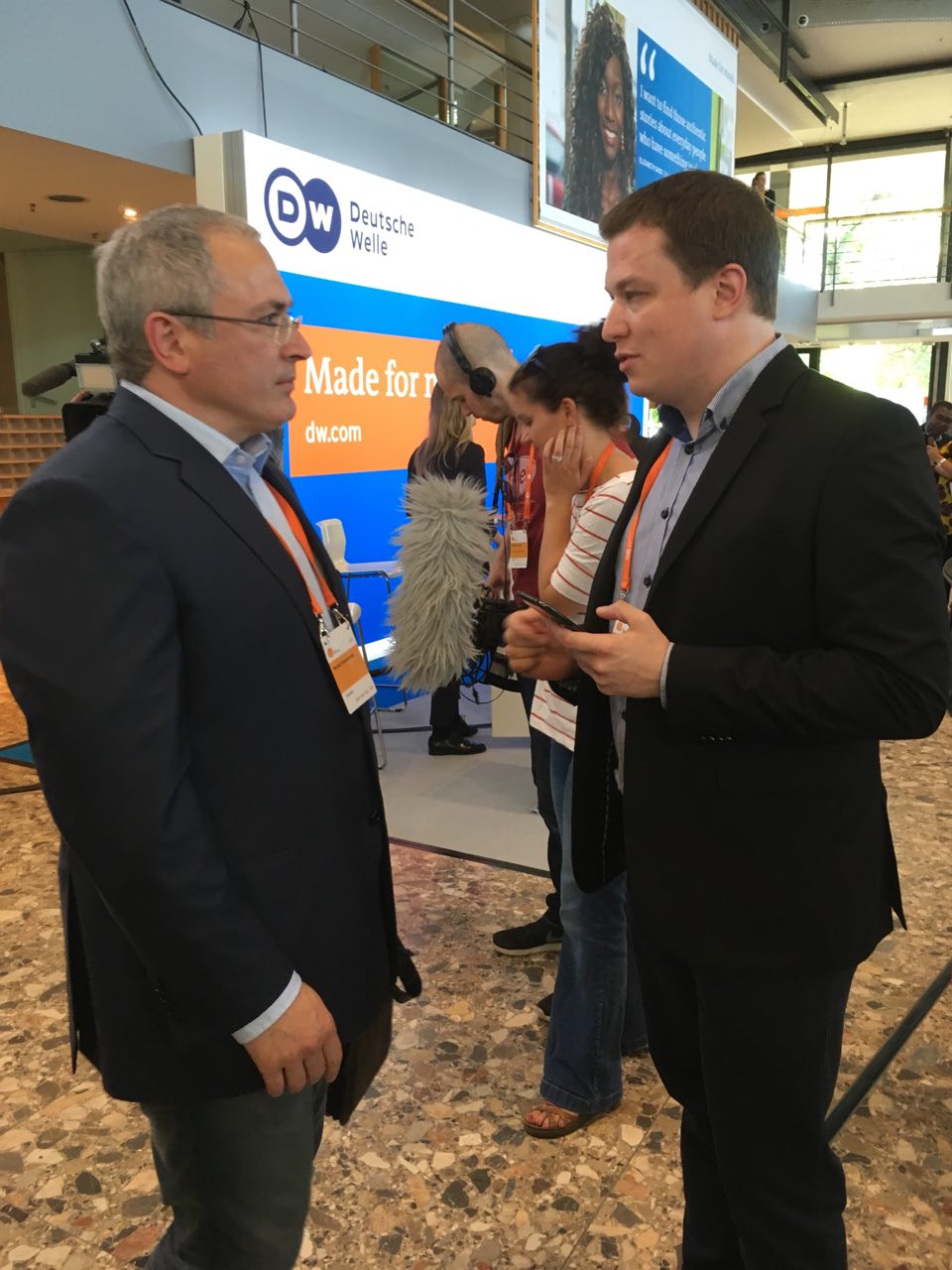 Khodorkovsky is also fighting for the development of independent media in Russia.  His Open Media initiative is supporting startups which are involved with investigative journalism.  During his speech at the Global Media Forum, Khodorkovsky pointed out that the Kremlin has forced all fundamental sources of media into subservience, from television to internet publications, while the small number of independent publications face constant pressure.
"In this situation the availability of authoritative alternative opinion is extremely important as bloggers cannot play the same role that the mainstream media do across the world.  We are striving to help the media create a field of different opinions."
The ideal outcome is Russia as a parliamentary republic
According to Khodorkovsky, the best form of government for Russia would be that of a parliamentary republic.  He explained during the forum:
"In order for Russia to develop harmoniously, it's not enough to just have one person at the top.  It is impossible for such a large country to be governed outside the law, and in today's Russia the law is not supported.  This means that Putin is effectively forced to govern the country with his own hands.  Is that possible? Of course it's not, it's a myth."
Khodorkovsky believes that today's Russia is "split into a number of separate principalities, both territorial and sectorial.  To improve the country's governing system requires the creation of a normal, balanced parliamentary model with a strong government and an independent judiciary."