Open Russia Appeals to European Court of Human Rights in Support of March 26 Demonstrators
October 23, 2017
Open Russia's Human Rights team have submitted an appeal to the European Court of Human Rights in support of those arrested for their participation in the March 26 anti-corruption demonstrations, as well as members of Alexey Navalny's team who were involved in broadcasting the events on "Navalny LIVE".  Our defendants were arrested for a period of 6 to 12 days for non-compliance with police officers.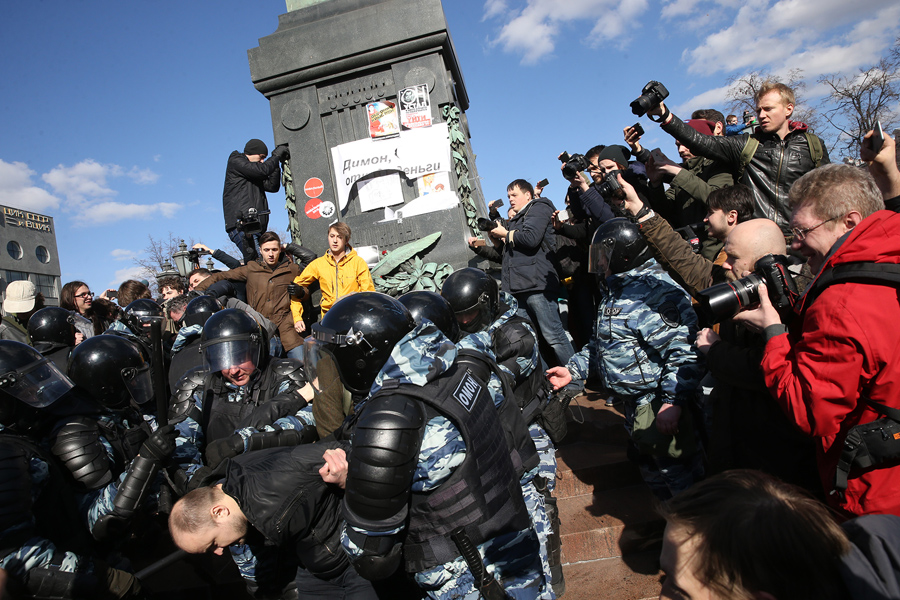 Ilya Zaytsev, Timofey Medvedev and Nikita Mileshin were detained on Moscow's central Tverskaya street during the March 26 demonstrations against government corruption.  Assistant to the director of the "Navalny LIVE" Youtube channel Ekaterina Kenareva, and sound engineer Vladislav Mosin were also detained while conducting a live broadcast of the events.  Those who were detained were taken to local police stations where they were kept for the night.  The next day the Tverskaya court found them guilty of disobeying police orders, a ruling that was later upheld by the Moscow City Court.
Our lawyers pointed out in their appeal that those who were arrested had their rights violated in accordance with article 5 and 6 of the European Convention of Human Rights which guarantees the right to freedom and personal liberty, as well as the right to a fair trial.  In the case of Timofey Medvedev the right to freedom of speech and expression, as well as the freedom of assembly (article 11) were all violated.  We managed to attach a video recording to Medvedev's case materials in which it is clear that Medvedev did not offer resistance to police officers.
On March 26 on Moscow's central Tverskaya street over 1000 demonstration participants were detained for protesting against phenomenal government corruption as exposed by Alexey Navalny's Anti-Corruption Foundation in a famous video about Prime Minister Dmitry Medvedev.  The demonstrators were charged with participating in an un-sanctioned event and disobeying police orders.  Those who were detained and Open Russia's human rights lawyers noted that the police officers were attempting to press the same charges charges against everyone involved.
On the same day at around 1pm police officers turned up at the Navalny team's offices while they were running a live broadcast of the demonstrations.  First the officers claimed that there was a bomb in the building, but did not evacuate anyone.  A little while later everyone in the building was ordered to leave under the pretext of a fire.  The team complied with the police, and they were taken to Danilovsky police department where they were charged.  The next morning the detainees were handed fresh charges which claimed a different reason for the evacuation.  The team declined to sign the protocols.
The European Court of Human Rights has been an invaluable tool in holding the Russian authorities to account for violating the human rights of citizens.  As such violations become more and more frequent it is as important as ever for human rights activists to continue working alongside the European court in order to punish flagrant injustice.  If you would like to get involved with Open Russia's Human Rights activity, please consider making a donation here.