Pavel Khodorkovsky: Let my father go!
November 14, 2012
Sueddeutsche Zeitung, Germany's biggest daily newspaper today featured Pavel Khodorkovsky's op-ed in their 'Außenansichten' section. (The original article online on Sueddeutsche.de)
The English translation of the article is below
Mikhail Khodorkovsky is imprisoned for ten years – unjustly. Now the West needs to put more pressure on Putin.
From Pavel Khodorkovsy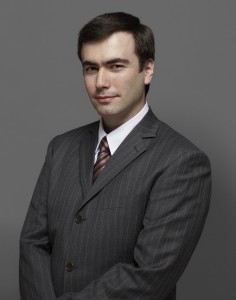 When the German and the Russian government meet tomorrow for their annual consultations, my father, Mikhail Khodorkovsky, will have already started his tenth year of imprisonment. The 25 October 2003 marks the date my father was arrested on trumped-up, politically motivated charges and robbed of his assets. It also marked the beginning of Vladimir Putin's crusade against those who dared to oppose him, a crusade that still continues today against the rule of law, human rights and democratic values. My father's ongoing imprisonment and the destruction of his company have had a lasting, damaging impact on Russia, politically and economically. Thus, his prospects for freedom are intertwined with Russia's current political climate and its relations with the West.
Against this background it was interesting for an exiled Russian as myself to observe the vivid debate in Germany about how much criticism of Russia's politics is appropriate in the often praised Russian-German relations. According to the Russian government, apparently not very much as it is declared – the Commissioner for German-Russian Intersocietal Cooperation Dr Andreas Schockenhoff as a persona non grata and denounced his criticism of the Pussy Riot trial and Russia's Syria policy as "defamatory".
But also some German foreign politicians argued one should bear in mind that Russia is needed to solve global political issues such as in Syria or Iran and economic politicians were quick to refer to Russia's importance as a trading partner and to Germany's and Europe's – alleged – dependency from Russian energy. These arguments are only superficially convincing, if at all, and are certainly not sufficient to justify silencing a candid evaluation of the recent political developments in Russia.
Putin's return to the Kremlin put a harsh end to the illusions of hope which the West put on Dmitry Medvedev prematurely. Pussy Riot punk rockers were locked away for a protest which was at most a misdemeanor but now justifies a two years prison sentence. Critical opposition politicians like Gennady Gukdov are expelled from the State Duma, outspoken opposition activists such as Alexey Navalny and Sergey Udalzov are persecuted and the secret service does not refrain from abducting opposition figures abroad to produce coerced confessions. At the same time NGOs and civic rights groups are pressurized by the infamous law which forces them to register as "foreign agents" should they receive financial support from abroad. And the newly widened definition of high treason as well as the new possibilities for internet censorship further confine the already limited freedom of expression and of press.
It is not surprising that many elderly Russians are more and more reminded of the Stalin era. Therefore, naming these alarming tendencies frankly and as what they are – characteristics of an authoritarian regime with dictatorial attributes –is not only appropriate but necessary.
If a critical Russia debate does not take place in Germany, Russia most loyal ally within the EU, it will not take place anywhere. A relationship which is described as a partnership should stand constructive criticism and it is even the engine for its progressive development. We should also not fall for the argument that critical words would jeopardize the Germany's trade prospects in Russia. The economic ties of both countries are much too close and the dependency is mutual which hinders Russia from simply turning away to China and Asia which are not really a reliable and profitable option for Russia.
Some argue that criticism from the West is patronizing since Putin is still the most popular politician in his country. I will not pretend that this is not true. Large parts of Russia still prefer Putin's style of rule to the alternatives. But instead of capitalizing on his position, Putin cracks down on the opposition, harasses the civil society and intimidates critics. But as a member of the Council of Europe Russia subjected itself to the European Convention for Human Rights and has to accept that it will be assessed against these standards. Every member state who would abuse human rights in the same way as it happens in Russia would get the same critical reactions as Russia.
But criticizing Russia should not be misunderstood as a means in itself. Merely words will remain hollow and useless and despite of its thin-skinned and touchy demeanor the Russian leadership stands much more criticism as most people believe – as long as it is not followed by any real consequences. Because only concrete actions will help civil activists and opposition politicians in their strive for more democracy. Therefore, European governments should no longer hesitate to ban bureaucrats who are involved in human rights abuses from entering the EU and to freeze their assets. Corrupt bureaucrats should be prevented from laundering their illegal money by investing it in European enterprises. This would be a welcome support for the Russian people as it would help to implement rule of law and civil rights as well as tackle corruption and instill accountability within Russia.
But at the end of the day it is in Putin's own hands to silence the Western criticism he loathes so much. During his election campaign he promised to develop a truly independent justice system, to strengthen freedom of speech and media and to modernize the economy and the administration. He just needs to credibly demonstrate that he is fulfilling his promises.
My family and I hope that such a sign could be to free my father. I am not naive enough to think that Putin will suddenly develop a love of the rule of law and loosen his grip on the judiciary. But Western governments, respected peace activists such as Aung San Suu Kyi, human rights groups such as Amnesty International all agree: my father's freedom would boost Russia's international legitimacy, open up its market to foreign investors and demonstrate that the nation is serious about the rule of law. We believe the German-Russian government consultations are the right platform to deliver this message to Putin.
Pavel Khodorkovsky, 27, is the oldest child of the imprisoned Russian businessman and politician Mikhail Khodorkovsky. He lives in New York and is president of the Institute of Modern Russia.
Copy of the original edition Sueddeutsche Zeitung, Pawel Chodorkowskij: Lassen Sie meinen Vater frei!