Photo Exhibition on Russian Corruption Draws Big Crowd
February 18, 2013
On Friday evening the New York gallery 287 Spring was packed with patrons for the opening of the exhibition "Photo51 – Is Corruption in Russia's DNA" featuring a collection of works by photographer Misha Friedman.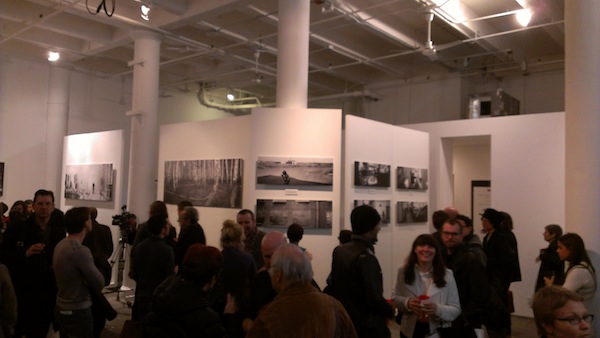 Among a number of distinguished guests, Pavel Khodorkovsky, President of the Institute for Modern Russia, which sponsored the exhibition, also attended the opening.
"The question here [of this exhibition] by no means implies a definitive answer," Pavel Khodorkovsky said. "The problem of corruption in Russia has surpassed the stage of being an easily identifiable phenomenon, where you can point to a person and say they are corrupt. Unfortunately in Russia today, the problem has become systemic, where not only the government is responsible, but society actively partakes. We are trying to get people to start critically thinking about how deep corruption has become embedded into everyday facets of life."
The Photo51 exhibition features 17 of Friedman's photographs, which approach corruption in Russia from an indirect perspective. For example an image of a disabled man struggling up a subway escalator (because no ramps are provided), a cordoned-off camping site (as an impression of insecurity over property rights), and even a photo of workers on a bus in Karelia, on their way to work at the prison where Mikhail Khodorkovsky is held.
One particularly striking photo depicts two Russian naval cadets standing guard at the main door to the command centre of the Navy's Baltic Sea fleet. Though proud and decorated, most parents do everything possible to ensure that their children are able to avoid military service, where brutal hazing rituals and unaccountable abusive treatment result in numerous fatalities every year. Another popular work by Friedman depicts crews working on the set of the Scarlet Sails, a traditional celebration in St. Petersburg that marks the end of the school year. While this celebration is one of the city's biggest, attracting thousands to fireworks shows and concerts, behind the scenes corruption prevails that results in the disappearance of millions in public funds.
Ivan Savvine, the curator of 287 Spring, suggested that the project's main appeal lies in the methodology of Friedman's approach, looking into the most mundane details of daily life for many Russians, and asking the viewer to reflect on the social dimension that corruption may bring.
According to the photographer, these images are meant to be the beginning of a story.
"All good stories begin with a question, not just photography, but all good storytelling begins with a question," Friedman said during the opening party for the exhibition. "And I don't pretend that I know the answer to this topic, but maybe collectively, we do. And if this exhibition leads you to a question, to an answer, or a debate, then I did my job."
Photo51 will be open to the public at 287 Spring until March 2. The gallery will also be hosting three screenings of films, including Andrei Rublev, a remarkable 1966 film by Andrei Tarkovsky, as well as Cargo 200 and Justice for Sergei, a documentary about the murder of corruption whistle-blower Sergei Magnitsky.