Pussy Riot Call For Kremlin To Address Human Rights During World Cup Final
July 18, 2018
On Sunday July 15, four members of the Pussy Riot protest group breached the pitch during one of the most lively finals in recent World Cup history.  The activists dressed in police uniforms as they fled onto the pitch in order to capture the attention of tens of millions of viewers and draw attention to the problem of human rights abuses in Russia.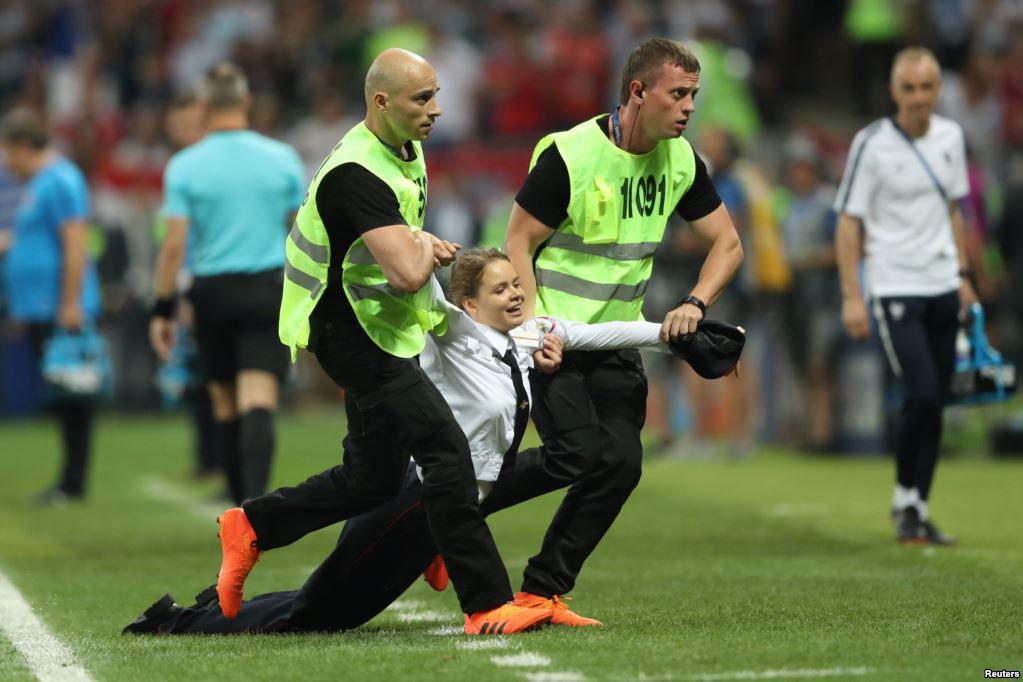 Pussy Riot posted a manifesto on their Facebook page setting out their demands to the Russian government: "Release all political prisoners/ Do not put people in jail for likes on social media sites/ Stop illegal arrests during the protests/ Allow political competition in the country/ Do not fabricate criminal cases and do not keep people in jail unjustly/ Turn the earthly policeman into a heavenly one."
The Pussy Riot activists were accused of violating FIFA's rules for spectators and for wearing a police uniform illegally.  They now face fines of up to 20,000 rubbles (£242) and 160 hours of community service or 15 days in jail.  The police are also investigating the possibility of a pressing criminal charges.  Almost 6 years ago Pussy Riot members were sentenced to two years in prison for performing an anti-Putin protest song "Punk Prayer" at the Christ the Saviour cathedral in Moscow.
Pussy Riot's demands coincide with international pressure during the run up to the World Cup as well as the Trump/Putin summit in Helsinki, calling for the release of political prisoners and the improvement of the situation concerning human rights in Russia.
At the end of 2017, the human rights organisation "Memorial" counted 117 prisoners languishing in Russian jails on purely political charges.  A Russian court controversially accused Ukrainian filmmaker Oleg Sentsov of preparing terrorist attacks against Russia after the annexation of Crimea. On May 14 Sentsov began a hunger strike, calling for the release of 64 Ukrainian political prisoners.  The hunger strike has now extended for over 66 days.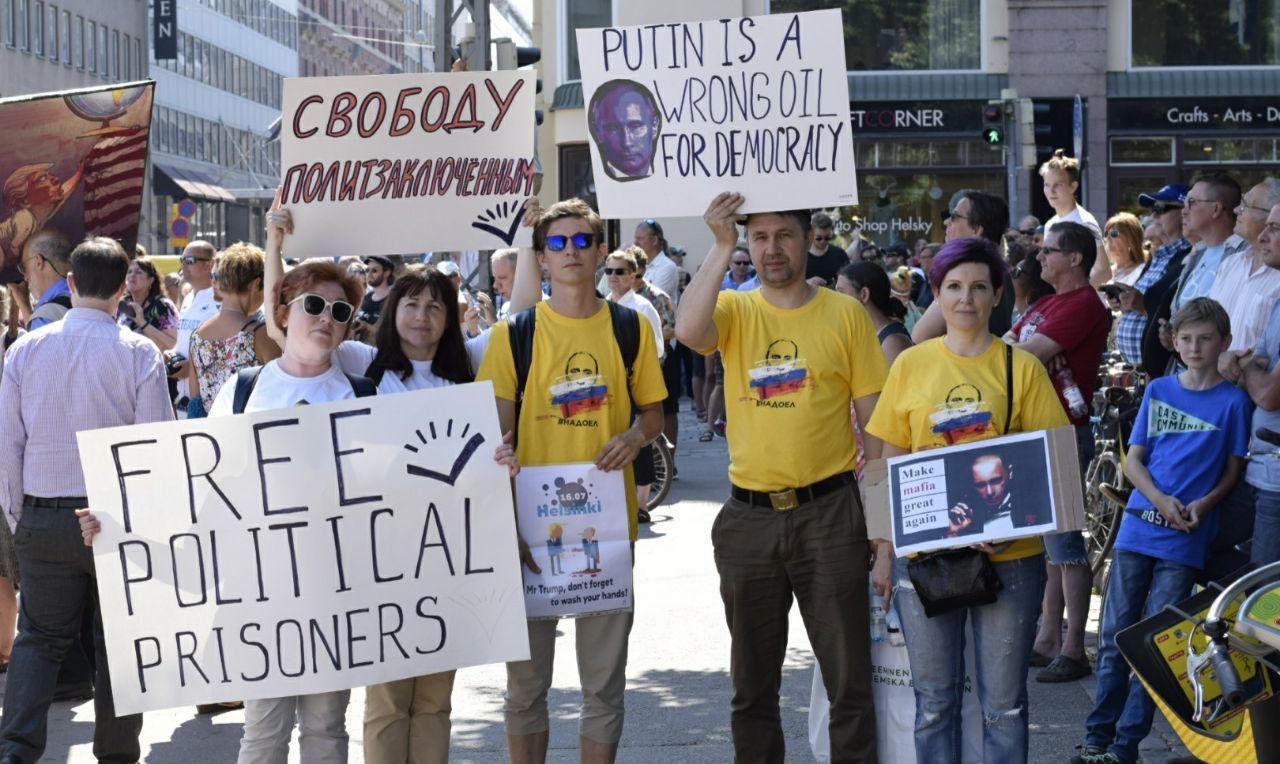 During the highly controversial Trump/Putin summit in Finland, "Open Russia" activist Peter Trofimov was detained on the boarder of Finland by Russian border guards while carrying a poster in support of Oleg Sentsov. Russian border guards supposedly claimed that the poster had "an artistic value" and could not be taken out of Russia.
Other political prisoners whose cases were fabricated include the head of the human rights organisation "Memorial" in Chechnya Oyub Titiev, as well as Alexey Pichugin, who is serving a  life sentence in connection to the Yukos affair.
The number of convictions for "extremism", especially as the result of social media posts has also increased significantly in the last couple of years. In the last half a year 323 people were sentenced for re-posting material on social media, most prominently on Russian social media site VKontakte.