Read my lips
August 16, 2016
In November 2015, when a Russian warplane was downed by a Turkish missile, Vladimir Putin branded Tayyip Erdoğan an enemy of Russia. Today, however, it's all smiles and handshakes, with Putin graciously allowing the Turkish leader to refer to him as a "dear friend."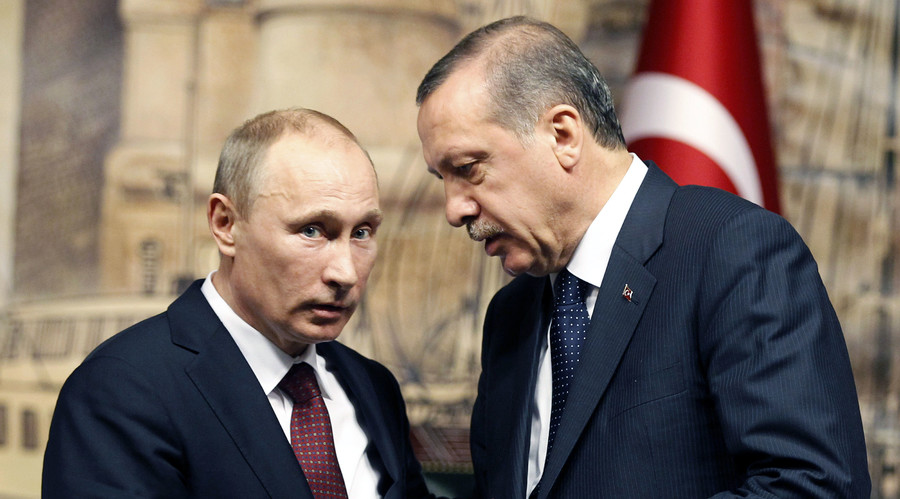 The feverish willingness to bury the hatchet with Turkey, currently being evinced by Putin gives the lie to his righteous resentment from nine months ago.
Vladimir Putin has erred: the Russian public is struggling to fathom the whys and wherefores of this rapid reconciliation with Erdoğan following months of fierce anti-Turkish invectives. Russian netizens have taken to all manner of platforms – from the tabloid Komsomolskaya Pravda to the respectable Vedomosti – to mock and ridicule their president.
Yevgeny: "Turncoat: the most in-demand modus operandi in Russia."
Ympo: "If Erdoğan hadn't taken the initiative, when would this reconciliation have happened? I find it hard to believe that Putin would be capable of undertaking such steps. […] Even Erdoğan is capable of acknowledging his own mistakes and trying to correct them, but Putin? Never."
Philipp: "Erdoğan is no longer an IS accomplice or an enemy of Russia!"
Meanwhile, a user who goes by the handle of "Cynic" calls attention to the unscrupulousness with which Russia's Kremlin-orchestrated propagandists have revised their attitude to Turkey: "Oh, our agitprop machine was doing its darndest, it really was – the Turks are Russia's old enemy, they've always hated us, we won't forgive the spilling of our valiant pilots' blood, Erdoğan is the terrorists' partner-in-crime, blah blah blah. But at the flick of a switch they've done an absolute U-turn – the Turks are our allies, Erdoğan has been duped by his enemies, we have to be friends, and so on and so forth. Journalism – the world's second oldest profession indeed …"
But, as ever, the professional propagandists responsible for this volte-face have served as nothing more than Putin's handmaidens. In rupturing relations with Turkey, the Russian president was acting largely under his own steam; and he was too sharp in his invectives, too energetic in his burning of bridges, too successful in his choice of words to express his exasperation ("we've been stabbed in the back," "Turkey is an accomplice of terrorism," "they're not going to get away with a tomato ban").
Putin is fond of reiterating that when it comes to international affairs, he's guided not by any personal likes or dislikes but solely by the interests of Russia as a whole. But why, in that case, did the Kremlin so persistently vilify Erdoğan over the course of seven months, despite making noises about the possibility of a rapprochement with Turkey from the very outset of the conflict (after Ankara had apologised and mulled compensation over the downing of the jet)? Did it simply not believe that Erdoğan was capable of moving towards a rapprochement? Did it fail to realise that a "new season" of friendship with the Turks would look like brazen hypocrisy in the wake of the endless scorn that has been heaped on Ankara? Or was it rather that the downed jet represented a profound personal insult for Putin, and that, furthermore, the Kremlin firmly believed that no one would ever hold it to account for its Turkophobic pronouncements?
Vladimir Putin has effectively fallen victim to his own habit of giving empty promises. Throughout his reign, Putin has invariably valued the immediate PR effect of a generously worded promise over any ultimate realisation of that promise. Dozens of examples testify to this fact.
Statement: "The government isn't interested in the bankruptcy of a company like Yukos" (June 2004). Outcome: The assets of the bankrupt Yukos corporation came under the control of Putin's loyal adjutant Igor Sechin.
Statement: "We're not going to censor the Internet. I don't think it's possible to limit anything" (April 2011). Outcome: In today's Russia, any careless online statement – or even a repost – can land you in prison; and the so-called "Yarovaya law" is set to transform the Russian Internet into an outright instrument of citizen surveillance.
Statement: "By 2015, at least one third of Russian families should have an opportunity to buy accommodation either with their own money or with the help of a bank loan" (February 2011). Outcome: As of late 2015, only 14% of Russian households could afford a mortgage, with another few percent able to buy a new property with their own means.
Much the same has happened with Turkey: Putin promised Russia a new enemy, launching vicious diatribes against this fresh foe as if there were no tomorrow, without a second thought for any transcripts or dictaphones. But when it turned out essential to make peace and renounce everything that had been said before, Putin, who owes every second of his reign to the state propaganda machine, already knew what to expect: Russian TV viewers would willingly receive any new "truth" about Turkey he might care to feed them. And yet, this proved a volte-face the public was loath to "forgive." According to a July survey conducted by the Public Opinion Foundation, 60% of Russians believe that the government shouldn't hasten to restore "good-neighbourly and mutually beneficial relations" with Turkey, while only 27% of respondents hold the opposite opinion. A great many people are far from thrilled at the fact that, having fallen in love with Erdoğan for a second time, the Kremlin – busy imagining the sums it stands to reap now that relations with Turkey have been restored – forgot all about Oleg Peshkov, the deceased pilot, and Alexander Pozynich, the marine killed during the rescue operation. A reserve officer posted the following message on Life.ru, an online publication loyal to the regime: "I propose that Erdoğan be awarded the Order of Courage – he's not quite Hero of Russia material, he's not Kadyrov, not having killed as many of our soldiers!! money is dearer than meat …" Pavel on Putin: "Let him say a couple of words to the wife of the killed pilot. Hi there, I've just made peace with your enemy who killed your husband!!!"
Putin should be in no doubt: for the majority of Russian citizens (government-bankrolled trolls notwithstanding), the Turkish saga represents a misstep on the part of their president, with even the most untrained observers noting the hypocritical vacillations of the regime. The opposition, meanwhile, has a new trump card: in terms of its sheer capacity to evoke the regime's true nature, little can compare with the "Turkish Affair" – perhaps only a massive exposé of the irrepressible consumption prevalent amongst Putin's inner circle could vie with it for illustrative power.