Russians Do Not Want War – Khodorkovsky
February 20, 2015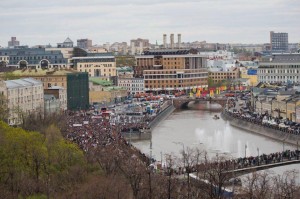 At a press conference in Moscow, called to publicise an opposition march, to be held in Moscow on March 1, the organisers took questions about the planned anti-war and anti-crisis demonstration. The march is being organised by a coalition of opposition groups including Open Russia, Progress Party, RPR-Parnas, Party of 5th December, and Solidarity.
At the press conference, Vladimir Kara-Murza, regional coordinator of the Open Russia movement, said: "There comes a time when the active part of society says, 'Enough is enough!'"
In what is being seen as a direct response to the march, the Russian authorities announced the imprisonment of Alexei Navalny for 15 days, a move designed to stop him from taking part.
Mikhail Khodorkovsky, founder of the Open Russia movement, released a statement, explaining why the march is such an important event: "We are now marking a year since the start of the conflict in eastern Ukraine. The Kremlin has been working very hard to persuade us that military action is the only way to protect the "Russians of the Donbas". We are being conditioned into believing that different points of view can only be resolved by killing those who beg to differ.
But any reasonable person can clearly see that this is not the way. War is the worst possible way to solve problems. Wars lead to deaths and suffering, which are unthinkable in peacetime. Those very people, whom the Russian authorities had claimed to be 'protecting', have instead lost their livelihoods, their property, possessions, relatives, and even their lives. Who needs this kind of protection?
Not to mention the fact that this armed conflict goes directly against Russia's interests, for it is a source of deep economic, social and legal problems.
I am sure that the Russian people do not want war. The Peaceful Spring march will give everyone an opportunity to demonstrate their desire for peace, with like-minded people, to openly declare their feelings, and to say out loud that the war has to stop, and we need to return to the path of openness and progress."