Russia's Revolutionary Century: 100 Years On
October 30, 2017
On November 4-5 Open Russia is commemorating Russia's Revolutionary Century at its central London headquarters in partnership with University College London.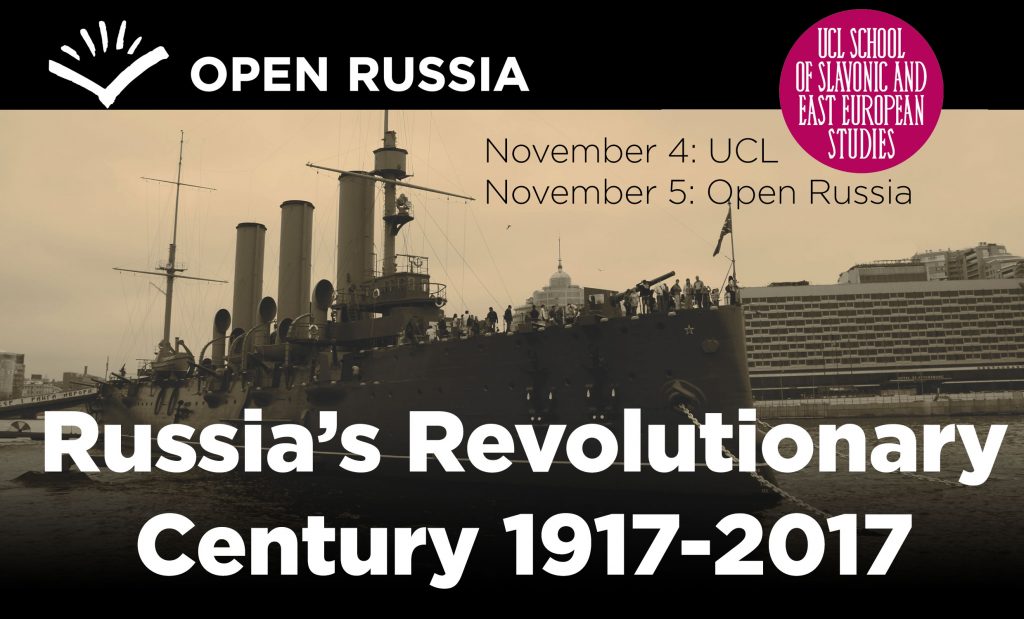 The last 100 years have had a tumultuous effect on Russia.  The October Revolution swept away centuries of Russian monarchy and established a dictatorship of the proletariat.  74 years of Soviet rule changed Russia irrecoverably, leaving a lasting imprint on the Russian mind as well as the country's economy and political system.  Yet, 1991 witnessed yet another kind of revolution, a much quieter one which ushered Russia nervously into the 21st century.
100 years on and the centenary of the October Revolution is receiving a mixed reception across the world.  So how should we view the Russian revolution today? What caused it and what were its real consequences?  Are there parallels to be drawn with today's regime?
Open Russia and University College London have gathered the finest minds to discuss these questions and help us define what the Russian Revolution means to us today in 2017.  The first day of the event will take place at UCL's campus on Gower Street, London.
The second day will be held at Open Russia's central London Headquarters at 16 Hanover Square.
For more information on the event and for tickets please visit the UCL website.
Conference Programme:
Saturday 4th of November
UCL Gustave Tuck
09:30-10:30 – Opening remarks and Keynote Lecture by Laura Engelstein: "The New Russian Revolution: 1917 Revisited"
10:30-10:45 – Coffee Break
10:45-12:15 – Panel 1
Revolution and Memory
Uilleam Blacker 'Provincializing the Revolution: the View from Ukraine'
Simon Dixon 'Revolutionary memories and the specter of counter-revolution'
Andy Willimott 'Revolutionary Scripts: the Paris Commune and October 1917'
Moderator: Pete Duncan
12:15-13:30 – Lunch Break
13:30-15:00 – Panel 2
Revolution and Empire
Sarah Badcock 'Kaleidoscopes of revolution: Views from the provinces in 1917'
Jennifer Keating 'At the margins of revolution: 1917 and beyond in Central Asia'
Kristin Roth-Ey 'Soviet media empire and revolution'
Moderator: Stephen Lovell
15:00-15:15 – Coffee Break
15:15-16:45 – Panel 3
Daniel Beer 'The Struggle over Sovereignty: Revolutionaries in Siberian Exile, 1905-1917'
Peter Waldron 'Proletarians of the paintbrush: art and revolution'
Claire Shaw 'Revolutionising the Imperfect Body: Changing Visions of Disability after 1917'
Moderator: Andreas Schönle
16:45-17:00 – Coffee Break
17:00-18:00 – Keynote Lecture by Geoffrey Hosking: "The Triumph of Distrust: 1917 and Soviet Society".
Sunday 5th of November
Open Russia
11:30–13:00 – Panel 4
Revolution, Political Culture and Modernisation
Sergej Medvedev 'Modernization through Catastrophe'
Vladimir Pastukhov 'Permanent revolution. Will Russia eventually become a Eurasian union?'
Lev Lurie 'Why did it all start with the Vyborg side?'
Moderator: Kirill Rogov
13:00–14:00 – Lunch Break
14:00–15:30 – Panel 5
Ekaterina Mishina 'Specific Features of the Bolshevist Criminal law'
Philippa Hetherington 'Liberal' internationalism and the politics of illiberal criminal law reform in the early Soviet Union'
Murray Frame 'Crime and Policing in the Revolution'
Moderator: Louis Skyner
15:30–16:00 – Coffee Break
16:00–17:30 – Panel 6
The Legacy of 1917/Impact on the world
Tony Brenton
Robert Service
Kirill Rogov
Andrew Wilson
Moderator: Simon Dixon
17:30–18:00 – Closing remarks
18:00–19:30 – Drinks reception