Security Services Raid Open Russia Members In Connection With Yukos Case
October 5, 2017
Searches are currently ongoing at the premises of key Open Russia members in connection with the 2003 Yukos case.  We are following the events live.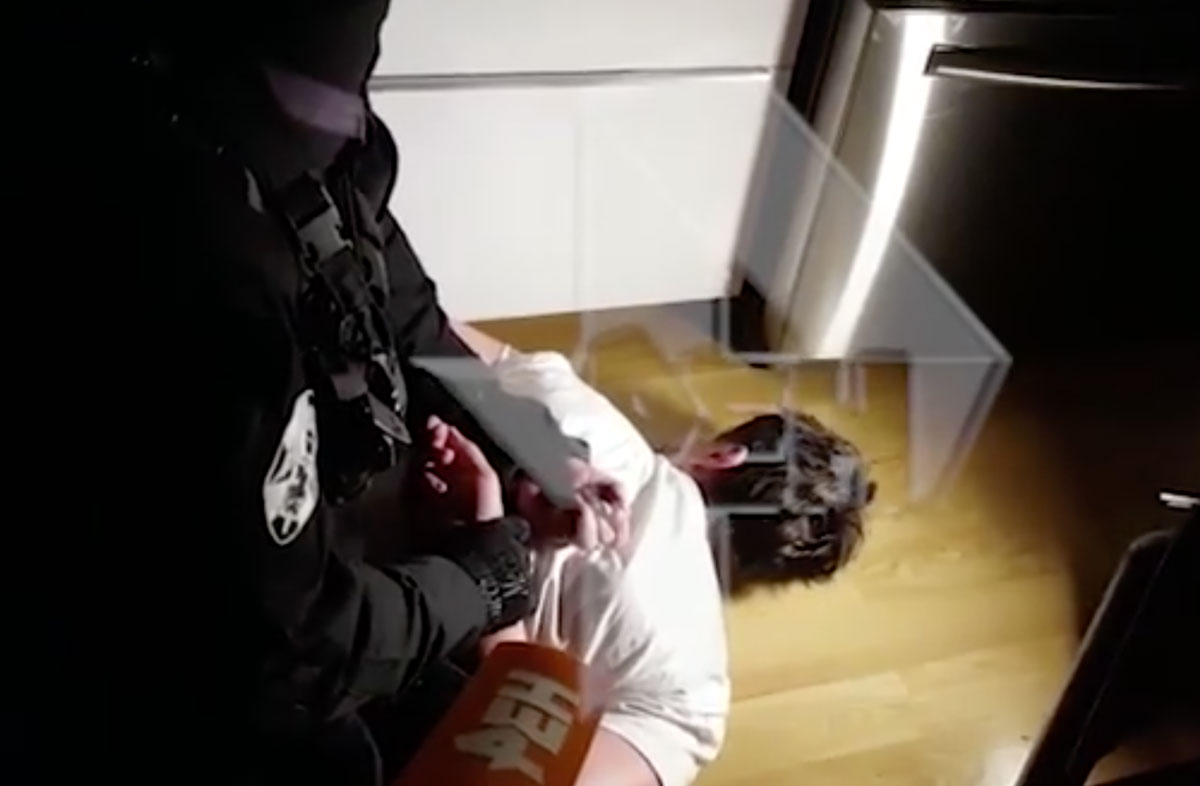 At 6:30 am on October 5 investigators arrived with a warrant to conduct searches at the premises of Open Russia chief editor Veronica Kultsylo, the parents of Open Russia Movement chairman Alexander Soloviev, Open Elections manager Timur Valeev, systems administrator Artem Minich and the daughter of the chief editor of Open Russia's research centre Andrey Konyakhin.  The searches are being conducted in connection with the 2003 Yukos case.
Alexander Soloviev has said that during the search telephones, computers and photographic equipment were confiscated.
Soliviev commented on twitter: "They turned up at my parents' house to conduct a search.  Mum only just managed to say that it was a raid and then they cut the connection."
К моим родителям заявились с обыском. Мама только успела сказать, что обыск, потом связь оборвалась.

— Александр Соловьев (@alx_solovyev) October 5, 2017
According to Artem Minich the investigators tried to find out his real place of residence.
At 8:25am local time the investigative group arrived at premises of openrussia.org where at the time only security guards were present.
At 9:00am two other searches took place at the premises of Open Russia movement director Timur Valeev and former movement member Nikolai Levshits.
Polina Nemirovskaya tweeted saying "They turned up in many cases not to their individual addresses, but to the parents' house. This is psychological pressure."
Ко многим пришли не по адресу, а к родственникам. Психологическое давление.

— ядерный потанцевал (@polinanem) October 5, 2017
Mikhail Khodorkovsky has tweeted saying "Raids on our colleagues continue to take place, it's clear whom the security services are protecting, and from whom they are protecting them."
Обыски нашу работу не остановят, зато помогают понять, кого и от кого на самом деле защищают наши спецслужбы. https://t.co/sgAubikbPY

— Ходорковский Михаил (@mich261213) October 5, 2017
A video has emerged from Russian state TV media showing Open Russia director Timur Valeev lying face down on the floor during this morning's raid.
At 10:30 searches at the premeses of Open Russia chief editor Veronica Kultsylo have come to an end. Investigators confiscated tablets and telephones as well as a poster that says "Kommersant – The Government" with a photo of Mikhail Khodorkovsky, Vladimir Putin and Dmitry Medvedev. Kultsylo is now on her way to the Open Russia office with a lawyer in order to be present while investigators search the office.
Open Russia's Vladimir Kara-Murza has commented saying "Again "Yukos", again "Apatit". Many of those who are being searched today don't even remember these events from their childhood."
At 11:30am the Russian Investigative Committee commented on the Open Russia searches.
The 2003 Yukos investigation began to pick up momentum after Mikhail Khodorkovsky and his business partners won a $50 billion lawsuit against Russia in connection with their oil company. This has been stated in a press release given by the Investigative Committee.
The search groups are also looking for foreign materials in connection with the officially 'undesirable organisation' Otkrytaya Rossiya.
Mikhail Khodorkovsky has commented saying "The Investigative Committee has written a startlingly honest press-release about today's Open Russia raids. It turns out that the investigation into the Yukos case of 2003 was ramped up after Khodorkovsky and his business partners won a $50 billion lawsuit against Russia for their stolen oil company. That's exactly how they worded it, i'm serious.
The reaction to the court's decision was in the spirit of real siloviki – search and extract.
Mikhail Khodorkovsky's press-secretary Maxim Dbar has made an official statement on the October 5 raids of Open Russia members.
From early this morning on October 5 the Russian Investigative Committee has been conducting an investigation against Open Russia and its affiliates.
The searches have been taking place at the personal residences of our colleagues, at their parents' residences, their friends and also at the office of the Open Russia Movement and the openrussia.org office. The Investigative Committee has announced that it is trying to clarify whether Open Russia is collaborating with organisations recognised officially as 'undesirable' in the Russian Federation.
In order to make the Investigative Committee's job easier we can repeat: Open Russia does not collaborate with undesirable organisations and receives no funding from them. The fact that in order to justify an investigation in 2017 it was necessary to revive a case in connection with something that took place in 1995 is a clear example that the actions of Open Russia fully comply with Russian law.
In total 18 raids took place, including of Russian journalist and political analyst Stanislav Belkovsky. Numerous Open Russia regional organisers were also arrested on the day including Open Elections coordinator Timur Valeev, who was questioned and later released without charge. The raids have widely been seen a an attempt to suppress the opposition ahead of the 2018 Russian presidential elections, as well as the October 7 opposition protests.
On October 7 protests took place across Russia in support of opposition political Alexey Navalny, as well as to mark Vladimir Putin's birthday with calls for the president not to go on to a fourth presidential term. Thousands of protesters gathered across the country, primarily in St. Petersburg and Moscow, and at least 200 camped outside the Kremlin all night as a symbol of defiance.
In total almost 300 people were detained as a part of the peaceful protests, including head of Open Russia's St. Petersburg office Andrey Pivovarov, and Krasnodar regional coordinator Yana Antonova, for holding a banner with Vladimir Putin on it. The arrests were significantly higher in the smaller regional Russian cities, whereas in the capital there was less drama, which was quite possibly an intentional move by the city authorities to avoid media exposure.
Numerous raids have been conducted in recent years in connection with the Yukos case which was initially opened in 2003.  The Yukos case is often used as an excuse to harass Open Russia employees and dissuade them from their political activity in opposition to the Putin regime.
In mid December 2015 searches took place of Mikhail Khodorkovsky's press secretary Kulle Pispanen, Open Russia St. Petersburg coordinator Andrey Pivovarov and Natalia Graznevich and at the premises of the head of the video-editorial board Renat Davletgildeev.  In February 2017 searches took place at the apartment of Open Russia journalist and human rights activist Zoya Svetova.