Survey Shows Vast Majority Of Russians Aren't Prepared To Publicly Protest
April 19, 2018
A recent survey by the Levada Centre has revealed that a record low number of Russians are prepared to attend public demonstrations after 86% stated their unwillingness to participate in any sort of demonstration at all.  Sociologists have linked the decrease in protest mood with a high level of trust in the government.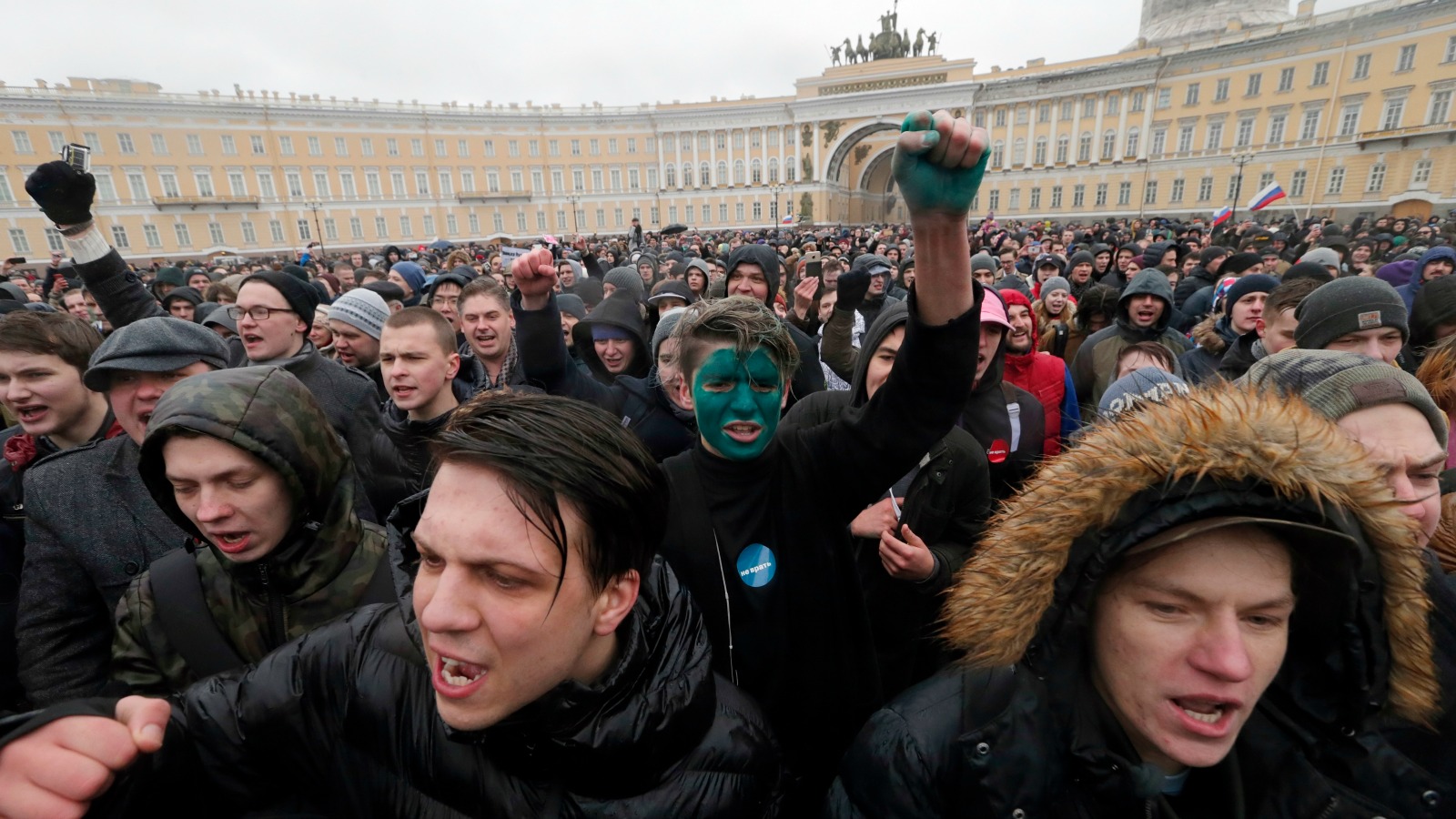 The survey revealed that 75% of respondents believe demonstrations are unlikely to occur as a result of a decline in living standards or in defence of civil and human rights.  Only 17% believe that they are "quite possible". Public expectation of demonstrations has declined since December last year. In December 2017, 23% considered demonstrations likely to take place, while 70% claimed that it is unlikely.
Russians are reluctant to involve themselves in public demonstrations with just 8% answering that they are "ready" to take part.  This percentage has also decreased in comparison with December last year when 13% were ready to get involved in protest action.
Russians have also become chilly towards political demonstrations with 80% stating that they are unlikely to happen, while 88% claimed that they would not participate and only 6% answered that they would be ready to get involved.  Last year 8% were ready to support them.
Research also showed that 88% of respondents didn't notice any demonstrations in their cities with only 4% claiming to have heard about them through the media and just 1% agreeing that they themselves would participate.
The willingness of Russians to participate in demonstrations was higher last year as a number of large nationwide demonstrations took place in connection with opposition politician Alexey Navalny.  During this time 15% of respondents were ready to participate in demonstrations related to social issues, whereas 14% were prepared to demonstrate in support of political issues.
Sociologist Denis Volkov had the following to say about the Levada Center's data: "from the research it can be noted that people are usually unaware about demonstrations happening, especially on a local level. Nowadays, society is quite calm as Putin's rating remains high".  In relation to recent demonstrations he added: "people are looking for truth from the government and don't want to make any political demands".
Nikolay Mironov, director of the Center of Political and Economic Reforms noted that demonstrations in response to societal issues are often very local and are quickly dispersed if the government decides to enter dialogue with the citizens.
The Committee of Civil Initiatives analysed the most common issues of demonstrations in Russia in 2017: almost 21% were related to corruption, 11,5% to defrauded investors and entrepreneurs and 11% to politics and elections.
Experts from Minchenko Consulting have forecasted that in 2018 and 2019 the most common causes for demonstrations in Russia will be ecological issues, defrauded investors, as well as emergency situations (such as the recent Kemerovo fire) and man-made disasters. The likelihood of demonstrations may be influenced by new tax reforms or a raising of the retirement age.
However, the Centre of Economic and Political Reforms noted that the number of political and social demonstrations did in fact increase throughout 2017.  Experts claim that crises and an unacceptable reaction from the government help to explain this.
In the first quarter of 2017, 284 demonstrations took place in Russia; in the second – 378 and 445 in the third. Demonstrations of a social nature are still the most common ones. The largest was demonstration by defrauded investors, and other large-scale events were political demonstrations organised by Navalny supporters, totalling 106. Experts also noted 27 demonstrations in relation to workplace conflicts such as unpaid salaries.
Despite a decrease in the protest mood in Russia there is still a portion of population who is ready to go on the streets. On May 7, Vladimir Putin's official fourth-term inauguration will take place.  Alexey Navalny has called on Russians to participate in a protest in response to the inauguration ceremony which has been named "Putin is not a Tsar".