A Portrait Of Pavel Khodorkovsky Published in Lui
October 8, 2013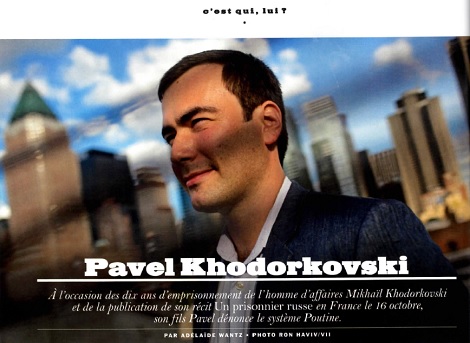 A French monthly magazine Lui, edited by the French writer Frederic Beigbeder, has published a profile of Pavel Khodorkovsky. The profile is timed to coincide with the publication of Mikhail Khodorkovsky's new book "A Russian prisoner" in France on October 16.
In the piece Pavel recalls the day of his fathers' arrest – October 25, 2003. He also explains the reasons why he cannot go back to Russia:
"I do not want to go and see my father in Russia, since the authorities could use me to blackmail him. The arrests have become a usual thing in Russia; I could be arrested without any reason.
When I was younger, my father was spending much of his time at work without explaining what he does. Now his past is clearer for me, and I have the impression that we know each other better."
The article states that Pavel will participate in a Washington event in support of his father on October 25, ten years to the day since his father was arrested and imprisoned.
Read the original article in French here (PDF version) and in Russian here.