Thousands March as Kremlin Obstruction of City Elections Exposed
July 17, 2019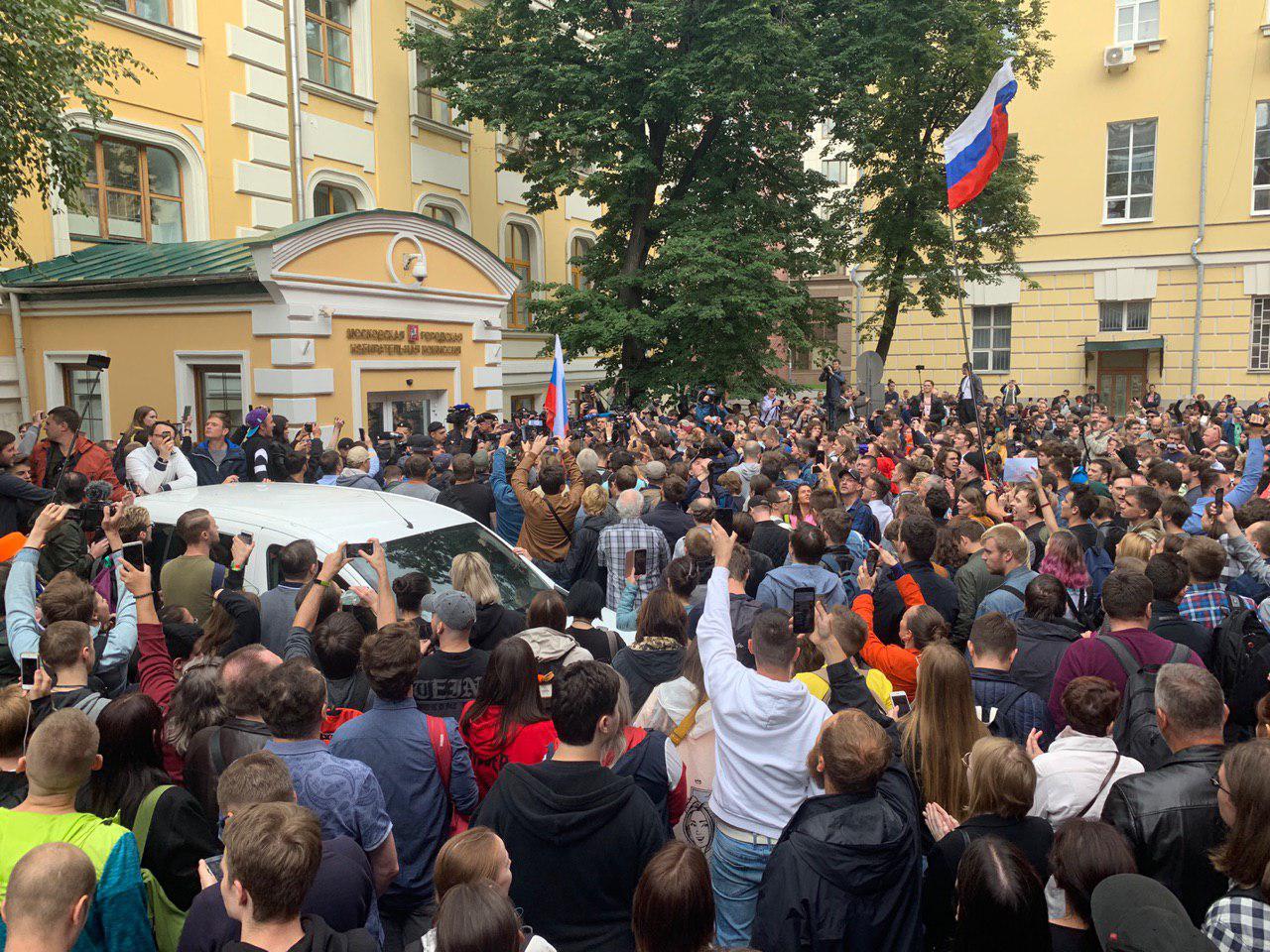 On Sunday 14 July, two thousand Russians poured onto the streets of Moscow to voice their outrage at blatant electoral discrimination against independent candidates in the city duma elections. The crowds, led by popular opposition figures, including Ilya Yashin, Lyubov Sobol, Dmitry Gudkov and Alexander Solovyev, marched to both the Mayor's office and the Moscow electoral commission, symbolically banging on the doors and demanding explanations from their officials.
The demonstrations were sparked by the prominent independent candidates announcing on social media that they had been unfairly, yet predictably, disqualified from September's electoral ballot. Whilst the electoral commissions have accepted over a hundred candidate applications, a massive proportion of these are merely United Russia candidates posing as independents, expected to fill the 45-seat Duma in the Russian capital.
This unsanctioned demonstration suggests that people are losing patience with the Kremlin's continuous interference in their ability to determine the future of their city and country. Sunday's peaceful crowds were dispersed violently by police. Forty demonstrators were detained, including all prominent opposition leaders, and three people were hospitalised.
Upon her release, Lyubov Sobol, a lawyer and popular opposition candidate, called for a further demonstration the following day, this time at Trubnaya Square. The people heeded the call and Monday saw over 1,500 people gathering and cheering to impassioned speeches from their candidates. These demonstrations continued into a third day and frustrated candidates are now organising a march along Sakharov Avenue in Moscow this Saturday.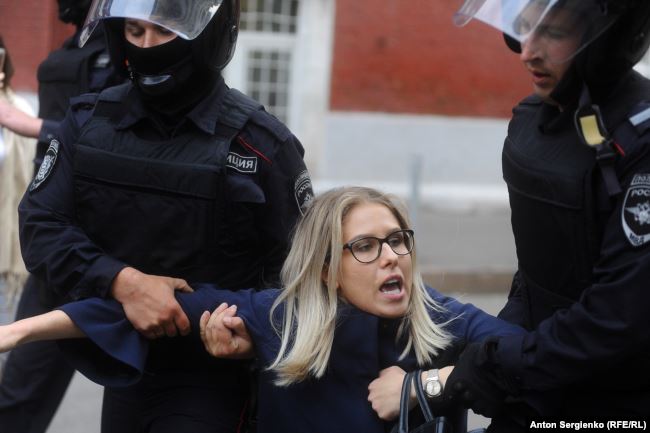 These events are just the latest episode in a rising tide of civic activism on the streets of Russia. Whether they will be taken beyond a fourth, fifth or sixth day remains to be seen, but the signals suggest that this could gain momentum over the coming week, posing a real headache for the Kremlin.
The issue is that the latest campaign against the independent opposition was so blatant that it leaves the Kremlin without a plausible option to deny the allegations. The main weapon the authorities use to prevent the participation of non-systemic politicians is bureaucracy. In order to register, each independent candidate must collect at least 4,500 signatures to show they have sufficient approval of the people from their prospective constituencies. This arduous process only applies to independent candidates, as candidates of parties that are already represented in the Federal Duma register automatically on accounts of already having the people's trust. The amassed signatures are then checked by the electoral commissions office, those officially tasked with ensuring electoral procedure is observed. In reality, these commissions act as a tool with which unwelcome candidates can be dismissed from the ballot, typically because of some strange and strenuous technicalities.
Ilya Yashin, a popular candidate for this year's election and a leader of the demonstrations, fell victim to this. The authorities disqualified him from running shortly before the Sunday's protests. They claimed a number of his signatures were illegitimate, suggesting they belonged to dead people or individuals with no recognised addresses on police record. In response, Mr Yashin brought 130 people down to the electoral commissions office to disprove their allegations but the officials refused to hear their testimonies.
If events continue to build in momentum, all eyes will be firmly fixed on Moscow. The demonstrations have successfully shown that the Russian people are well aware of how authorities control the elections. When Yashin took people to the electoral commissions office and when the demonstrators banged on the Mayor's office door, they were giving the authorities no place to hide. They are demanding a legitimate explanation – something they know authorities cannot give.
The Kremlin increasingly finds itself with less and less room to manoeuvre. The sentiment among the independent candidates is that they are not allowed to run because the authorities know they would win. A recent poll predicts that, if allowed to run, the disqualified Yashin would defeat the United Russia candidate in his district.
The quinquennial elections were last held in 2014, when memories of the annexation of Crimea were still fresh in the minds of many Russian citizens. At the time, Putin was boasting an approval rating of 87% according to the Levada Centre, Russia's leading independent pollster. However, today, falling living standards, declining income rates, pension reforms and increased engagement in civic activism suggest that Russian faith in Putin's reign is weakening. Now only 68% of people in Russia approve of President Putin – a 19-point drop since 2014. Irrespective of these much-cited indicators, parliamentary elections have in the past proven to be a sensitive topic for even the most passive citizens in Russia. This is why we should watch what is unfolding with a keen interest and an eye on the future.
The Kremlin finds itself in a tricky situation. Diffuse tensions by letting legitimate independent candidates stand and risk them beating United Russia candidates and potentially exposing the true nature of corruption in government. Or insist on keeping real opposition off the ballot to ensure that vested interests and corrupt officials can operate as they currently do, embezzling billions of rubles each year from the Moscow city budget.
If future demonstrations remain isolated to the capital, it is unlikely that the Kremlin will change tack. But considering that in September people across Russia will be taking part in elections, there is potential for this sentiment to spread.
These ongoing clashes represent a microcosm of the political situation in Russia. Here is a young, positive and popular opposition movement engaging with the people and looking to provide a hopeful future. This is starkly contrasted to the grey-suited regime of an ex-KGB agent controlling his country with Cold War conspiracy theories of a Western aggressor. This regime is forcing the Russian people to endure yet another Soviet-style show-election, in which all actors play their part but the results are pre-ordained.
Alongside this, the opposition are fighting for the right to determine their own path for their country. The positives are that despite everything the Kremlin has thrown at them, this generation, of politicians and of citizens, are very much a presence beneath the cracking surface of Putin's regime. If they can find a way into the political system, such as would be provided through September's elections, then they stand a chance of making real progress towards a vibrant future for a democratic Russia.