Vladimir Kara-Murza accepted IRI 2015 Freedom Award on behalf of Boris Nemtsov
September 11, 2015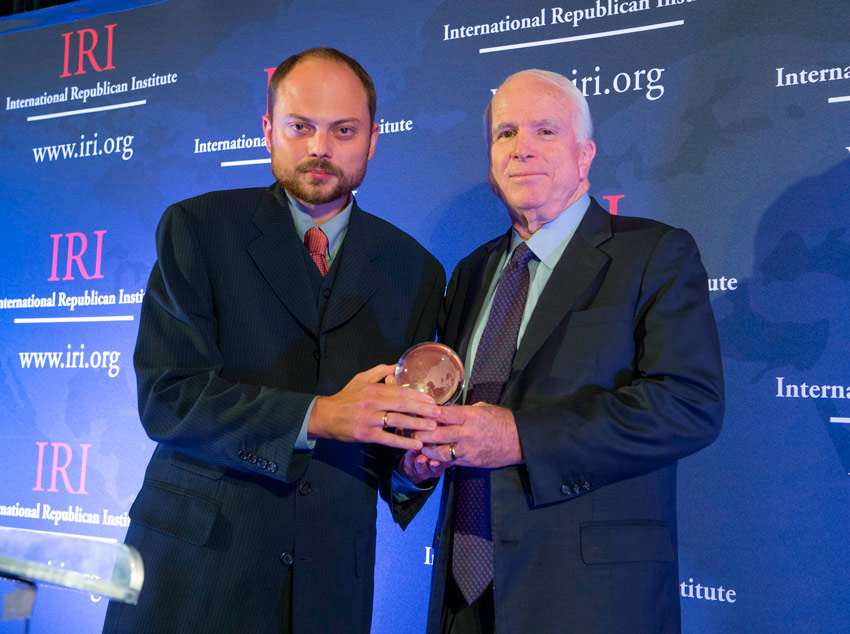 On Tuesday 9 September, Vladimir Kara-Murza accepted the IRI 2015 Freedom Award on behalf of the late Boris Nemtsov at a dinner hosted in Washington. The award honoured Nemtsov's contribution to the fight for freedom, human rights and the rule of law in Putin's Russia. Nemtsov was assassinated on February 27, 2015, just metres from the Kremlin.
The freedom prize is awarded to individuals who have made a significant contribution to the development of freedom and democracy, as judged by the International Republican Institute, a non-profit, nonpartisan organisation. Alongside Nemtsov, prizes were also awarded to Dr Mo Ibrahim, a British-Sudanese billionaire philanthropist, and John Boehner, Speaker of the United States House of Representatives. The award was presented to Kara-Murza by Senator John McCain, chairman of the IRI.
In his acceptance speech, Kara-Murza honoured his late friend and colleague with a fitting tribute:
"[…] as a political leader, Boris Nemtsov was always a maverick. He said what he believed, and he always did what he said. He never betrayed his principles, or his friends.

"As a political leader, Boris Nemtsov was always a maverick. He said what he believed, and he always did what he said."
He never profited from the many high government posts he occupied, a rarity in my country. And he never put his personal interests above the interests of his nation. He valued freedom and dignity, both his own and that of others. And above all, he always did what he believed was right, not what was easy, expedient, or profitable.
As a young leader of the anti-communist movement in Nizhny Novgorod, he ran for the Russian parliament against the establishment at the age of 30, and won. Just a year later, as the communist regime fell, and the old party apparatchiks simply ran away, he found himself the governor of a large industrial region, on the verge of economic collapse. And within just a few years, he transformed it into Russia's economic miracle, a hub of free-market reforms. Leaders from across the world, including from this country [the USA] went to visit Nizhny Novgorod and its reformist governor to see the changes with their own eyes. For its unparalleled media pluralism, Nizhny Novgorod under Governor Nemtsov was known as 'The Land of Untamed Journalists.'
As the deputy prime minister of Russia in the late 1990's, he tackled head on, government corruption, crony capitalism and the oligarchs, at the expense of his own political advancement. As ex-congressman Bob Livingston said after meeting Boris Nemtsov, "This guy is simply too good to be true, except he is true."
He always did what he believed was right, whether when he placed one million signatures against the war in Chechnya on President Boris Yeltsin's desk, or when he lead the protests against Vladimir Putin's war in Ukraine. In the last 15 years as my country entered another authoritarian spell, and as  so many of Boris' former political colleagues chose the comfortable path of silence or collaboration, he continued to fight for his beliefs, regardless of the cost. His was the loudest and the clearest voice against the abuses, the corruption and the aggression of Putin's rule. And to the many friends [… ] who voiced concern about his physical safety, and urged him to leave Russia, he would answer one and the same thing […], "This is my country, I have to fight for it."
"This is my country, I have to fight for it".
He gave everything he had to that fight, and in the end he gave it his life."
As his long-time friend, colleague and confidant, Vladimir Kara-Murza is a fitting recipient for the award on Nemtsov's behalf. Kara-Murza is the coordinator of the Open Russia movement in Russia. He is also deputy leader of the People's Freedom Party, the democratic opposition party co-founded by Nemtsov, and served as adviser to Nemtsov whilst he served as leader of the opposition in the state Duma. Kara-Murza has recently been hospitalised with severe kidney failure due to some type of intoxication. He is now back at work on the Open Russia's "Open Elections" project as of 15 August 2015.