Vladimir Kara-Murza: "I've Always Been and Always Will Be with Open Russia"
February 17, 2017
Open Russia Coordinator Vladimir Kara-Murza's first interview after recovering from a coma.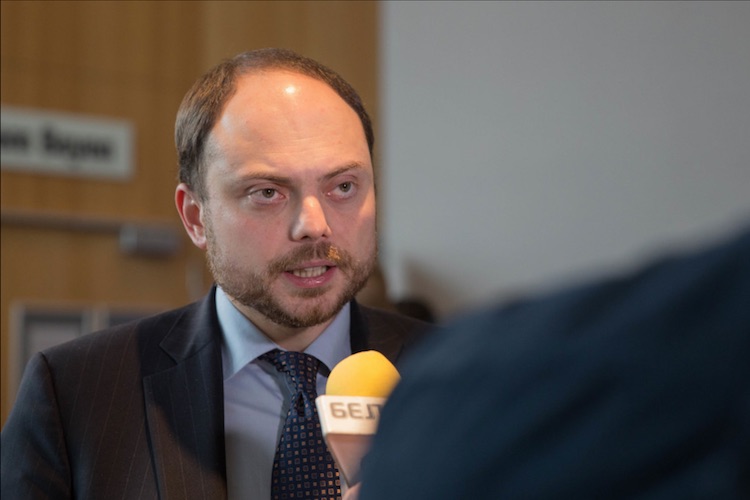 Roman Popkov, Open Russia (OR)
OR: Volodya, how are you feeling?
VKM: The doctors have moved me out of intensive care. I'm in a regular ward right now. I'd like to express my enormous gratitude to the team of medics who saved my life once again—they are the same medics who brought me back to life last time, in 2015. They really did work miracles to bring me back to this world. I'd like to extend my gratitude to the head physician Denis Protsenko, as well as to Olga Ignatenko, Andrei Bykov and all the resuscitators. They are true professionals.
I've had multiple procedures and plasma transfusions. Like last time, the medics talk about intoxication by an unknown substance that got into my organism. Everything is the same like it was two years ago. And it's still unclear what kind of substance it was. Toxicologists took samples [of my blood] to run laboratory studies.
OR: How long will the rehabilitation process take?
VKM: I'm still a bed patient and will need to relearn how to walk normally. Few people have to learn how to walk for a third time in their life… Long-term treatment lies ahead. In 2015, it took many months.
OR: What do they say about how exactly you were poisoned?
VKM: It's too early to speculate. The samples will be analyzed; this time they were taken fast enough, right after I was brought in [to the hospital]. At the moment I have more important things to think about—first, I'd have learn how to walk again.
OR: All of this happened after you returned from Tver, where you'd been presenting the Nemtsov documentary?
VKM: The screening was on January 31, I spent the whole day of February 1 in Moscow. Only later, early in the morning [of the following day] I felt unwell. It's pointless trying to remember specific events of the previous days, since the substance could have been injected into the organism whenever—several hours, days or even weeks before [I felt unwell].
OR: You were one of the organizers of the march to honor Boris Nemtsov, which is scheduled for March 1. Will the fact that you are in hospital somehow hinder this plan?
VKM: Legally, it wasn't me who submitted the application [for permission to hold it]. I don't think the event will be called off just because of my condition.
OR: Are you willing to roll back your political activities now?
VKM: No way! I've always been and always will be with Open Russia.
OR: Aren't you scared?
VKM: It didn't scare me last time, I believe I proved it.
OR: Please get better soon!
VKM: Thank you! I'd like to once again express my gratitude to all of my doctors, all the people who thought about me and supported me during this tough time, who prayed for me while I was fighting for my life. And I'd like to thank my beloved wife Yevgenia, who saved me two years ago and did it again this time.
The interview was first published at openrussia.org (in Russian).