Speech given by Mikhail Khodorkovsky at the Boris Nemtsov Forum in Berlin.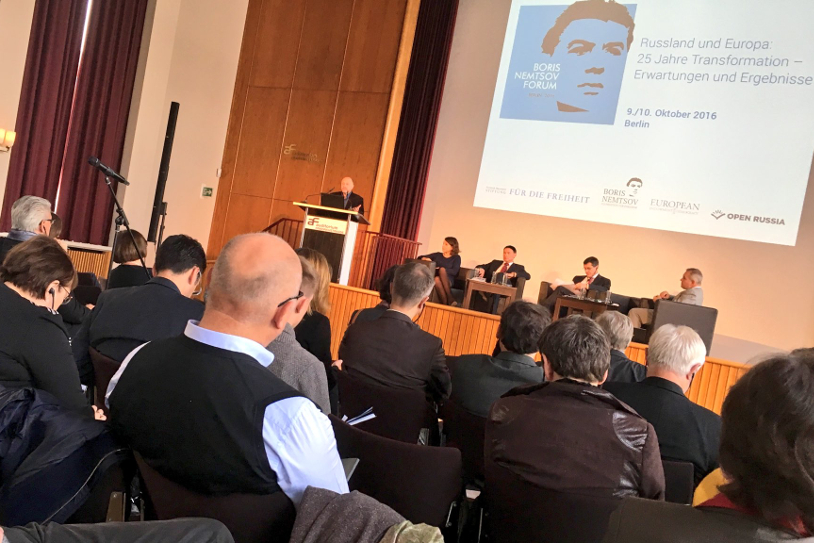 I am glad to welcome here so many friends of Boris Nemtsov.
I first met Boris in the 1990s. That was 20 years ago. During my more than 10 years in prison, he was the one who lent a helping hand to me and my family. A picture of him picketing in support of me is a permanent fixture on my wall at home.
Today I would like to talk about a subject that preoccupied Boris throughout his life — Russia's democratic future.
I was recently puzzled by some Western commentators describing the State Duma elections as "transparent." What nonsense!
Just look at the results from regions where so-called "counter-terrorism operations" are a daily occurrence and where power is in the hands of local sovereigns. The turnout and votes for Putin's puppets there were worthy of North Korea.
What's more, several polling stations in the home region of the current State Duma speaker all delivered exactly 62.5% for the "party of power." But where there was at least some control, things were very different.
With just 15% of the population, made up of 5 million civil servants and army and security personnel, plus 11 million dependent state employees, Putin has once again assumed the right to amend the Constitution, fund the barbaric bombing of Aleppo, supply weapons to kill thousands of Ukrainians, and tear up the plutonium disposal treaty.
Is this transparency? Is this legitimacy?
I would like to put this question to the French president, who is due to meet with Putin in a week's time. Who will the French president receive: a member of the club of leaders of civilised, democratic countries, or a man whose power rests on corruption, fear and Goebbels-style propaganda?
I know there are also people in Germany in favour of business as usual, taking money from Putin's entourage to protect the interests of the latter. It's stolen money.
Like other European countries, Germany is home to fellow citizens of mine enjoying the benefits of living in a democratic country, yet supporting a dictator because they want to appropriate some of the fear inspired in normal people by a regime that is prepared to kill.
I have just one question for them: where is your shame?
Friends, Boris understood the regime better than most, yet he never lost heart or whined that voting was a waste of time. He stood his ground and took every opportunity to get his point across to the people.
That makes us kindred spirits.
Our near-term tasks are to inspire our supporters, convince waverers and opponents, and force the regime to show its true face. We must also draw up a reform plan and, most importantly, recruit the personnel needed to implement it when the regime falls. It is vital that these people have experience of political affairs, in particular taking part in elections.
We must not repeat the mistakes of the government reforms of the 1990s, above all the poor communication with society — a society that was bewildered by the crisis and needed an explanation of what was happening.
The failure to explain the reforms was exploited by the counter-reformers. Even now, after 17 years of the current regime, many people believe that today's crisis is the result of that 7-year period.
We need to explain to our fellow citizens that, far from being coincidental, the economic and political nature of the present crisis is the inevitable result of the monopolisation of every sphere of activity in the country.
Russia has entered a transition period. No superficial changes — such as a new cabinet of ministers or presidential administration — or words about economic reform will change anything.
Even regime change is not the end.
The transition period will conclude when the super-presidential form of governance is replaced by institutional guarantees for the regular handover of power based on fair elections.
Russia will return first to itself and then to Europe. And we will live to see it.
But we need to work. Work without worrying about bullets, poison or prison. Work like Boris.
That is the only way we will win.