Wife of Terrorist Who Plotted Putin's Assassination Murdered Outside Kiev
November 2, 2017
On October 30, just outside of Kiev, an unknown assailant opened fire on a car while Amina Okueva and her husband Adam Osmaev inside. Amina Okueva was shot dead and Adam Osmaev received wounds to his legs.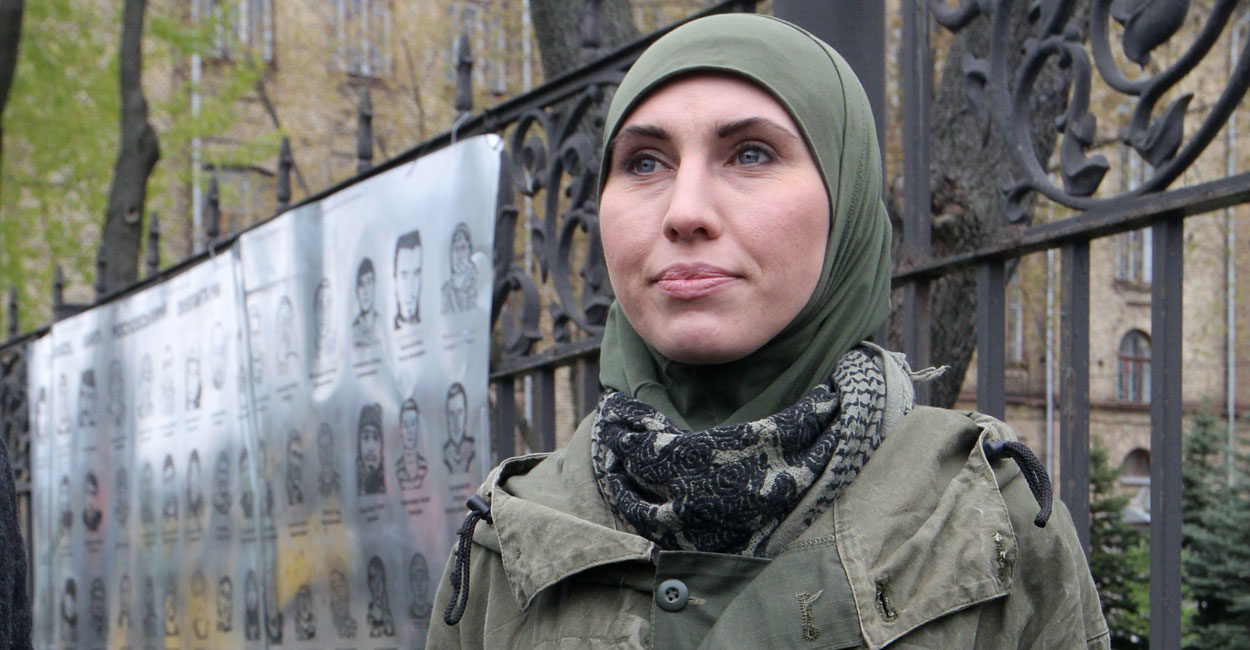 Amina Okueva, who was named Natalya Nikiforova at birth, was born in Odessa, Ukraine. When she was 17 she converted to Islam and married a Chechen man. Throughout her life she spent time living between Moscow and Grozny.  Amina had been married three times, each time to Chechen men who had been accused of affiliation with terrorist groups.  She always considered Russia as the biggest enemy of Chechnya and Ukraine.
One attempt had already been made to kill Adam Osmaev back in summer this year. The man reported to have shot him was Artur Denisultanov-Kurmakaev, a Chechen national.  In order to meet up with Osmaev and Okueva the man introduced himself as a journalist from Le Monde. When he tried to shot Osmaev, Amina wrestled the gun from his hands and wounded him with 4 shots. The media labelled Denisultanov-Kurmakaev as "Ramzan Kadyrov's personal assassin."
Back in 2012, Osmaev was accused in Russia of preparing an attempt to assassinate president Vladimir Putin, according the Ukrainian Security Services.  Osmaev and others built two explosive devices designed to destroy a fleet of armoured cars and even got so far as testing them just outside of Odessa.
Russian authorities added him to the international wanted list on suspicion on preparing terrorist acts and he was detained in Odessa.  The Odessa court found him guilty of attempting to kill the Russian president and sentenced him to 10 years in prison.  Osmaev did not plead guilty guilty, and he was released after serving just 3 years.
In 2014, Osmaev led the battalion named after Dzhokar Dudayev, a man who fought in the Donbass on the side of Ukrainian pro-governmental forces. Amina Okueva also took part in the hostilities together with her husband.
The Dzhokar Dudaev battalion is a volunteer squad consisting of supporters of independent Ichkeria, a small separatist region of Chechnya. It mainly consists of Chechens who fled the country after the Second Chechen War in 2003 and is named after the first president of Ichkeria.
Osmaev claims that there are "Russian footprints" leading to the murder of his wife. He also compared the attack with an attempt to kill the deputy of Ukraine's parliament, the Verkhovna Rada, Igor Mosiychuk. "It is the same thing. There is a terrorist group operating here," he claimed. On October 25 Mosiychuk was passing by the offices of the TV channel "Espresso" when a bomb that was fixed on a nearby motorbike exploded.
Mosiychuk later claimed that "Those who ordered the attack are sitting in Moscow, but the assassins are Ukrainians".  His colleague claimed that Chechen leader Ramzan Kadyrov was also involved in the plot.  Back in 2014 Kadyrov instructed law enforcement agencies and Chechen Special Forces to issue a criminal case against Mosiychuk and extradite him to Chechnya as, reportdly, he had been "publicly supporting terrorists".  He also called for Isa Mynaev, with whom Amina Okueva was working as a press secretary, to be brought to Chechnya too.
These events bring to light the murky underworld of forces operating between Moscow, Ukraine and Chechnya.