Yuri Schmidt's Final Interview Published in The New Times
January 22, 2013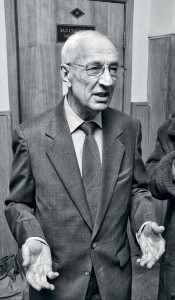 The Moscow based newspaper The New Times has published the last interview given by Yuri Schmidt, recorded two months before his recent death. Schmidt talks briefly about his childhood, about the country, about Putin, and about the current political situation in Russia. He concluded his interview by calling for members of all parties, whether right wing, left wing or centrists, to unite; "for even the most extreme political views do not exclude the possibility of unification on certain grounds". In the end he said – "if intelligent, understanding, pro-democratic people will not be offered some intelligible alliance, if all they see is, on the contrary, that those on whom they rely are squabbling among themselves like yard dogs, then of course nothing good will emerge".
The full interview in Russian can be found on The New Times online
The New Times also published a letter from a prominent Russian lawyer and a dissident living in exile in the U.S.A Boris Kuznetsov, which he wrote on hearing the sad news and addressed to his long-time friend and supporter Yuri Schmidt:
My dear Yuri!
I don't know if you'll read this letter, because I don't know if there is life after death or not, but the things I write here are all things I have told you many times to your face.  You always brushed them off, turning the conversation into a lighthearted joke; you would say that I underestimate myself, and then you'd put an abrupt stop to my outpourings of praise for your talents and change the subject.  I'll never forget the time I was disbarred, "defrocked" as a lawyer.  I was pouring out my heart to you, telling you about the sudden twists and turns of my fate, and you believed me, and spent a long time convincing the members of the presidium to accept me into the Leningrad (as it still was called then) Bar Association.  You recommended me, you vouched for me.  You changed my fate at its very core:  thanks to you I was able to get back to doing my life's work, my calling, what I was put on this earth to do.  I am forever in your debt.
You taught me to treat myself and my profession with respect, to make everyone on the other side take what we say seriously, to build a solid case, to stage-manage a trial for maximum impact, to be the one setting the pace.  I remember our conversations, lasting many hours, at the time when you were brilliantly defending Captain First Rank Alexander Nikitin.  I remember listening to your brilliant speech in the Frunzensky District Court of Leningrad, interrupted by the judge's and prosecutor's retorts.  You never lost your composure, you pitied their wretchedness and arrogance; for you, the best interests of the cause and the fate of the person you were defending were always paramount to any momentary frustration or personal ambitions.
How proud you were that you ended up working on Khodorkovsky's case, how you retold your conversations with him, how you marveled at his intellect and courage.  From faraway America, I followed the trial in the Khamovnichesky Court, in awe at your ability to transform the lawyers into a single team, an efficient defense machine working as a single tight-knit cohesive unit.  Precise oral presentation, scholarly argumentation of your legal position and analysis of the evidence, ironclad logic, firmness and resolve — this is the weapon with which you always countered the prosecution and the court.  Nobody could have conducted this case better than you.  I know how hard it was for you, how you rose above your illness, how distressed you were that our judicial system had been transformed into the "courts department" of the president's administration.  How much courage there is in you!  You are the direct heir of the Russian classical pre-revolutionary legal profession.  In your veins flows the blood of the great Russian lawyers like Spasovich and Alexandrov, Arseniev and Andreyevsky, Urusov and Karabchevsky.
I'll never forget the night conversation of 10 July 2007, when my fate once again took a sharp turn.  You said then:  "Boris, you're not going to be able to defend yourself or to help your clients from inside Lefortovo prison".  This phone conversation helped me to reach a decision about emigration.  You are one of the few people who supported me in this latest turning point in life.  Things like this are not forgotten.
You never did succeed in teaching me modesty, but I'll keep on trying, my dear Yuri.
How many people have walked this Earth without leaving a trace, without leaving a memory of themselves?
But you, my dear friend — hundreds, nay, thousands of people feel gratitude to you.  You have left your mark in souls and in fates, you have left your mark in the history of the legal profession and in the history of Russia.
We will meet again, and we will discuss what I've written to you.  And if we don't, if there is no continuation on the other side…  then I hope my letter is read by those who pick up the banner that has fallen from your hands and carry it on into the future.
Thank you, my brother.  Forgive me and farewell.
Boris Kuznetsov
  2005, Mikhail Khodorkovsky and Yuri Schmidt during the trial (photo from The New Times)