Doing the Splits: The Schism of the Democratic Coalition
May 3, 2016
Yekaterina Vinokurova
With the economy in recession, and many people worried about the future, this should be the opportunity for the opposition to make gains. But why isn't it happening?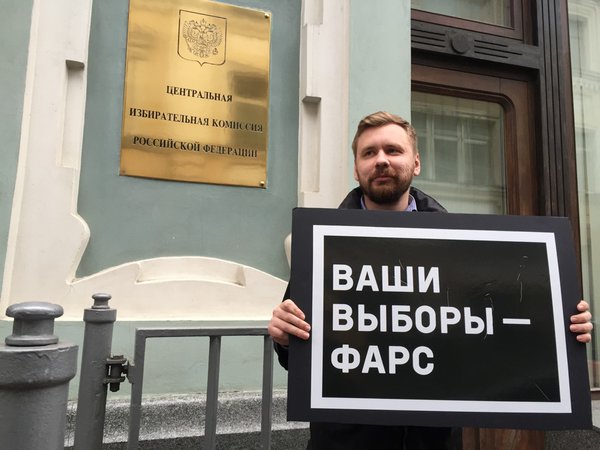 Barvikha
The Central Election Commission has called off early elections in Barvikha – a suburb of Moscow with a high concentration of dollar millionaires, billionaires and high-ranking officials.
Elections for city council deputies were to be held in Barvikha on April 24. Members of Alexei Navalny's Anti-Corruption Foundation (FBK) had put themselves forward, and were registered as candidates in the council elections, only for the customary counter-propaganda campaign to begin (noises about the "fifth column" and so forth). The head of the Odintsovo District, of which Barvikha is part, circulated a letter openly expressing support for United Russia candidates.
But the most interesting thing happened towards the end of the campaign. The local electoral commission had set the early-voting period in local elections to a massive 8 days. And on the very first day, crowds of voters were snaking toward the commission: yet by some strange coincidence, they had received temporary registration just a month prior to the elections, although somehow they were unable to cast their ballots on voting day itself. The fact that some of these strange voters were registered at a mini-hotel run by a United Russia candidate speaks volumes.
The Barvikha elections have become the first real test of the mettle of recently appointed Central Election Commission chief Ella Pamfilova, who was expected to restore order within the electoral system.
Navalny's team quite rightly began kicking up a fuss and writing complaints. Pamfilova responded the very next day, saying that the Central Election Commission would dispatch a representative to the elections, and that she herself would meet the disgruntled candidates personally. A video of the meeting made it online. And it has to be said that, though the FBK candidates may indeed be in the right,
the video is, to put it mildly, of a controversial character:
Pamfilova: You've written a complaint?
FBK representative: Yes.
Pamfilova: It lists specific figures regarding the early voting, examples, all the rest of it?
FBK representative (raising his voice): It's all online! You should've seen it all online!
Pamfilova: I'm prepared to deal with your complaints as soon as possible, and as regards the "rubber apartments" [a term for fictitious residential registration], I'll contact the prosecutor's office.
FBK representative: You're not going to chew our ears off! The issue has to be resolved immediately!
For those who don't know, Ella Pamfilova has no authority to resolve the issue "immediately" – the Central Election Commission is a collegial body, and all decisions must be made in-session.
The meeting was accompanied by a bunch of tweets to the effect that the CEC chief wouldn't actually get to the bottom of anything – rather, she'd just head to the local election commission for a cup of tea and a quiet chuckle over the early voting issue. Meanwhile, the FBK candidates declared that the CEC had discredited itself – without even waiting for their complaints to be processed – and announced that they were withdrawing from the elections.
Pamfilova, however, conceded that the FBK was justified in its complaints, and initiated the cancellation of the Barkhiva elections the following day.
What is the FBK to do now? Should it apologise? Rejoice in a local yet tangible victory for civil society? Or at least welcome the CEC's decision? An apology isn't on the table, but much has been said about how right it was to put pressure on the Central Election Commission – or, otherwise put, to insult Pamfilova, and call for her immediate resignation (as Navalny himself had done), despite her having promised to deal with all the FBK's complaints as soon as possible.
The Democratic Coalition
After the release of a certain film [compromising Mikhail Kasyanov], representatives of the Democratic Coalition, headed by the selfsame FBK personnel, demanded that PARNAS chief Mikhail Kasyanov reconsider the December agreements, which secured him first place on the party list without any primaries. In order to make Kasyanov more amenable, "public pressure" is now also being exerted on him.
Essentially, no Democratic Coalition really existed.
More than a year ago, after the funeral of Boris Nemtsov, all the oppositionists, including the representatives of Open Russia, Navalny, Kasyanov, Gennady and Dmitry Gudkov, Vladimir Ryzhkov, Irina Prokhorova, as well as many others, sat down around the negotiating table. Their goal was to sketch out at least the outline of a future Democratic Coalition. After their third meeting, with a final summit still in the pipeline, many of the negotiators woke up to learn that a Coalition had already been created, its constituent elements including Navalny's Progress Party, PARNAS, and a number of several other minor parties. Everyone else was invited to recognise this fact as a given and to join the newly-forged coalition – on terms dictated by Navalny-Kasyanov, of course. And yes, anyone who failed to join was playing on two fronts, and conducting secret negotiations with the Kremlin.
As a result, Dmitry Gudkov and Vladimir Ryzhkov are standing as Yabloko candidates, as are Dozhd owner Alexander Vinokurov and a number of other individuals who had previously been gravitating towards the Democratic Coalition. Negotiations are even ongoing with Lyubov Sobol, an FBK representative. Open Russia attempted to work with the Democratic Coalition during last year's elections in the Kostroma region, but abortively so: their efforts to cooperate broke down, not least because of the boorishness inflicted on Open Russia staff by Democratic Coalition representatives.
And thus, the Khodorkovsky-sponsored candidates are going to the polls under the aegis of their own separate project. Another swathe of people splintered away from the Democratic Coalition when it emerged that the issue of Kasyanov's first place on the party list had been resolved behind the scenes.
Navalny: Another Yavlinsky 
Much of the responsibility for the current schism in the democrats' camp lies with Alexei Navalny.
A year ago, he and PARNAS decided to force the creation of the Democratic Coalition, breaking off negotiations with other potential participants without explaining themselves – and doing so while firing off absurd accusations. Now, FBK candidates and a number of other politicians from within Navalny's entourage have instigated this latest scandal by publicly demanding that the December agreement with Kasyanov be rejigged.
All this particularly recalls – no, not even the story of Vladimir Putin, with whom Navalny is often compared on account of the authoritarian management style so characteristic of both men. What all this really recalls is the story of Yabloko and Grigory Yavlinsky in the late 1990s and early 2000s.
As a thirty-year-old, I largely missed the era when it wasn't journalists and activists who were railing against Yabloko, but State Duma deputies – from parliamentary rostrums, no less. Back then, Grigory Yavlinsky wasn't the "irreplaceable leader of a non-parliamentary party;" no, he was an extremely popular politician (one who'd proposed the famous 500 Days Programme), a steadfast critic of the government and the president – and, finally, the leader of a parliamentary faction.
But then, people who'd publicly criticised Yavlinsky began to peel away from Yabloko. Needless to say, a reasonable explanation was offered every time someone jumped ship.
Later, it became apparent that the democratic parties must either run for elections on a single list or else face defeat. Yabloko refused to unite with the Union of Right Forces (SPS) – and lost everything.
After that there was the battle for the Moscow City Duma, and once again everyone was waiting for Yabloko and SPS to unite, and once again Yabloko was going on about its "special path." And then? Even more critics peeled away from the party – Navalny among their number. The share of the vote commanded by Yabloko was on a path of steady decline.
The ultimate upshot? I remember reading someone's column in The Moscow Times in the late 2000s – a bad-tempered yet ultimately fair column about how Yabloko was no longer a political party in the classical sense but simply a grouping of Yavlinsky's unconditional supporters.
Navalny was cast in a particularly good light against this background of general decline and infighting.
Here was a man with an ability to propose concrete strategies for each individual situation. Don't pine for democracy – start battling corrupt public procurement. Go and vote for any other party. Finally, go and demonstrate on Bolotnaya Square. And what may perhaps be the foundational myth of contemporary Russia – "if not Putin then who?" – thereby started to unravel. An answer emerged: Navalny. An answer many came to believe in.
But then Navalny, having seemingly decided that he'd become president already, got himself a press secretary whose primary function was to shield him from the media – personal friends excepted. "Yes, Navalny will come on your show, but only as long as it isn't hosted by someone he doesn't like. No, you can't get in touch with him directly, he's busy…" And so forth.
Ex-supporters reacted as expected. The most notorious story in this regard concerns the schism within Navalny's campaign after 2013's Moscow mayoral elections. No expressions of regret followed any of the departures, and the most rational reasons were given for each parting of the ways. Then the Democratic Coalition was created, and once again it was explained to us in the most reasonable terms that some politicians were simply afraid to enter the fold. And now there's the split with Kasyanov.
The latest scandal around Pamfilova has provoked an extremely ambivalent reaction even among journalists and supporters of the opposition. Assertions made by Navalny supporters    to the effect that everything was handled correctly, and that the "pressure campaign" was organised exactly as it should have been, appeared particularly pitiful. Because everything Navalny says is true. And if you suspect otherwise – well, you must be holding negotiations with the Kremlin. Or else you simply don't realise that there's no one else who can save Russia.
All of which directly echoes the various noises made by Yavlinsky's supporters in the 2000s.
Navalny had every opportunity to become a major hope for all those who believe change is needed – and achievable – in Russia. He's a prodigiously charismatic and talented politician, applauded by tens of thousands of people on Sakharov Prospect back in 2011. People turned out in incredible numbers to attend an unauthorised rally in his support when he was slapped with an unjust sentence in 2013. And he polled a third of the vote at the mayoral elections.
But now? Now he's the leader of a small group of enraptured devotees, who doesn't respond to comments unless they're adulatory.
He raises more questions than he answers. He's lost a lot of allies. He's split the democrats rather than uniting them – and all because he needs to be the central figure in any project.
By way of conclusion
Ironically enough, the Yabloko of today has evinced a desire to evolve, and is attracting politicians currently peeling away from Navalny. Further, Yabloko is treating these politicians as partners rather than subordinates. It's learning to listen to public criticism. To refrain from riposting with noises about Yavlinsky's greatness and infallibility. To seek common ground with the media instead of resenting it. Finally, there's every chance the party will put together a very decent list for the elections.
But where does that leave the Democratic Coalition?
This article was first published in Russian in Znak.