Investigative Committee searches Open Russia staff
December 22, 2015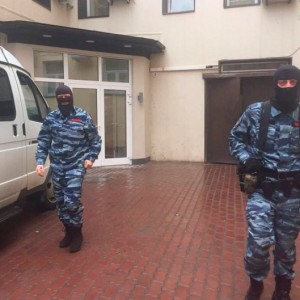 On the morning of December 22, representatives of the Investigative Committee of the Russian Federation searched the Open Russia office in Moscow, and the apartments of the movement's employees in both Moscow and St Petersburg. At least ten employees, including Mikhail Khodorkovsky's press secretary Külle Pispanen, were searched.
The searches are related to case № 18/41-03. This is the first, so-called "mother" Yukos case, initiated in 2003 with the Apatit fertiliser company lawsuit.
Mr Khodorkovsky tweeted his reaction
Обыски в ОР после встречи с журналистами. Опять Апатит. Повторение 2003. Путин стал предсказуем. Хоть где-то стабильность.

— Ходорковский Михаил (@mich261213) 22 декабря 2015
Translation: "After meeting journalists they search Open Russia office. Apatit once again. Back to 2003. Putin has become predictable. At least stability somewhere."
Mikhail Khodorkovsky spoke with Ekho Moskvy radio about what is happening
Mikhail Khodorkovsky ― One can only shake ones head in disbelief, especially considering the fact that none of the current Open Russia staff and activists ever worked for Yukos. And when this case was going on, some of them were much too young. It seems as if this insanity has entered the final stage. We are familiar with all of this from the Brezhnev period; I mean we, the older generation. There's nothing new about this.
All of the people who work with Open Russia are well aware, and have understood from the beginning that such pressure is not only possible but inevitable. The logical progression of any authoritarian regime, in general, gives no reason to doubt that this is how it will be. In which case, as we have been working, so that is how we will continue to work.
Michael Naki ― Tell me, please, on your part, are you, so as to publicise this situation in the media, going to, say, take some action against the Investigative Committee, to help the staff at Open Russia?
Khodorkovsky ― Come on, this isn't a Tambov mafia gang that is being investigated. I can't resist armed men. But yes of course we will do what we can to publicise what is going on. And it's dependent on us to ensure that those people who are responsible for this, that they will get their comeuppance; and that we will do. Because at some point it will come. I'm absolutely certain that the wait, speaking in general terms, perhaps it might be several years, but, nevertheless, it's coming.
Naki ― And the last question: Tell me, why is this happening now to Open Russia staff? What's it about?
Khodorkovsky ― I can't comment on the actions of people who are in the final stage of senility. Their actions are unpredictable. It's like flogging a dead horse, but you still brandish the whip because that's all there is to keep going.