Mikhail Khodorkovsky announces "Open Media" project
September 29, 2016
Mikhail Khodorkovsky has today announced his plans to back media startups carrying out investigative reporting, and publishing the results online. He is ready to invest up to 30 million roubles ($470,000) in each startup.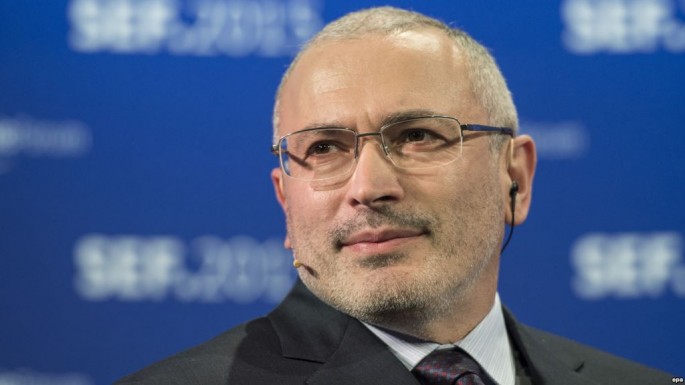 Khodorkovsky has also recently announced the "Journalism as a Profession" Awards.
On Thursday, Mikhail Khodorkovsky announced the launch of the "Open Media" project, aimed at supporting startups in the field of journalism.
Journalists and activists wishing to set up their own media project will be able to apply for financial support, based on a proposal, which should set out the concept and present an action plan.
Open Media will provide financial support for selected proposals, a platform for publishing materials, and also infrastructure support, including accounting, product promotion and legal assistance for copyright protection, and liaison with Roskomnadzor [the Federal Service for Supervision in the Sphere of Telecom, Information Technologies and Mass Communications].
"The projects should have a business perspective and target a specific audience – the self-contained section of Russia's urban population," says Khodorkovsky.
Khodorkovsky also announced that an expert panel would approve "5-7 projects" and spend from 3-30 million roubles on each of them. Proposals can be submitted not only by journalists, but also by people with no direct experience of the profession, in particular activists and public figures.
"The media is an important element of civil society, and we cannot allow it to be buried"
"The media is an important element of civil society, and we cannot allow it to be buried, or else post-regime we'll be wobbling for years, and that's too long," said Khodorkovsky, noting that "the country needs a talent pool, not Kremlin-pleasing sycophants."
Each project will have its own editor-in-chief. The editorial staff will be small, just a few people per project. "We're giving people a chance to realise their ideas: if at first you don't succeed, try until you do," he added.
Khodorkovsky said that he already had several teams in place, and work would begin shortly. The projects are mostly in the field of investigative reporting. Investigations are under discussion in the field of economics, culture, and business relations with the power elite, and a separate project is planned to examine the work of major sociological services.
Open Media is suggesting that participants run their own project-related accounts in social networks. "Creating a site for each project is also an option, but more difficult and time-consuming," notes Khodorkovsky. The project will run in pilot mode till December, and the successful projects are due to be officially launched in early December.
"It takes several months to build a site, and before that I have to be sure that the project will be successful and that a site is needed to distribute it," says Khodorkovsky who believes that websites are not always the best means to serve up information.
Social networks are the logical choice for the Open Media platform because today they are the main vehicle for distributing information, and a significant number of people never go to media websites, says Ivan Zasursky, who heads the New Media Department of the Faculty of Journalism at Moscow State University.
"It is not about creating a media business, but about investing in journalism"
"It should be remembered that media need some kind of system of financing, but social networks are not yet able to monetise media," he says. "Therefore, in this case it is not about creating a media business, but about investing in journalism, which could spawn new media technologies and attract investments from elsewhere."
"The future of any project is determined by its content, distribution and audience involvement," says media analyst Vasily Gatov. "Since we're talking about something that doesn't even exist yet, it makes no sense to discuss its potential success."
Khodorkovsky understands that in the current situation any goals have to be long-term, so the plan is to operate on several fronts – with young politicians, non-conformists and small opposition media, remarks Deputy Director of the Centre for Political Technologies Alexei Makarkin. However, he believes that Khodorkovsky's living abroad greatly complicates the management side of things.
Khodorkovsky himself believes that investigations and exposures undermine the regime, and since one of his aims is to bring about a change of power, he is trying to use the project as a tool to achieve it, says political analyst Igor Bunin. However, in the short term it will have no effect because the public is not interested in politics and will not be for at least a couple of years, he adds.
"Journalism as a Profession" Awards
Khodorkovsky has also recently announced the "Journalism as a Profession" Awards.
The objective of the awards is to raise the prestige of journalism in Russia; to affirm the professional standards that differentiate journalism from propaganda, and uphold journalism's role as the means by which the populace wields power (rather than as a means to manipulate the populace).
The "Journalism as a Profession" prizes may be awarded to Russian and foreign authors for Russia-themed articles in both Russian and foreign media. The prize is awarded in seven categories:
Investigations
Reportage
Interview + Profile
Opinion Journalism
Regional Themes
Russia-themed foreign-language items by Russian journalists
Russia-themed articles published in foreign media outlets by foreign journalists
Nominations are open until November 15th, and the winners will be announced at a ceremony to be held in Tallinn, Estonia, on December 7, 2016.