Mikhail Khodorkovsky has launched five media startups
December 8, 2016
In total, his Open Media venture will finance around ten projects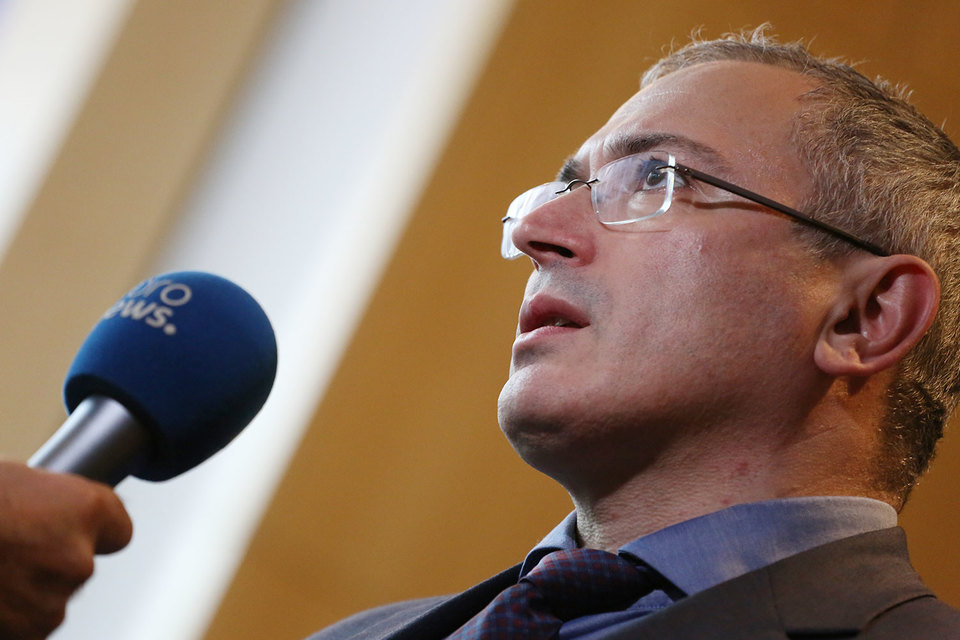 Xenia Boletskaya

Five new media projects being developed by Mikhail Khodorkovsky will move beyond test mode and begin public operation in early 2017, according to two sources familiar with the matter. Khodorkovsky has confirmed this to be the case, and said that these endeavours were taking place under the umbrella of his Open Media project. He'd announced the establishment of an organisation dedicated to supporting media in Russia back in late September, asserting his readiness to give financial backing to several media startups with a Russian target audience; each of these startups, he said, would receive between 5 and 30 million roubles a year.
"Open Media is a kind of startup accelerator, only in the domain of media," Khodorkovsky explained to Vedomosti. "We give teams the funding and provide them with infrastructure and advice, all of which helps their project to enter the market, secure an audience and formulate a business model."
Projects such as Open Economy, the Investigations Management Centre (IMC), Infometer, Gauss and Culttrigger have already received funding and are currently operating in test mode, the entrepreneur said.
Open Media is a socio-commercial project, maintains Khodorkovsky: "Today, the vast majority of Russia's population lives in an information ghetto. According to our estimates, only around 0.6 million people regularly read and share information published on non-state-dependent media. Everyone else remains under the strong influence of state propaganda."
"I'm interested in projects whose publication output would disgruntle the Russian authorities."
In a broad sense, says Khodorkovsky, what unites the already-selected projects is that they are primarily focused on investigating and elucidating the workings of Russia's economy, business, culture and science. "I'm interested in projects whose publication output would disgruntle the Russian authorities," he explains. Open Media could become a fully public project, Khodorkovsky adds, given that today media outlets survive on grants, and even their long-term ability to make a return on investment is a barely conceivable prospect. "But, as an entrepreneur," he says, "I know that the best yardstick for a project's effectiveness is its ability to make money. If the project is making money, that means it's truly interesting, that it's functioning and developing." On the other hand, he continues, Open Media cannot be described as a pure business venture either – there are far more effective ways of making money.
Open Media will fund startups under the terms of partnership agreements, says Khodorkovsky: "These agreements will prescribe the conditions of withdrawal from the project as well as determining who gets what if, for example, the project secures a new investor." He neglected to disclose any details, noting only that the startups are collaborating with Open Media as individual entrepreneurs, and that, upon conclusion of an agreement, the respective parties jointly decide what performance targets – minimum audience size, for example – the project must achieve.
"For me, the main thing here is the pace of growth."
The startups have two years to demonstrate their effectiveness and enter the market, said the entrepreneur: "Ideally, I'd hope that in two years we'll have ten or so strong projects, and that by that time one or two of them will have become financially self-sufficient." The contingent of startups would not, most likely, remain unchanged over the course of that period, Khodorkovsky cautioned:  "It would be simply remarkable if all ten of our initial projects survived. Some just won't take off, and we'll replace them with new ones." The businessman will therefore hold regular performance reviews with the startup teams: "For me, the main thing here is the pace of growth."
Vedomosti found the company pages of Open Media's five projects on the main social networks (Facebook, VKontakte, Twitter, Instagram), but, as yet, they lack individual websites. Project-related materials are currently being published on the website of Open Russia, another of Khodorkovsky's projects. As the businessman explained to Vedomosti, this is a consciously formulated strategy: "Social networks are becoming increasingly important for media outlets: they play a crucial role when it comes to garnering an audience. I'm selecting startup teams who are prepared to operate through social networks." In time, however, certain projects may get sites of their own: that will be for the teams themselves to decide, he added.
Open Economy
In some ways, Open Economy is comparable to Quora or The Question, says project head and former RBC deputy editor-in-chief Yulia Yarosh: "At the heart of our publications are soundly formulated questions about the state's money, and that of companies and citizens; these questions will be answered in simple language by guest contributors: journalists, experts and business people." By the end of 2017, says Yarosh, the project should garner some 200,000 social network subscribers: "So far, Open Media resembles a sort of media hackathon; it's not clear to me what shape it'll eventually take. But there's no censorship, no propaganda – the shareholder is experimenting, everything's above board, and I'm glad to be advising him."
Investigations Management Centre (IMC)
The IMC, as its name implies, is in the business of investigations. The project is headed by Andrei Konyakhin, the former digital projects editorial director of Russian Forbes.  The IMC's social media posts don't tend to be long articles – rather, they take the form of pictures with accompanying quotes or statistics about corruption (examples: the Moscow-region authorities will spend 169 billion roubles on improving their own efficiency; the Chechen government spent 26 million roubles on flowers in 2015).
Infometer
At the head of the news-oriented Infometer, meanwhile, is Nikita Dulnev, the former chief of the Mosmedia agency. Infometer cannot and will not compete with major media outlets when it comes to scoring exclusives and delivering speedy reporting, Dulnev says: "Our goal is to explain the meaning behind news events." He takes care to stress that this isn't an oppositionist project: "We're going to try and steer a middling course. If we find some interesting positive news about the Russian authorities, we'll publish that too." Infometr employs around 10 people; Dulnev neglected to disclose the project's performance targets.
Gauss
Gauss, for its part, is a science- and medicine-oriented project headed by Nikita Safronov, the former chief editor of the Spanish version of RT, and Maria Baronova.
Cultrigger
Cultrigger – with Evgeniya Shermeneva, theatre producer and ex-deputy director of the City of Moscow's Culture Department, at its helm – has a cultural focus.
---
Several further candidates for Open Media funding were identified in a competition whose results will be announced tonight in Tallinn.
The first five projects were not competitively selected, says Khodorkovsky: "They're being developed by well-known people who either came to us with ready-made ideas or agreed to collaborate on projects whose general thrust we're already more or less familiar with."
Other startup teams, however, must demonstrate the merits of their respective projects to the competition jury. But, as Khodorkovsky makes clear, winning the Open Media competition does not, in and of itself, guarantee funding: "It's more of an opportunity for the team to enter into negotiations with us about the commercial conditions to which their project's launch will be subject," he says.
Open Media is by no means Khodorkovksy's first new media venture. Several years ago, he led negotiations on the financing of Meduza, but failed to reach an agreement with project founder Galina Timchenko. As a result, he provided Veronica Kutsyllo with the funding to launch the Open Russia site in 2014. Khodorkovsky also made several attempts to develop his own video project, but these ultimately proved unsuccessful. Nor was the businessman fully satisfied with Open Russia; he hired consultants to relaunch it, but these plans, too, kept misfiring. In spring, two sources familiar with the matter informed Vedomosti that Khodorkovsky had invited Alexei Kovalyov, the founder of the Lapshesnimalochnaya ("Noodleremover") project, to help with the launch of Open Media. It had been assumed that the Open Media editorial team would operate out of London, but the organisation was never launched in that particular form.
This article was first published in Vedomosti