Mikhail Khodorkovsky's New Book 'A Russian Prisoner' Launched In France
October 16, 2013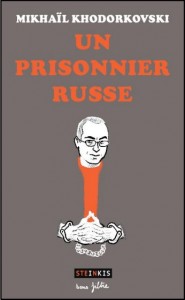 The French publishing house Editions Steinkis today launched a new book 'A Russian Prisoner', to mark the fast-approaching 10th anniversary of Mikhail Khodorkovksy's arrest, on October 25.
In the book, Khodorkovsky, an Amnesty Prisoner of Conscience, draws portraits of his fellow prisoners, criminals in today's Russia, whom he has met in the labour camps – Gulags – where he has been incarcerated for the last 10 years.  He makes no mention of his former company Yukos Oil, or the Kremlin, but his intriguing conclusions in the book go far beyond a simple description of Russia's prison system.
The book is based on 17 short stories, some of which have appeared in the Russian magazine, The New Times. The text was translated from the original Russian by Veronika Dorman, the Moscow based correspondent for the French daily newspaper Liberation. 'A Russian Prisoner' is expected to be published in Russia and other countries.
Mikhail Khodorkovsky's two eldest children, Pavel and Anastasia, preface the book with the words:
"Through these stories, we can see a vision of today's Russia: a profoundly corrupt state, unscrupulous and with dishonest civil servants […] This is a portrait of not only state corruption, but the corruption of minds too".
French Radio Station France Info aired an interview with Boris Durande, the spokesperson for Mikhail Khodorkovsky in France:
"Ten years ago, many Russian people welcomed the arrest of Mikhail Khodorkovsky. He was too young and rich and the country was at its lowest point. Ten years later the situation has changed a lot. Now, the intelligentsia almost entirely supports Khodorkovsky. Most of the opposition leaders correspond with him by post. It is a very long and unreliable process as obviously these letters are read by the prison authorities. Khodorkovsky is now asked for his advice."