As Trump Gives Way To Putin, The World Is Left In Dismay
July 18, 2018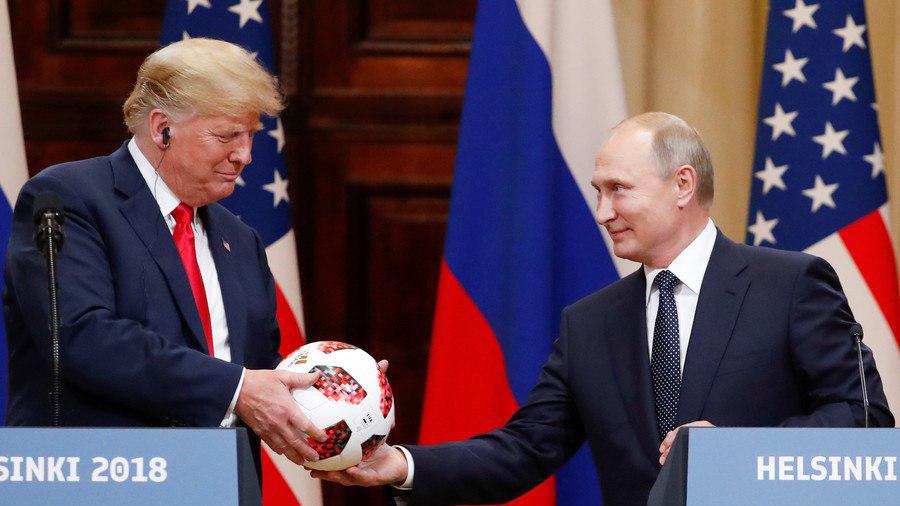 President Trump and President Putin held a summit yesterday in Helsinki, almost 30 years ago to the day after Ronald Reagan gave a famous speech in the same locale urging Gorbachev to release political and religious prisoners. This time around one of the many protestors gathered in Helsinki city centre held a placard reading "Let's Make Human Rights Great Again For F**k's Sake". The slogan is a protest against the gross human rights violations of Putin's regime domestically and abroad, and a call for Trump, himself an pariah of human rights activists, to raise these issues in front of the world's cameras.
At this very moment Oleg Sentsov, a Ukrainian film director imprisoned for 20 years on false charges, enters the 65th day of his hunger strike. He is demanding the release of 70 other Ukrainian political prisoners currently held in Russian institutions. Additionally, according to International Memorial Human Rights Centre there are 117 political and religious prisoners in Russia today – among them Alexei Pichuigin, who has been incarcerated for 15 years on charges connected with the politically-motivated YUKOS case, which saw the oil giant broken down and its owner, Mikhail Khodorkovsky, imprisoned for 10 years. Unlike Reagan, Trump failed to raise any of these cases, even obliquely. He made no mention of Ukraine or Crimea. This notable silence pays lip-service to a regime which consistently contravenes fundamental human rights, and further undermines the inadequacy of Trump's incumbency as the so-called Leader of the Free World.
The most sensational moment of the press conference was Trump's position on Russia's election meddling. A few day prior to the summit Robert Mueller formally indicted 12 Russian intelligence officers for their interference in the 2016 American Presidential Elections. Asked whether he sided with the U.S. intelligence services conviction or President Putin's denial, Trump sided with Putin. Irrelevant of whether Mueller is right or not, Trump's unpolitical answer lends a great deal of strength to the Kremlin narrative about how the West consistently scapegoats Russia, thereby directly legitimising Putin's regime.
Trump also failed to jump to the defense of Bill Browder when Putin restated accusations of large-scale tax evasion and said that he would allow American investigators to interview the indicted intelligence officers in exchange for Browder. In fact, he appeared to nod as Putin spoke. Browder is the initiator of the Magnitsky Act, which allows gives the U.S. government the power to freeze assets of gross violators of human rights, and has been successful in targeting Kremlin-endorsed kleptocrats. The Act has been adopted by six other countries, and manifests itself as an important and effective rejection of murderous corruption and the laundering of blood money through western democracies.  It is unacceptable to even entertain the idea that Browder should be exchanged for the chance to interview Russian intelligence officers, and reflects another failure by Trump to call Russia out for its human rights abuses.
In terms of geopolitics nothing binding was agreed upon, and it would be optimistic to expect any short-term changes in the foreign policy of Russia or the United States in key areas of contestation. Putin reiterated his concerns about the recent U.S withdrawal from the Iran Nuclear Deal; Trump reemphasised the importance of ending the Iranian nuclear programme. Little was said about Ukraine bar Putin's confirmation that the American position on the annexation of Crimea remained unchanged. Benjamin Netanyahu, who recently has had meetings with both Trump and Putin, was assured the support of both Russia and the U.S. in protecting Israel against the threat of Iranian forces which have amassed in Syria. Both leaders emphasised the importance of diplomatic and military cooperation to end the humanitarian crisis in Syria.
As Trump now appears to be backtracking on some of the things he said (or "mis-said", a term the president is particularly fond of) during Monday's summit, the rest of the world is left none the wiser as to how the US/Russia relationship — of lack thereof — will unfold in the months to come.  In any case, the Putin regime will be feeling that they've been let off the hook.