Falling afoul of the Kremlin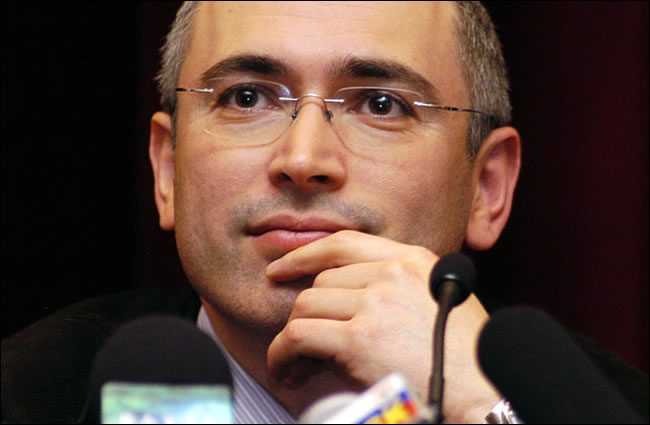 Since the late 1990s, Khodorkovsky had taken steps to transform Yukos according to western business models, while at the same time increasing his political advocacy activities, including numerous trips abroad for speaking engagements on governance issues in Russia.
Disturbed at the way in which Russia was becoming a steadily more authoritarian state, Khodorkovsky believed there was an increasing need to ensure a level political playing field, to allow a true pluralist democracy to develop. Accordingly, he made contributions to a range of opposition parties, in addition to supporting the Kremlin-loyal United Russia party; all with the aim of increasing the quality of political engagement across the political spectrum. He travelled throughout Russia delivering speeches on the need to develop civil society, and on the importance of Russia transitioning towards a vibrant democratic state with checks and balances between the branches of power.
In terms of improving the corporate governance of Yukos to international standards, these steps included the introduction of corporate transparency, the adoption of western accounting standards, the hiring of western management, the creation of an independent board of directors with a corporate governance sub-committee, growth through mergers and acquisitions, and increased western investments. But at a time when more and more questions were being raised in public about the opaque way in which state companies were being run, these actions marked Khodorkovsky as an outspoken leader who was pro-Western; and challenged in particular the non-transparent means by which government and business operated in the key Russian energy sector. These innovative, modern practices, along with the possibility of GML selling a major stake to either Exxon Mobil or Chevron, deeply unsettled the Kremlin.
In 2002 and 2003, Khodorkovsky became increasingly outspoken about the country's rampant corruption and on the need to create a more robust civil society. On February 19, in a televised meeting between President Putin and the Russian Union of Industrialists and Entrepreneurs, Khodorkovsky gave a presentation about the state of corruption in Russia. He cited numerous statistics showing that corruption cost the Russian economy over $30 billion per year. He said that the administration "must be willing to show its readiness to get rid of some odious figures" in the regime, to prove its readiness and ability to combat corruption. An angry President Putin would have none of it, and replied with clear threats to Khodorkovsky, suddenly questioning the legitimacy of Yukos's growth.
Khodorkovsky had now become a public irritant and powerful opponent of Kremlin policies. And Yukos had become too attractive an asset for predators to resist expropriating.
It was in 2003 that the attack on Yukos began; a combination of spurious back tax claims, asset freezing orders, the manipulation of legal procedures, and the imposition of unrealistic tax payment deadlines ultimately led to the seizure of Yukos's crown jewel production asset, Yuganskneftegaz (YNG), in June 2004. By 2007 the destruction of Yukos was complete.
For more about Yukos click here