Pavel Khodorkovsky to Present His Father's Book in Berlin
January 23, 2013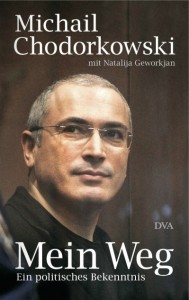 On January 24th, Pavel Khodorkovsky will be presenting his father's latest book "My Way. A Political Confession", written with Russian journalist Natalya Gevorkyan, to an audience in Berlin's Martin-Gropius Bau.
In the book, Mikhail Khodorkovsky describes the developments in Russia in the 1990s and the history of his company Yukos as well as details of his current life in prison. Furthermore, he outlines his view on contemporary Russia, the autocratic structure of the Putin regime and his thoughts on a program for the political, economic and social development of his country.
Pavel Khodorkovsky will be joined at the presentation by Markus Loening, Federal Commissioner for Human Rights who attended the second Khodorkovsky trial in Moscow, as well as Peter Franck, a Russia expert from Amnesty International Germany. German author Olaf Kuehl, who has published a novel about two friends travelling to Siberia to free Khodorkovsky, will be reading selected passages from the book. The evening will be moderated by Journalist Nils Kreimeier, from business magazine Capital.
Event Details
What: M. Khodorkovsky "My Way. A Political Confession"
When: 24 January 2013, 6.30 pm
Where: Martin-Gropius-Bau, Niederkirchnerstraße 7, 10963 Berlin
RSVP: To attend please email: christian.hanne@hm-kom.de
Book Details
Michail Chodorkowski & Natalja Geworkjan: "Mein Weg. Ein politisches Bekenntnis". (2012, Verlag: DVA Sachbuch)