Newsletters
/ Anti-War Committee and its two humanitarian projects, Sunrise and The Ark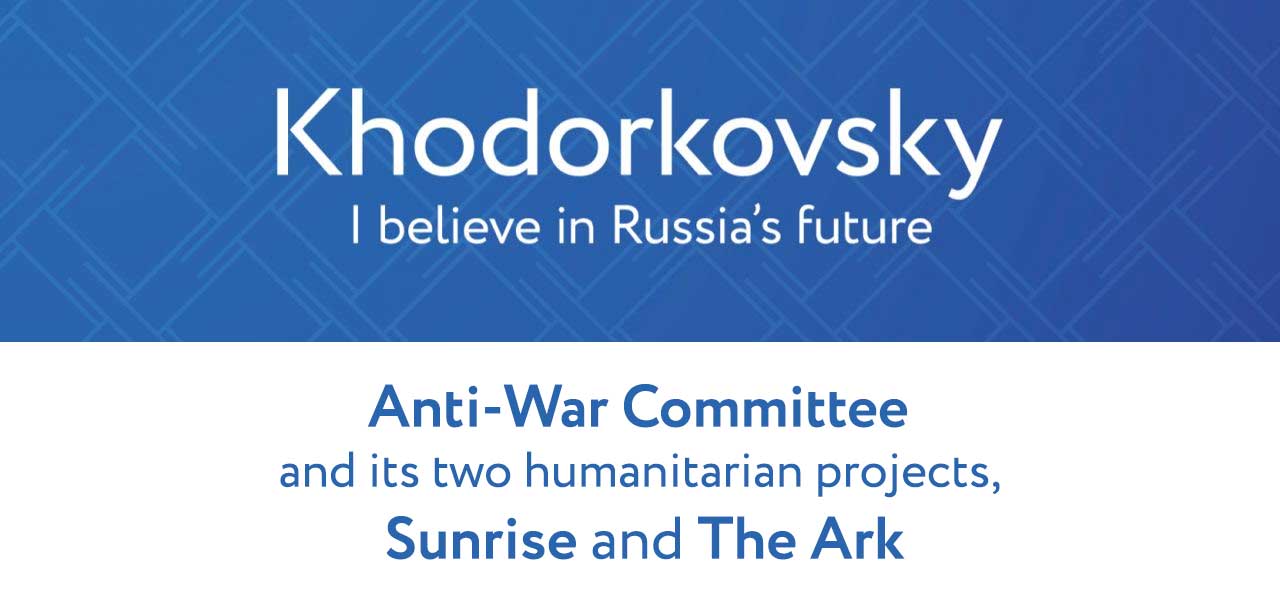 Russia has been at war with Ukraine for 49 days. 4.5 million Ukrainians have become refugees and thousands have died. At this moment, thousands of people are hiding from the Russian army's shelling, fearing to go outside, starving, and struggling to find the medications they need. Cities in the war zone have been cut off from regular supply chains. One day, the war will end, and Ukraine will be rebuilt. But to survive this nightmare, people need humanitarian aid — food, water, medicine, clothing, and hygiene items. Against this background, the Russian Anti-War Committee and the team of the project Sunrise continue to work to deliver humanitarian aid to Ukraine. Food, baby food, basic necessities – our people have set up a process of purchasing, delivering and distributing all these supplies in the defending country. Yesterday another lorry packed with medicines for Chernihiv, food for Vyshgorod and pet supplies for Rivne has left.
Please, support us so that we can help more affected Ukrainians. You can donate any amount and choose which items we spend your money on here:
Read our reports (latest here) and watch the video.
---
Since the beginning of the war, hundreds of thousands of Russians have left the country. Many have left with no clear plan, savings or a job. The Anti-War Committee has created a support group for Russian emigrants who condemn the military aggression against Ukraine and see no opportunity for themselves to live in Putin's Russia.
Our team working for the project The Ark operates a support group for refugees who left Russia as a result of the war against Ukraine. Here are our key achievements. Our team provided more than 21 500 legal consultations and advice on relocation, arranged webinars on study and work opportunities throughout the globe attended by 650 participants, provided accommodation to more than 300 Russian refugees, assisted 9 000 with housing in the form of co-living (900 people have successfully created "couples"), offered much needed psychological help to 300 clients, created new Telegram chats, which currently have 53 000 organic subscribers on the basis of profession and territoriality (3,000 professionals have responded to job offers, internships and vacancies through the project) and much more. The team of The Ark plans to maintain contacts with the target audience – people with an anti-war stance and high qualifications, who in the future will be able to form a political force outside Russia and continue to influence the country's domestic politics.
If you would like to support The Ark project, you can do that here:
All what we achieved so far would not be possible without your generous support. Please, consider donating to our projects Sunrise and The Ark.
Thank you.
---
The Ark project in the media: