Prison Conditions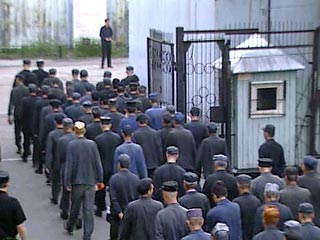 Before their pardon and release in 2013, Mikhail Khodorkovsky and Platon Lebedev were held in a variety of pre-trial detention centres and prison colonies, in Moscow or in some of Russia's most remote regions. Khodorkovsky and Lebedev, along with the three-quarters of a million people who are still behind bars in Russia, endured harsh, humiliating and degrading conditions.
Throughout Khodorkovsky's time in detention, prison authorities ensured that his behavioural record was peppered with reprimands to serve as pretexts to prevent his release on parole. The constant fault finding by prison authorities repeatedly allowed them to place Khodorkovsky in isolated punishment cells.
The reprimands involved petty matters purposefully misconstrued as behavioural violations, as well as pure falsifications and misinterpretations of the law.
Five incidents are illustrative of the authorities' treatment of Khodorkovsky:
Broken sewing machine
While working in a penal colony sewing facility, comprised of several workshops, Khodorkovsky left his station to find an equipment mechanic in a nearby room to inform him of the breakdown of his machine. He was reprimanded for leaving his workplace without authorisation. The reprimand was issued even though the whole building in practical terms was his workplace. Moreover, had Khodorkovsky not sought the equipment mechanic to repair his machine, he could have been reprimanded for not working.
Prison rules as "prohibited" documents
Khodorkovsky was reprimanded for being in possession of "prohibited" documents – in fact, texts containing publicly available prison regulations. Prison officials seized, from Khodorkovsky's bedside table, orders of the Russian Ministry of Justice governing the rights and duties of convicts in penal colonies. These documents had been received by post at the penal colony, addressed to Khodorkovsky; and they cleared inspection by the mailroom censor, who gave them to Khodorkovsky personally, as recorded by signature. Khodorkovsky was sent to an isolated punishment cell for five days.
Drinking tea in an improper place        
Khodorkovsky was reprimanded for eating in an improper place – that is, this was the rule he was said to have broken when he drank tea near the kettle in a meeting room where inmates habitually drank tea. Khodorkovsky had just missed dinner in the canteen due to a meeting with his lawyer. The meeting with his lawyer was permitted only after his full-day shift in the workshop; Khodorkovsky had to forego dinner if he wished to meet with his lawyer, and this is why he drank the tea in question. Khodorkovsky was sent to an isolated punishment cell for seven days.
Two lemons and an apple
During an inspection, prison officials discovered that Khodorkovsky had in his possession two lemons and an apple given to him as gifts from fellow inmates after his return from a punishment cell and a hunger strike. Comparing the inspection report with a list of foodstuffs delivered to Khodorkovsky in parcels and purchased by him in the prison shop led the authorities to establish that Khodorkovsky had received these gifts from his fellow inmates. Khodorkovsky was reprimanded for unauthorised possession of the two lemons and the apple. He was sent to an isolated punishment cell for ten days.
Determined not to allow the authorities to break his spirit, and to make public not only his own plight but also those of his fellow prisoners, Khodorkovsky on 4 occasions went on hunger strike, one of which was a dry hunger strike. These were not hunger strikes about him; they were in support of his imprisoned colleagues. "I very carefully picked my battles, because like any normal person I didn't want to die… Each four times they did compromise with me.
Communicating with the outside world
Cut off from the outside world, Khodorkovsky looked for ways to communicate. Writing had often been the way in which Russians who had fallen foul of the regime – Imperial and Communist – described their experiences; and Khodorkovsky now did the same under the Putin regime.
In October 2008, the Russian edition of Esquire magazine published an interview with Khodorkovsky by famed Russian writer Boris Akunin. The interview had been conducted through the exchange of a series of letters. Although this correspondence did not break prison rules, Khodorkovsky was punished for the interview by being placed in solitary confinement for twelve days. But this did not stop Khodorkovsky from writing.
In August 2011, Khodorkovsky began writing a regular column for the Russian weekly New Times in which he described his experiences behind bars and the lives of prisoners he had come into contact with. Motivated by the fact that there are three-quarters of a million people currently detained in Russia's prisons, Khodorkovsky stated that society needed to know more about life behind bars in order to act to correct the system.
Indeed, it was during his many years in prison that Khodorkovsky developed many of the ideas and ideals that he had held as a free man, writing about them as a prisoner; and always looking ahead to the moment when he might be able to put those beliefs into practice. His publications are the summation of what he underwent behind bars.