Newsletters
/ Khodorkovsky Speaks at Maidan: "Glory to the people of a new and democratic Ukraine"
On Sunday, March 9, Mikhail Khodorkovsky took to the stage in Maidan, Kiev to address the thousands gathered in the square. He declared:
"I was told and shown what the authorities did here. They did it with the consent of the Russian authorities. Over a hundred dead. Over 3,000 or 5,000 wounded. I have seen shields made of plywood that were used here against submachine gun rounds. I felt like crying. It was horrifying. It is not my government.
I want you to know that there is an entirely different Russia."
Watch a video of Khodorkovsky's Maidan speech and read a full English version here
"For your freedom and ours": Khodorkovsky speaks at Kiev Polytechnic
On Monday, March 10, Mikhail Khodorkovsky delivered a lecture to students at the State Polytechnic Museum in Kiev. The title of the speech was "For your freedom and ours."
"We have recently become witnesses to tragic events that affect every Ukrainian, every Russian, and every European," said Khodorkovsky.
"I am an unconditional supporter of building a law-based democratic nation-state with a unitary civil nation in Russia, and unconditionally support the analogous aspirations of the Ukrainian people."
Referring to the need for a "Marshall Plan" for Ukraine, Khodorkovsky explained the significance of Ukraine to Russia. "The main thing" he argued, "is that the success of democratic construction in Ukraine is the prologue for the creation of a new Russia – a country of justice and democratic values."
Read a full English translation of Khodorkovsky's lecture here
Khodorkovsky meets Maidan activists; visits the injured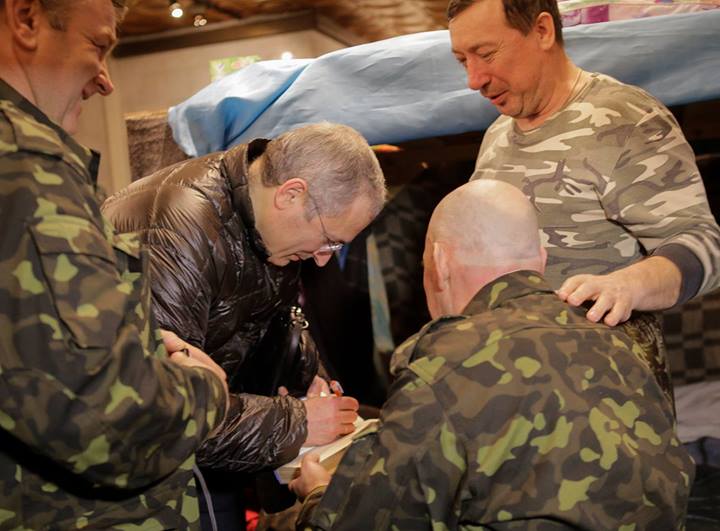 Khodorkovsky arrived in Kiev on Saturday, March 8, where he went to Maidan and met with activists and leaders. The following morning he visited a hospital where he met with protesters injured by live fire during the protests, and also with police officers hurt during the clashes.
In captions to the photos of his Saturday night visit to Maidan, Khodorkovsky wrote: "Tonight at Maidan. Fallen heroes alley. Dozens were slaughtered by sharpshooters here. It is a sea of flowers and candle-lights now." Regarding some of the activists he met, Khodorkovsky said: "I do not recommend calling them fascists. These are serious guys. Russians and Ukrainians. They came out to oppose their own corrupt government. They sympathize with us."
See Khodorkovsky's photo reportage here and gallery here