Newsletters
/ Open Russia Protests Fake Presidential Elections & What Comes Next
In the run up to the March 18 presidential "elections" the Open Russia Movement and its founder Mikhail Khodorkovsky set out a clear plan: to protest the predetermined winner with an active boycott, calling for people to make their opinions known physically on the ballot paper, and to closely monitor how the voting took place in order to catch any instances of fraud.  Many are disappointed with the way the vote went on Sunday, but Mikhail Khodorkovsky thinks differently:
"The election observers did an excellent job.  A whole mountain of falsifications were documented and recorded.  In fact, in the places where observers were present, the results were often different to places where there were no observers.  There are many who came out and boldly voted "against" this whole circus publicly.
Moving forward we can expect to see the continuation of both political and economic stagnation.  This is terrible, but it is not the end of the world.  There will be no mass repressions or a return of the iron curtain.  However further military adventures — the Kremlin's sole mechanism for maintaining unity in society — are inevitable.
A quarter of a century of stagnation is no joke.  We need to create the human potential for change.  We need to build on the experience political representatives from different sections of Russian society have gained through coalition work.  We must continue to convince society that the future does not lie in a "good King", but rather in real representative democracy.  We must prevent this regime from "accidentally" stumbling into a serious conflict or receding into complete isolation."
You can read Mikhail Khodorkovsky's full response to the results of the March 18 presidential election here.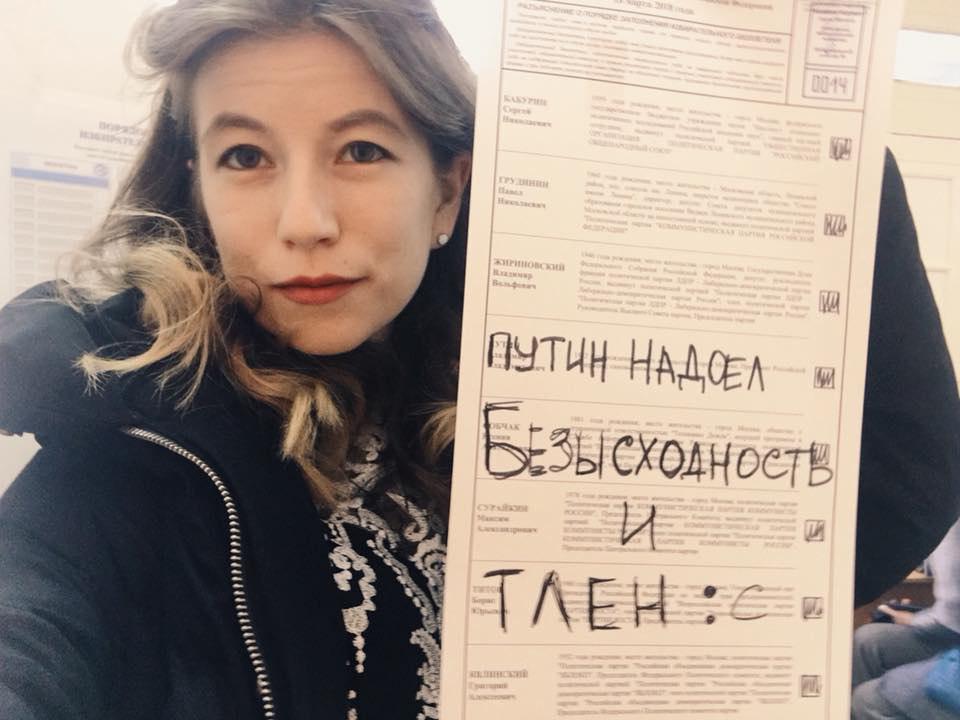 Many turned up specifically to make their opinions known, literally, on the ballot paper.  Hundreds of Russians submitted pictures of their ballot papers with multiple variations of the words "I've had #Enough of Putin!" written across them.
Thousands of observers including supporters of Alexey Navalny, Ksenia Sobchak and Dmitry Gudkov captured countless instances of falsification, ranging from electoral staff shoving piles of ballot papers into the box, to suited men with bodyguards submitting multiple ballots, and even citizens turning up to the polling station to discover that their vote had already been cast by someone else.
Open Russia vice-chairman Vladimir Kara-Murza highlighted the absurdidty of Sunday's presidential "election" in an op-ed piece for the Washington Post, claiming that ""elections" in authoritarian systems are a poor indicator of the actual state of public opinion." Further adding that "It isn't difficult to win when your opponents aren't on the ballot." You can read the full op-ed here.